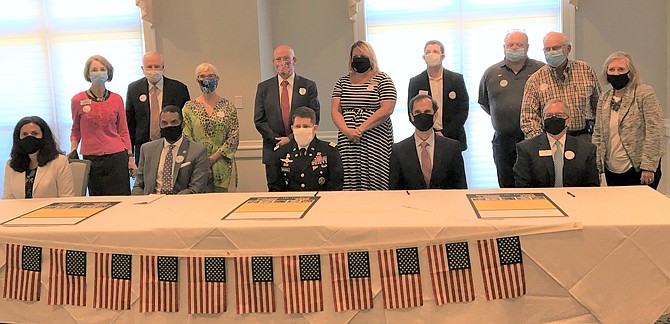 Front Row, Tanya Bradsher, chief of staff to Congressman Don Beyer; Supervisor Rodney Lusk, Lee District; Col. Michael Greenberg, Fort Belvoir; Supervisor Dan Storck, Mount Vernon District; Stanley Koussis, chairman, Mount Vernon Lee Chamber. Back Row: Alison Ross Tompkins, The Fairfax; Dan Rinzel, Redmon, Peyton & Braswell LLP; Katherine Ward, Mount Vernon Council of Citizen Associations; Peter Sitnik, SITCO Inc.; Cindy Hurrle, Mount Vernon Country Club; Casey Whitmarsh, South Fairfax Chamber; Mark Murray, Fort Belvoir Swim Team; Joel Bernstein, ECCA Payroll; Holly Dougherty, Mount Vernon Lee Chamber.
Stories this photo appears in:

A group of community leaders met with Colonel Michael Greenberg, Commander, US Army Fort Belvoir, to renew the Army Community Covenant on Wednesday, July 29, at Mount Vernon Country Club.