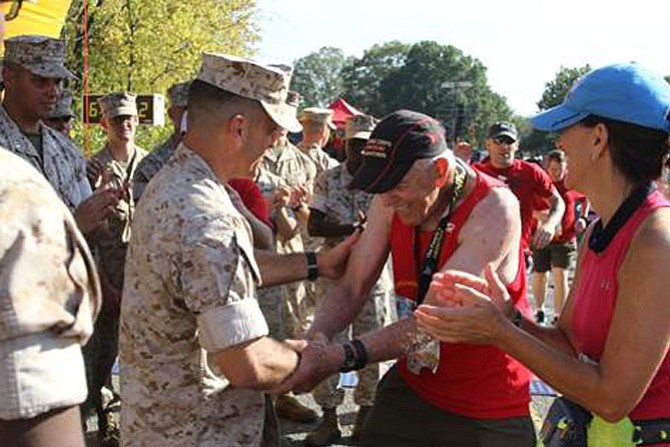 Al Richmond, center, is congratulated  by Quantico base commander Col. Joseph M. Murray after completing his 41st consecutive Marine Corps Marathon Oct. 30 in Arlington. The 77-year-old Maywood resident is the only individual to complete every MCM since its inception in 1976. He completed the course in 6:39:47.
Stories this photo appears in:

The 41st Marine Corps Marathon.
For Brooke Sydnor Curran, running the 41st Marine Corps Marathon was a milestone: her 100th marathon for charity since founding the nonprofit RunningBrooke Fund. For Grace Episcopal kindergarten teacher Cara Donley, the Oct. 30 race represented a different milestone.

Arlington resident last MCM "Groundpounder."
"I've been very, very fortunate to never have a serious injury." — Arlington's Al Richmond on completing his 41st Marine Corps Marathon