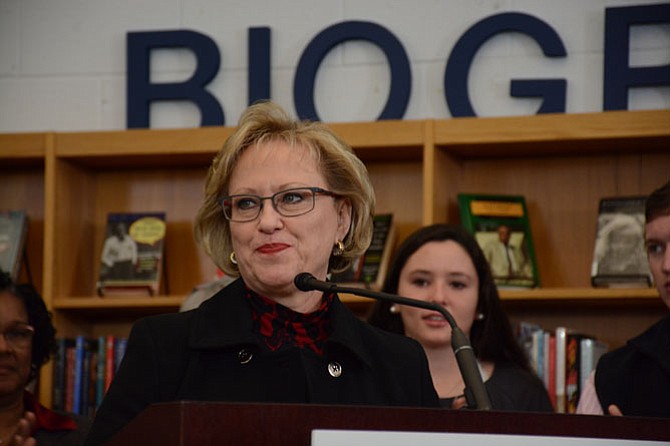 Fairfax County Public Schools Superintendent Dr. Karen Garza proposed a $2.67 billion school system budget for FY 2017 that emphasizes increasing employee compensation and decreasing class sizes — all without making any further cuts.

Stories this photo appears in:

Budget shortfall, equity and nondiscrimination storylines for 2017
"What does equity really mean," Corbett Sanders continued. "We're going to have some healthful discussions about it. Everything from early education on." The budget will once again be a major storyline for the school system, as Hynes said the board is currently looking at about a $90 million shortfall for FY 2018.

Fairfax County Public Schools superintendent Dr. Karen Garza has announced her resignation, just months after the FCPS board renewed her contract through June 30, 2020.

The gap between the Fairfax County School Board and total county budgets is a formality away from being the smallest since before Jan. 7 when FCPS Superintendent Dr. Karen Garza announced she wouldn't be making any additional cuts in her $2.67 billion Fiscal Year 2017 budget.

FCPS Superintendent Garza calls for no additional cuts in $2.67 billion FY 2017 budget
For Fiscal Year 2015, Fairfax County Public Schools Superintendent Dr. Karen Garza oversaw $96.5 million in cuts made from the school system's annual operating budget. For FY 2016, it was $55.4 million, she said.