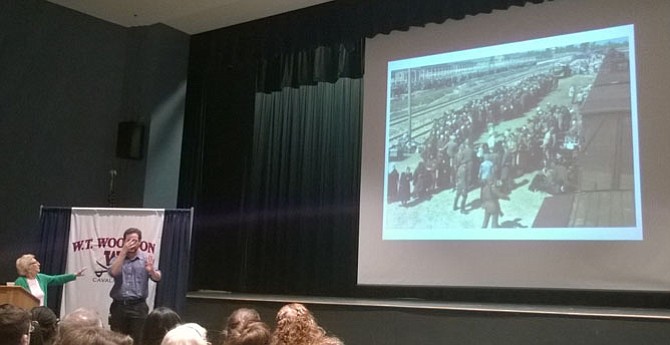 Fairfax County resident Irene Weiss, left, points to an enlarged photograph of Hungarian Jews while they were selected and processed in 1944 by Schutzstaffel guards as they stepped off a train at the Auschwitz-Birkenau concentration camp in Nazi-occupied Poland. At the time, Weiss was the young woman with a kerchief — shown at the bottom of the picture, second from the left. Her mother gave her the scarf to cover the teen's shaved head. It saved her life because it made Weiss appear old enough to join the ranks of forced laborers. People too frail to work plus women and their children are shown at the top of the page, from left to right, walking toward the gas chamber. Weiss was just separated from her younger sister and watched the child disappear into the crowd. "The drama of the separation still lingers with me today," she said April 11 to 10th-grade students at W.T. Woodson High School in Fairfax.

Stories this photo appears in:

World War II is the focus of 10th-graders across the board in history and English classes at W.T. Woodson High School in Fairfax.