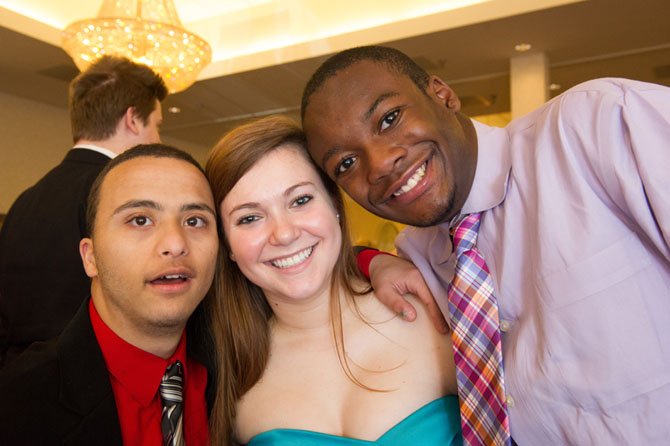 Fairfax High School students Sayed and Kendall dance with Lake Braddock senior Stephanie Masters at the May 9 "Day Prom" held at the Fair Oaks Waterford.

Stories this photo appears in:

Eight high schools participate in daytime prom for special needs students.
Prom is pretty intimidating as it is: date, hair, dress, food, limo, flowers, dancing... gasp. But the annual event is also a privilege, a rite of high school passage that bonds students through shared experience for the rest of their lives. Unfortunately, many students with special needs will never share that experience with their peers. Their physical or intellectual disabilities can make participating in such a large and emotional gathering overwhelming, uncomfortable, and in some cases, simply impossible.

On Thursday, May 9, Herndon High School hosted a very special prom at the Waterford at Fair Oaks in Fairfax. Called the "Day Prom" the event is held for students with special needs that might not be able to attend their general education prom.