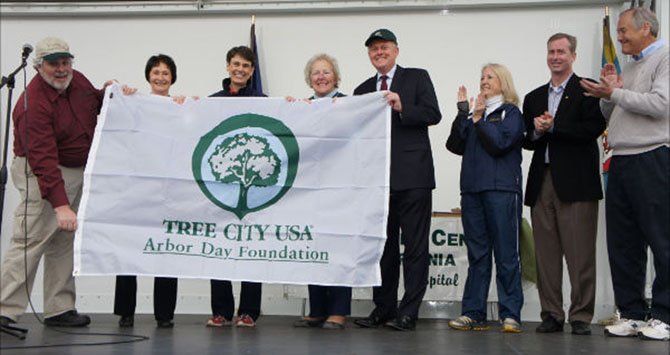 Fairfax County does it again – from left: The 2012 Tree City USA Banner is unfurled by Jim McGlone of the Dept. of Forestry, Sharon Bulova, Chairman of the Fairfax County Board of Supervisors (D-At-Large), Supervisor Linda Smyth, Providence District, Supervisor and Vice Chairman Penny Gross, Mason District, Supervisor John Cook, Braddock District, Virginia General Assembly Delegates, Vivian Watts, (D-39) and David Bulova (D-37) and State Senator David Marsden (D-37).
Stories this photo appears in:

Clean Fairfax Council hosts 2012 celebration.
A fundamental part of the mission of the Clean Fairfax Council is to "encourage environmental stewardship and urban sustainability" in Fairfax County, working in partnership with numerous governmental agencies and volunteer groups. As the organizers of the Fairfax County Earth Day/Arbor Day celebration for more than 10 years, the Council insured that the 2012 event, held on Saturday, April 28 at the Fairfax County Government Center was loaded with educational workshops, demonstrations, exhibits, food and fun.