Photos by Susan Laume/The Connection
The south county areas of Springfield, Lorton, Clifton, Fairfax and Fairfax Station are fortunate to have interesting attractions to enjoy for entertainment, exercise, nature and history. Here are some of our favorite fun, beautiful, natural, historic and quirky places. And because an outing often just doesn't seem perfect without enjoying some food as part of the fun, we have suggestions for food located near the attractions.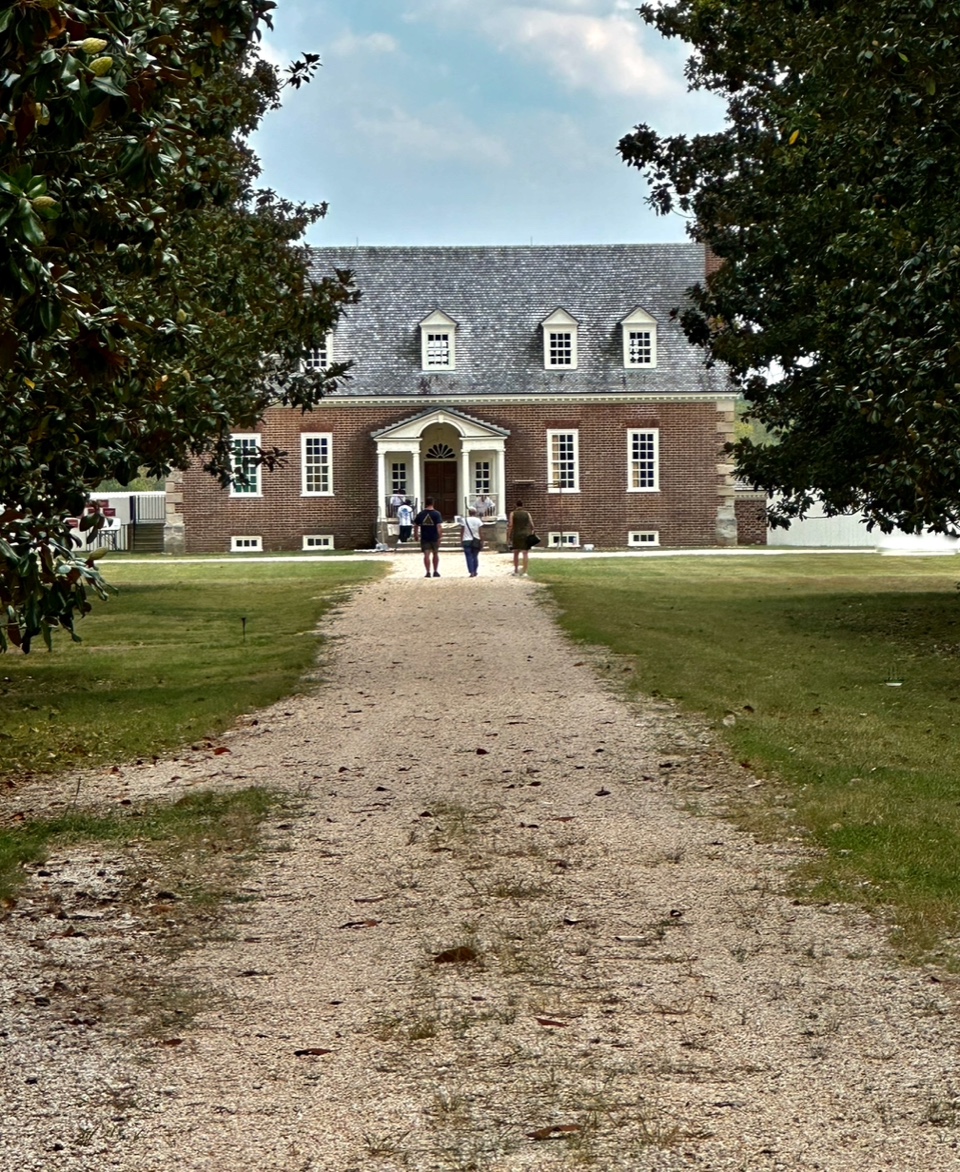 The elegant mansion of George and Ann Mason, Gunston Hall, its grounds and museum with exhibits and gift shop, is open for visitors to explore colonial history.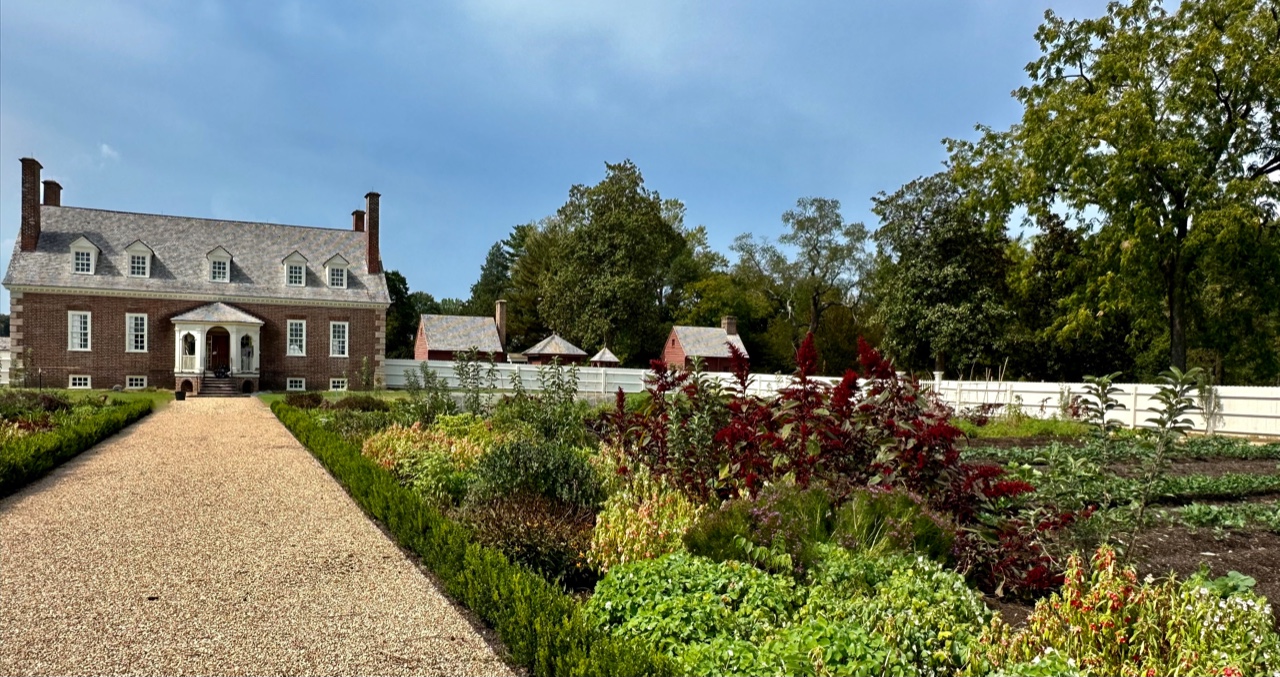 Gunston Hall's newly renovated gardens grow plants from a heritage seed bank of plants that would have provided for the colonial's table
Gunston Hall, 10709 Gunston Rd, Lorton
On Mason Neck, the Gunston Hall plantation, home of Founding Father George Mason and his wife Ann, showcases the 1755 manor house, gardens, grounds and a modern day visitors center and museum. Mason, who lived from 1725 to 1792, was a delegate to the 1787 U.S. Constitutional Convention, one of three who refused to sign the newly written Constitution; and also was the principal author of the Virginia Bill of Rights, the model for the U.S. Bill of Rights. The stylish home for Mason, his wife and nine children shows their wealth and prominence. Surrounded by four large plantations and forest, and tended by tenant farmers and enslaved people, the hall was mostly self-sufficient during Mason's days. 
Visitors may take guided tours or explore the grounds on their own, including the kitchen yard with its dairy and laundry; schoolhouse with tutor's quarters; slave dwellings; on-going archaeology projects; garden and its reconstruction; and the burial ground of the Mason family. Open space invites walking and a woods trail leads to Gunston Cove, off the Potomac River. Hikers can find traces of colonial wagon roads and deer park areas. The hand-built terraced overlook to the Potomac River, recently renovated, is a spot where the Masons entertained guests and may have spotted game.
The riverside gardens, located between the mansion and terraces, are newly renovated with plants grown from heritage seeds. Under archeologists' spades for several years, the space has been returned to the plants and pollinator species that likely thrived there to support the Mason family table. 
The Hall celebrates the garden opening with an event on Oct. 7, providing an opportunity to explore what plants are growing, and join in seed saving, crafts and flower arranging.
Exhibits at the Visitor Center trace Mason's legacy of action and ideas, Revolutionary Rights; and clues to the lives of enslaved and free women of Gunston Hall, A Woman's Place.
General admission is $10; a grounds pass is $5. For more information, see https://gunstonhall.org/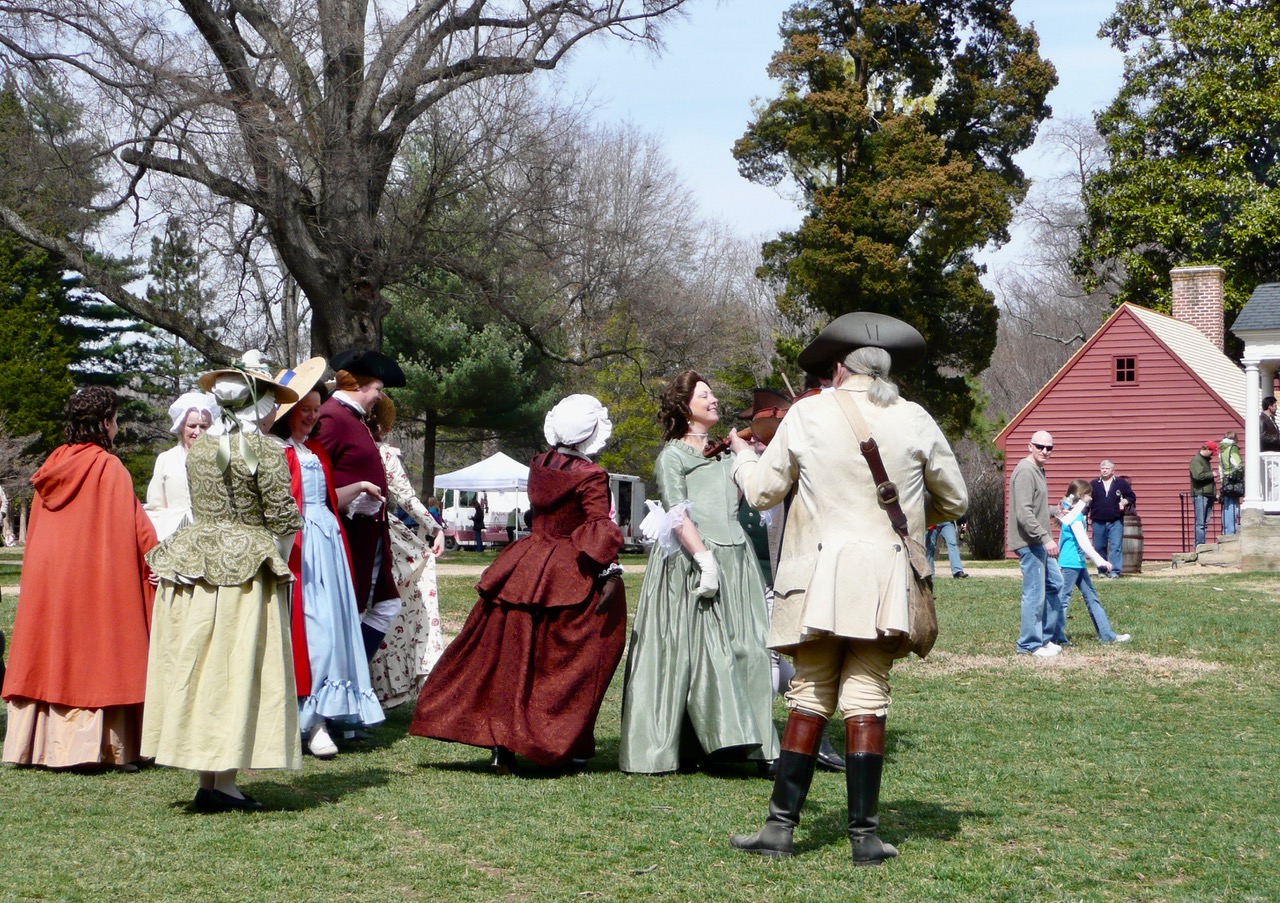 Gunston Hall hosts a calendar of events including garden celebration, colonial cocktails and colonial dancing
Gunston Hall Picnics
Take advantage of the beauty of the setting by picnicking on the grounds of Gunston Hall. Visitors may bring their own food or order a custom Gunston Hall "picnic box." Ordered 24 hours in advance, from caterer Amphora Catering & Bakery, picnickers have colonial themed menu options for single meals ($14-21; kids $8), and for 10 guests ($85-175). To preview the menu and order, see http://www.amphoracatering.com/gunston-hall/
Occoquan Park embraces history with the Turning Point Suffragist Memorial, and Workhouse brick kiln, while offering a modern event venue, the River View overlooking the Occoquan River
Occoquan Regional Park, 9751 Ox Rd, Lorton
Enjoy 350 acres of outdoor recreation at Occoquan Regional Park in Lorton. The 5k loop trail provides an opportunity for a walking tour of the park and the history it denotes. A highlight is the new Turning Point Suffragist Memorial telling the story of women's struggle for voting rights. A sole remaining brick kiln, once one of more than a dozen, harks to the area's history of prison enterprise. The park offers multiple picnic shelters with grills and covered tables; kayak and paddle-board rentals; fishing from the shoreline or boat ramp for perch, bass, crappie and catfish; softball and open fields; and batting cages, with variable speed pitching machines; in addition to its open space for walking, jogging, or biking. The boat launch is open year-round with daily and annual launch passes available.
Its modern new event space, River View at the Jean R. Packard Center, lives up to its name, and seats up to 300 guests and larger gatherings when seating is not required. A foyer exhibit depicts John Smith's voyage on the Chesapeake Bay, while visitors can watch the modern day voyages of water craft just outside the windows or from the vantage point of the walkway along the waterfront. The Center hosted over 100 major events last year, which included 84 times brides selected the venue for their special day. Perhaps brides appreciated the wedding party's access to a private hospitality suite and historic cottage available for preparation, or the two adjacent outdoor spaces for a natural green setting. Short term rentals of a smaller space are available when less space is needed for baby and bridal showers, celebrations of life, or any need for a pleasant room with ample nearby parking. 
For large outdoor event space, The Pavilion offers picnicking for groups up to 1,500, capable of hosting large family reunions and corporate picnics. Pavilion amenities include electricity, covered seating, with tables for up to 250, and additional field space available if needed.
For more information on Occoquan Park venues, see 
https://www.novaparks.com/parks/occoquan-regional-park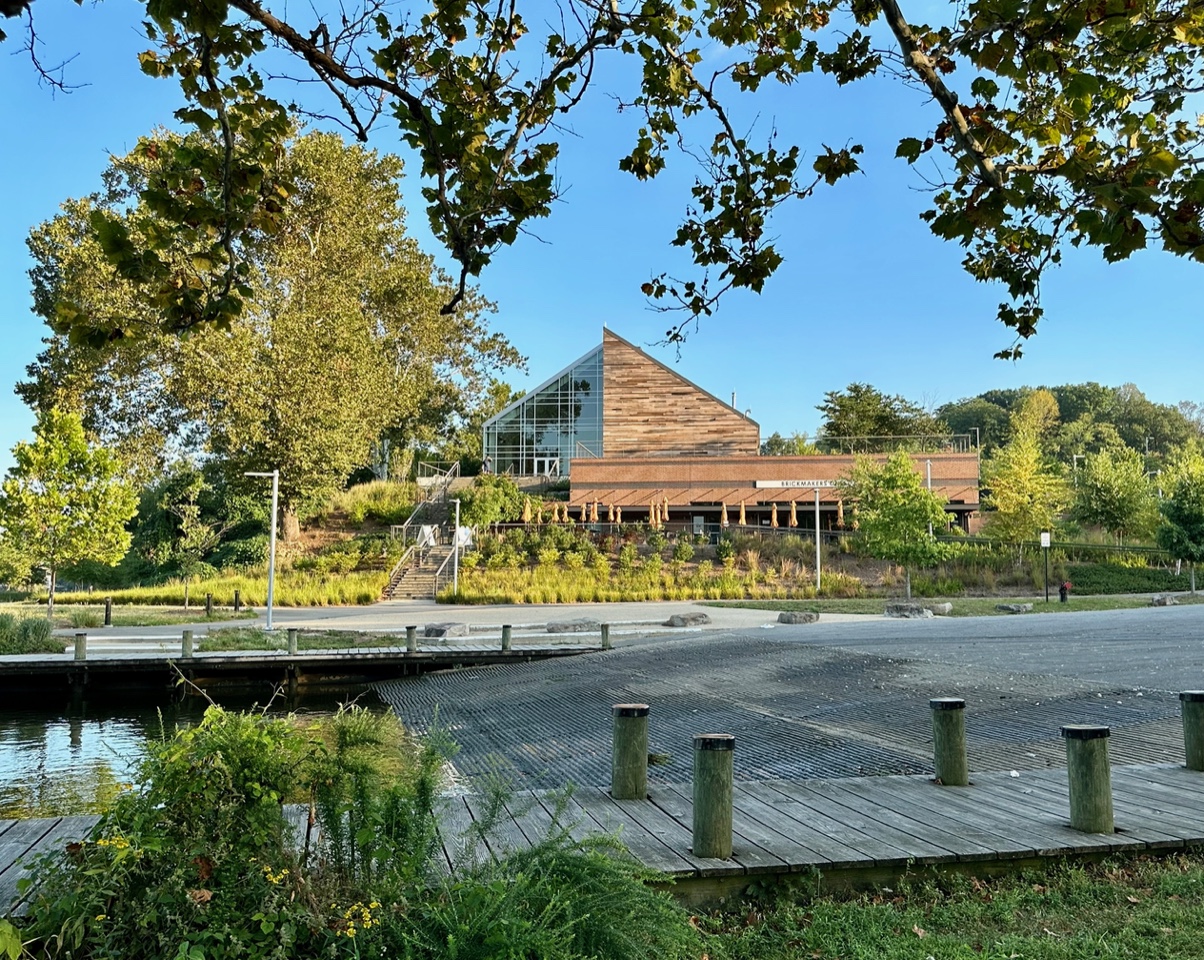 Snuggling against one side of the River View near the boat ramp, the Brickmaker's Cafe provides scenic views of the river and light breezes along with a several menu options
Brickmakers Cafe
Attached to one end of the River View events center in Occoquan Park, with a separate entrance, the small cafe with seating inside and on the umbrellaed terrace, offers views of the Occoquan River and gentle breezes. The menu includes hot cafe entrees, sandwiches and salads. A small selection of beer and wine is available, with happy hour price reductions after 2 p.m. The Cafe offers carry out catering and hosts catering for functions, including business meetings, birthday and retirement parties, and rehearsal dinners. See https://www.novaparks.com/parks/brickmakers-cafe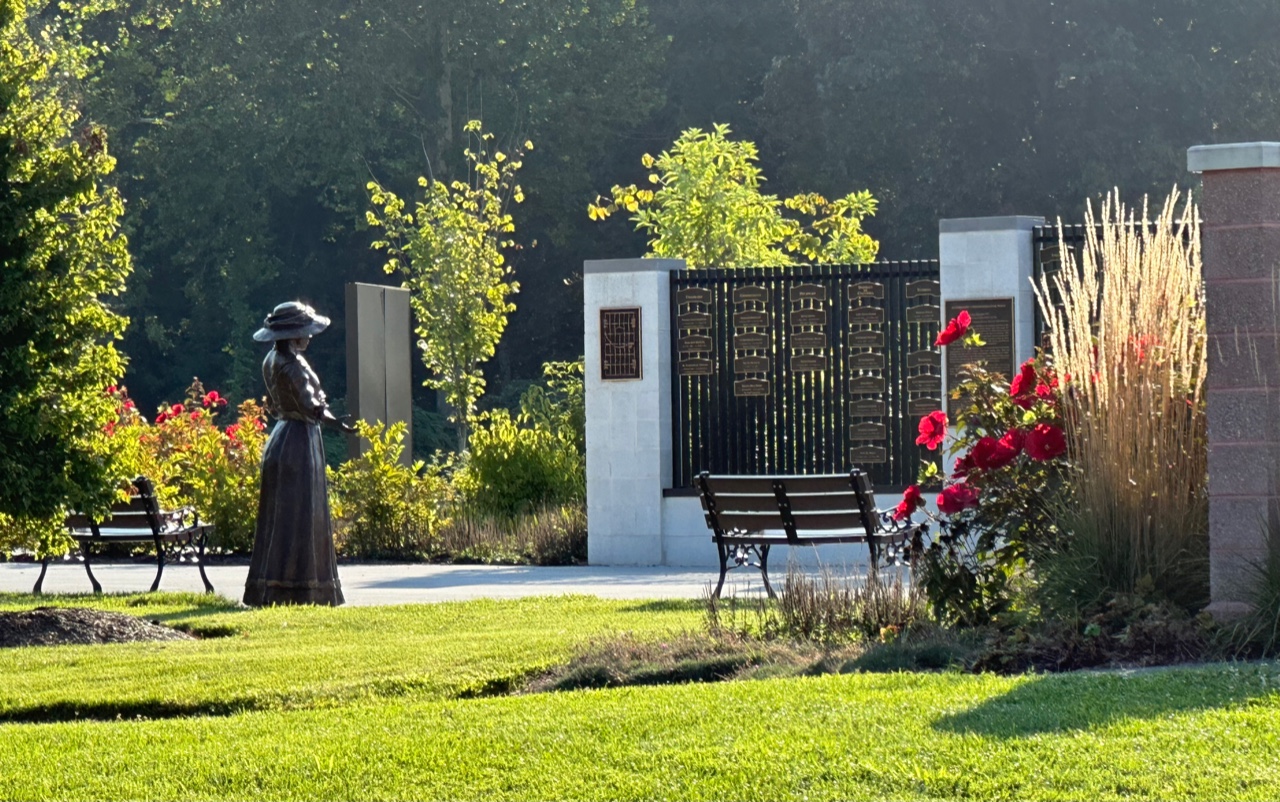 Steeped in history, one can easily imagine an Edwardian lady strolling the grounds which reflect on women's struggles to gain the right to vote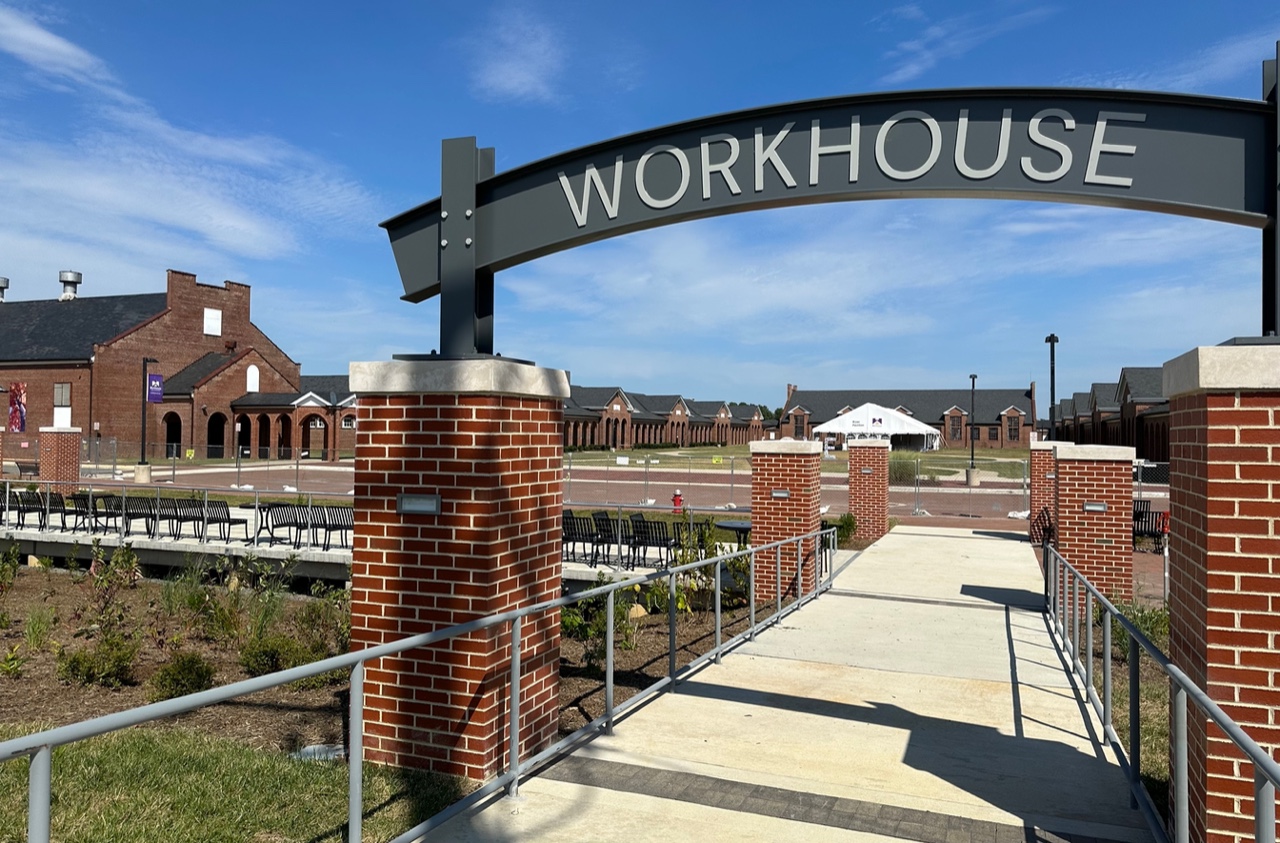 The Workhouse Art Center, under further renovation of buildings surrounding its quad, will welcome the Bunnyman Brewery in 2024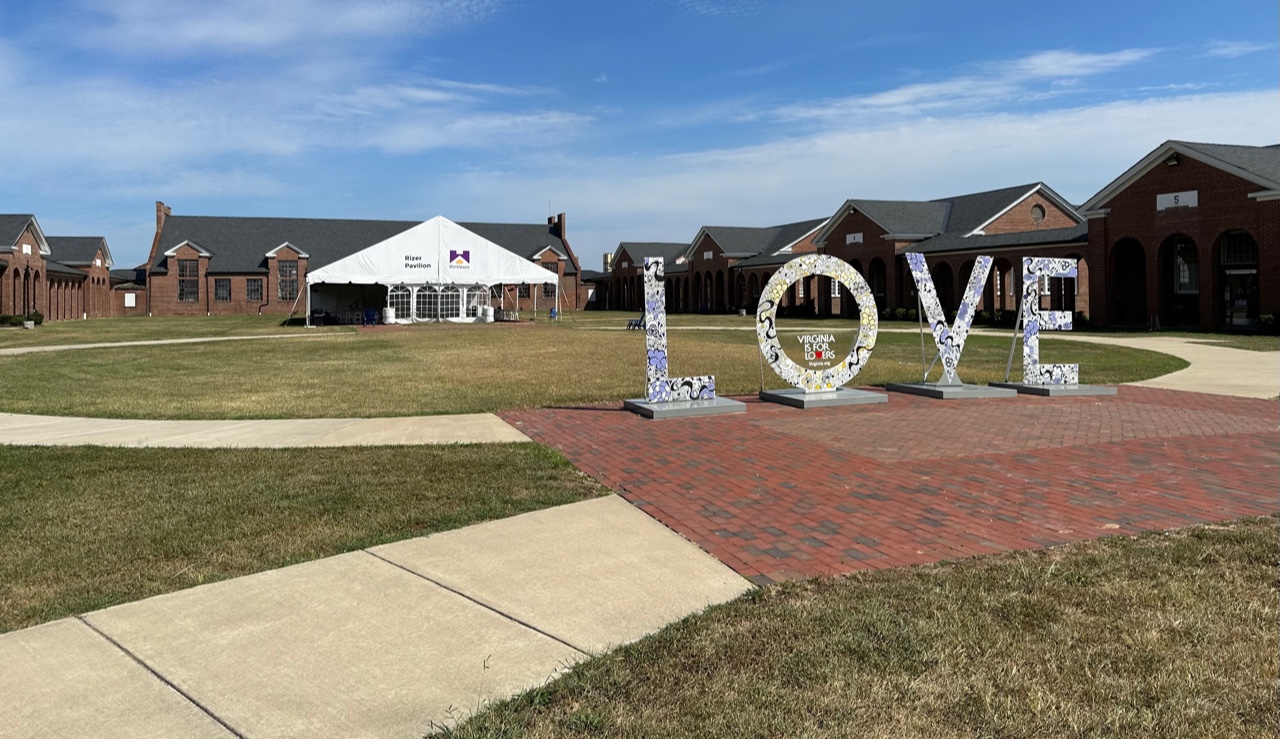 The Workhouse Art Center and quad is open now with galleries, the Lucy Burns Museum and an iconic LOVE sign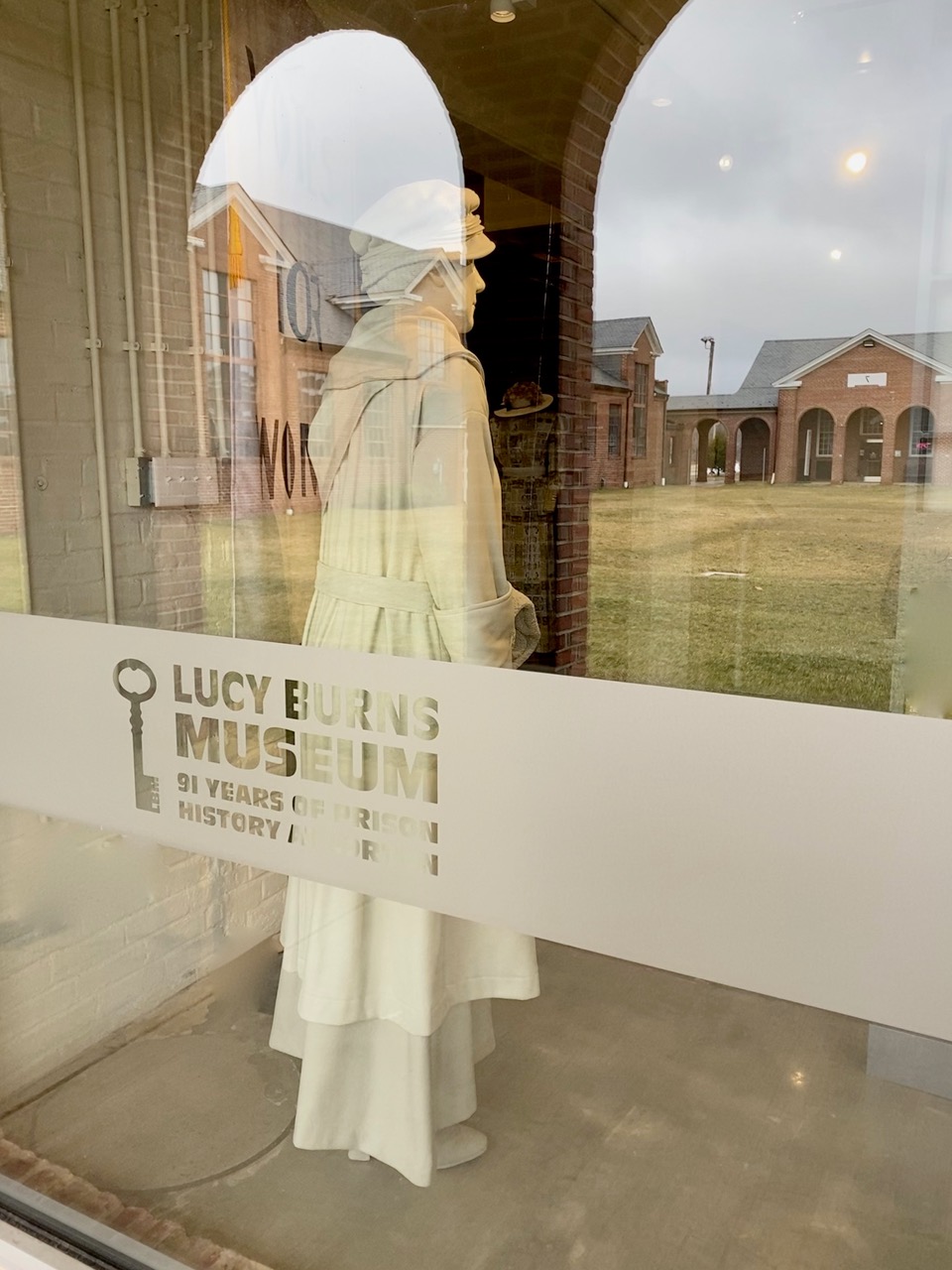 The Center is home to the Lucy Burns Museum telling the story of suffragists incarnated at the reformatory for silent picketing at the White House.
Workhouse Arts Center, 9518 Workhouse Way, Lorton
The Workhouse provides a focal point for local artists and an interesting historic venue for events. This Fall, find a series of "Learning at Lunch" programs on topics related to the historic reformatory and prison formerly located at the arts center site, presented by the Lucy Burns Museum. The center hosts monthly second Saturday art walks, and is the home of OnStage, a venue for live music and comedy, with indoor and outdoor events offered on the quad. 
For those not faint of heart, this year marks the tenth annual haunted walk in October. Creepy creatures, in this year's "Haunt: Game Over", create a scary experience among the historic buildings, best undertaken in small groups with friends for fright support. On the more gentle side, one of 200 iconic "Love" signs located throughout the Commonwealth is also located on the quad. These are an outgrowth of the very successful tourism campaign "Virginia is for Lovers," recognized by Forbes as one of the top ten tourism marketing campaigns of all time. Following the first appearance in "Modern Bride", March 1969, people travel from afar to collect photos with "Love" sign backgrounds, each has a unique setting and stylizing. See 
https://www.workhousearts.org/ and https://www.workhousearts.org/lucy-burns-museum
Bunnyman Brewing
Coming in March 2024, Bunnyman Brewery will be on site at the Workhouse Art Center's quad. The brewery will offer food as well as an extensive array of IPAs, beers, ales, stouts, and hard seltzers. The brewery's new location is made possible by a $6.3 million renovation project to a portion of the historic prison buildings on the quad. Bunnyman's arrival will actually be a return to the reformatory grounds home of the legend from which the brewery takes its unusual name. The tall tale tells of a nearby bus crash in the 1900s, from which patients from an "insane asylum" escaped. One left a trail of gutted rabbits as the only clues to his movements. He was the only patient never found. The brewery name marks the legend perhaps best told with a stout in hand. https://bunnymanbrewing.com/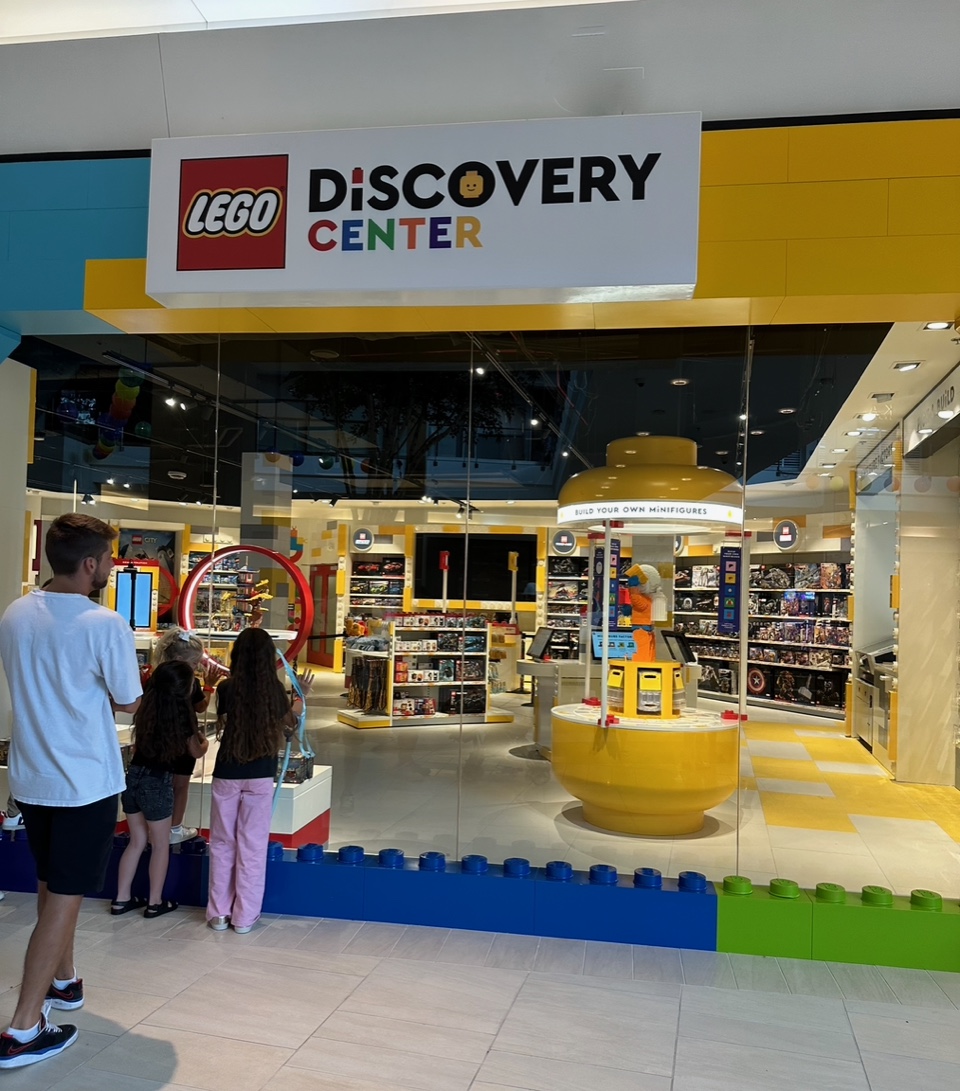 New in 2023, LEGO Discovery Center provides a new entertainment and shopping experience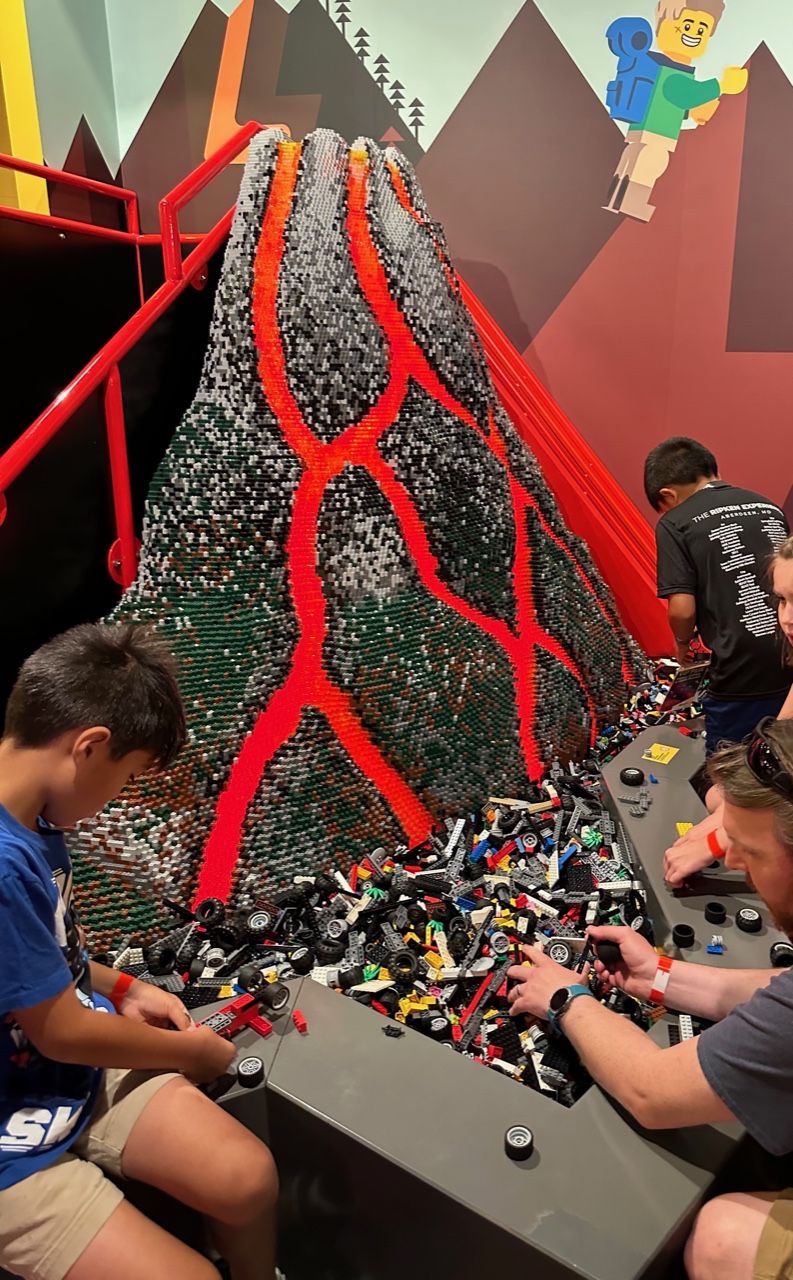 One of several activities within the Discovery Center, the lava mountain car race meets approval from area kids
LEGO Discovery Center, 6563 Springfield Mall, Springfield
A new arrival to the area's entertainment scene, the Discovery Center is turning accommodating parents and grandparents into instant subjects of adoration from local kids lucky enough to be escorted to the fun spot. 
The 32,000 square foot family entertainment attraction and store on the Springfield Towne Center's lower level boasts several sections. Twelve zones include multiple activities: LEGO brick building areas, spaceship build, train ride with space pirates, Washington D.C. as a mini-world, 4D cinema, laser maze, and a hero zone sure to help wear out even those with the most energy to burn. Tiny critics often provide the insider's tip that the laser maze and car race mountain are the areas they like best, of course after trying them all. Tickets start at $28.99 https://www.legodiscoverycenter.com/washington-dc/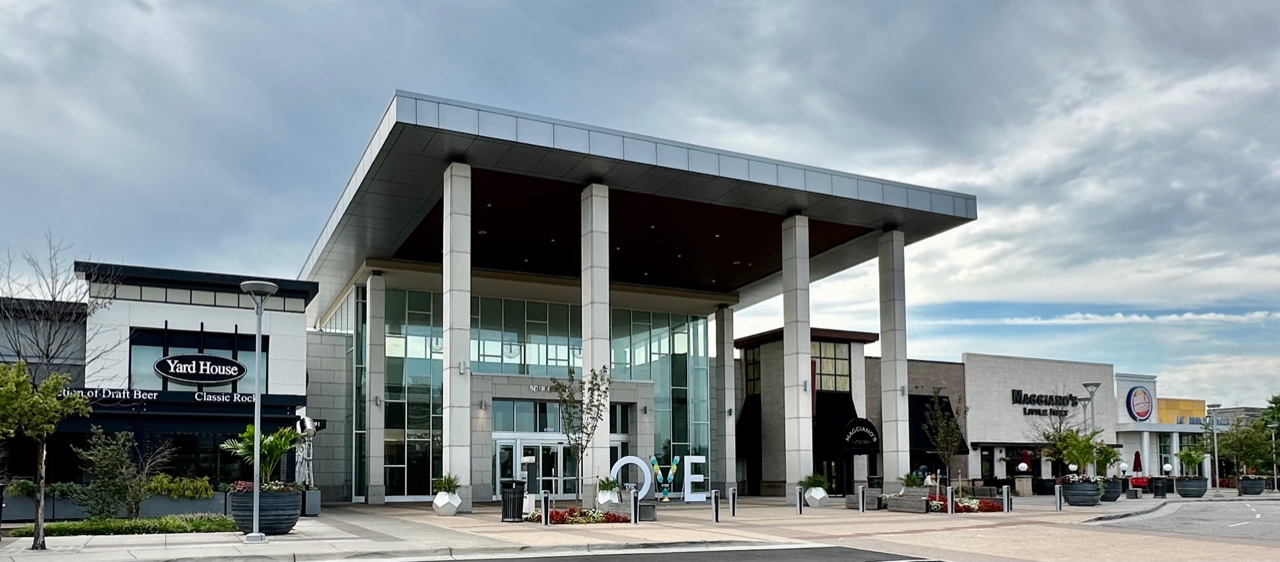 Springfield Towne Center, with its concentration of eateries, is a destination for many seeking affordable entertainment
The mall hosts cultural events to provide variety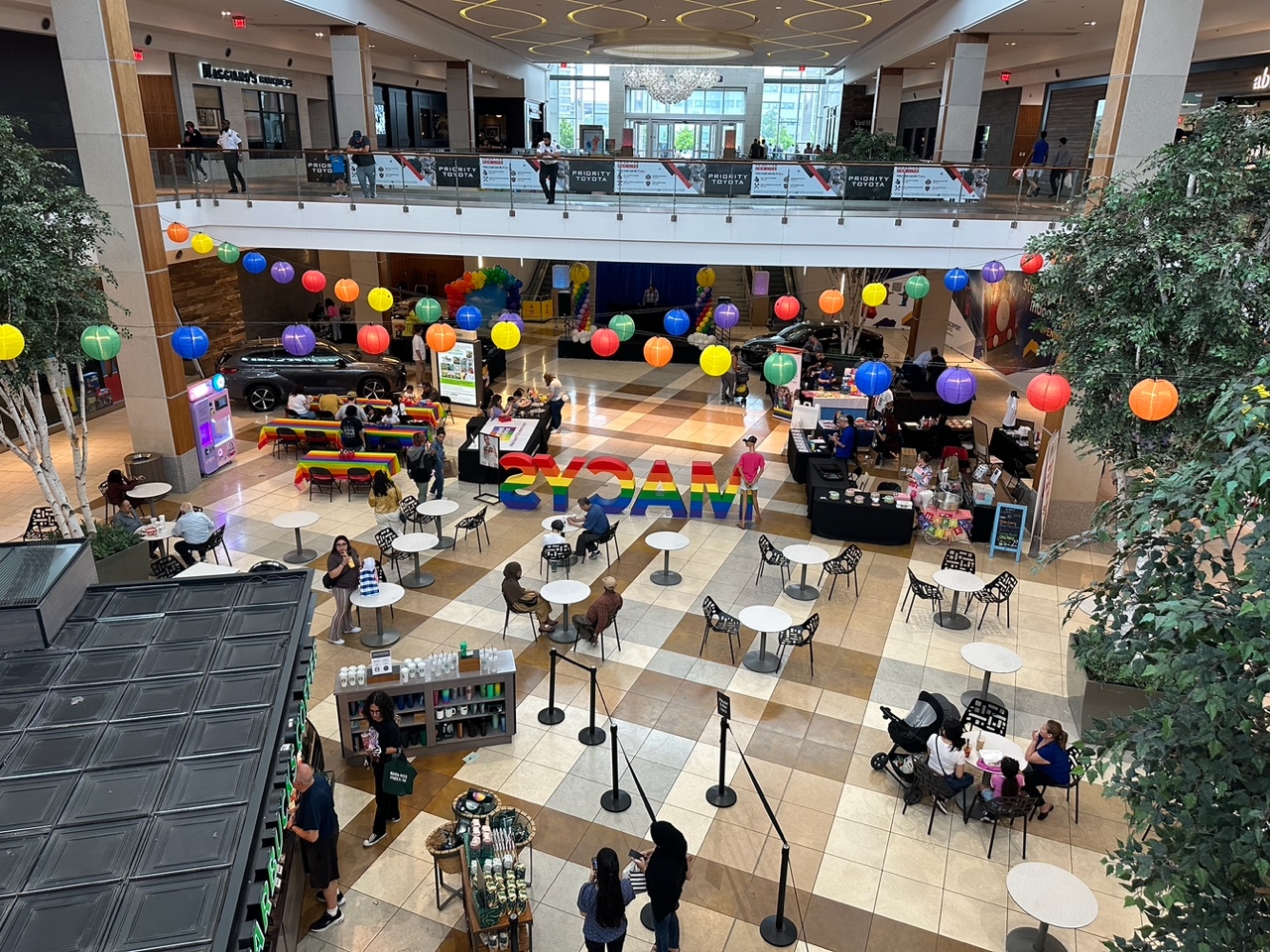 Climate control, open secure areas, and concentrated shopping options with parking make the Center an easy place to have an outing
Springfield Towne Center, 6500 Springfield Mall, Springfield
Have you noticed that lately "the mall" is being rediscovered as an entertainment center? Make a trip in the evening or on weekends, and find families with small children, couples, and teens making the mall a destination for having fun without having to spend much money. Play areas for tots and older children, window shopping, a food court, a multi-screen movie theater, and people watching, in a climate controlled, cheerful lighted space, with security and easy parking, makes the mall an easy choice. Some even take advantage of the controlled temperature for walking exercise.
Enclosed, centralized shopping malls saw a boom period from the late 1960s through the 2000s. In recent years, as online shopping emerged as a major competitor, malls began to go out of business. Those that have survived, such as the local Center, typically include attractions, gyms, and movie theaters. The Springfield Towne Center is anchored by Macy's and Target, and now includes the LEGO entertainment venue. It hosts many free events and programs, often with cultural themes, for the community and families to enjoy year-round. 
https://springfieldtowncenter.com/ 
Springfield Towne Center Restaurants - Located mostly along the Center's Loisdale Road side are several restaurant options, beyond the Food Court fast food options located inside. Diners have a wide range of options from ethnic foods: Maggiano's Little Italy, Italian; Mezeh, Mediterranean; Chuy's, Mexican; and Nando's, South African cuisine; to more traditional American food options at Dave & Buster's, Silver Diner, and Yard House.
For a complete list of restaurants and their locations within or near the Center, see https://springfieldtowncenter.com/