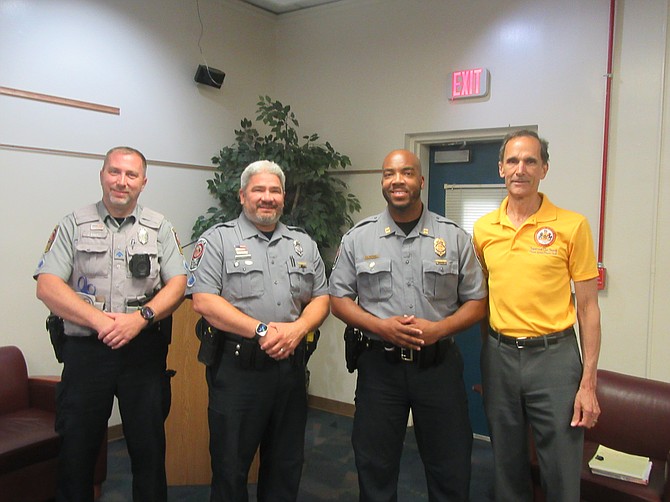 "It takes a lot to work in the Mount Vernon district," Fairfax County police Captain Marc Mitchell told his audience at an Aug. 30 "Meet the Commander" gathering at the Sherwood Regional Library. The district is "one of the busiest in volume for calls for service," he elaborated.
The 26-square-mile Mount Vernon Police District stretches from the Potomac River west to Telegraph Road, from I-95/495 on the north to Fort Belvoir on the south, lines that differ somewhat from the Mount Vernon magisterial district's boundaries.
Mount Vernon District Supervisor Dan Storck introduced the new commander, noting that Mitchell is a 16-year veteran of the Fairfax County Police Department and has worked in six of the county's eight stations. 
Originally from Richmond, Mitchell said he was "humbled and honored" to be the commander of the Mount Vernon station, 60 days into this job. He has a George Mason University degree in the administration of justice and has a "passion for the public safety mission," he commented.
One priority is "to create sustainable relationships," to have partnerships with community members. The department has a neighborhood patrol unit, officers who ride bicycles through neighborhoods and will have more later this year. "We need more community input," he urged. "This is your police department." 
Storck said, "I am pleased with Captain Mitchell's experience and strong community engagement focus. … I am proud that our officers are being proactive in our community every day."
Many Topics
Topics ranged from crime rates to schools to panhandlers to gangs.
Mitchell said that Fairfax County is the "safest jurisdiction of its size." On county and Mount Vernon crime data, Lt. James Curry, a police department public affairs spokesperson, said on Sept. 1, "The department will post crime reports online on the FCPD website on Sept. 5." The posted data was for county-wide reports.
"Our most precious gift is our children," Mitchell commented, noting that he has been a school liaison officer. Referring to the May 2022 school shooting in Uvalde, Texas, he said that the Uvalde police's response "was absolutely unacceptable. We are going in immediately to preserve life," he assured the group. In Uvalde, a shooter inside Robb Elementary School killed 19 children and two adults and injured 17 others over an hour-long period before law enforcement officials engaged the shooter, according to media reports.
When asked about gangs, Mitchell said the department has detectives who investigate gangs. The police can provide "gang awareness training" to the public. Their approach to juvenile justice is based on "restorative justice," he said, and they will hold violent criminals accountable, citing armed robbery as an example. 
Several people expressed concerns about people experiencing homelessness on and near roads like U.S. 1. 
"Panhandling is a big concern," said Mitchell. The FCPD website advises, "We discourage people from giving cash to individuals who panhandle … cash will not help solve the underlying reasons why someone panhandles."
The police have a co-responder program, crisis intervention officers and trained clinicians who help with people having a mental health crisis. He said they try to be "deliberate" and "find a safe response." Calls generated by mental health incidents have risen since the COVID-19 (coronavirus disease) pandemic, he said. 
Drug use, like fentanyl, is a "national problem," Mitchell opined. The FCPD has an opioid unit, detectives who "aggressively go after dealers and distributors." Officers also respond to overdoses and try to provide appropriate support services.
One gentleman questioned how to encourage people of color and immigrants who may be hesitant to contact the police. "Fairfax County is one of the most diverse counties in the country," Mitchell said, a fact we should "celebrate." The Fairfax County police do not "partner with the U.S. Immigration and Customs Enforcement (ICE) or get involved in immigration issues," he emphasized. "We're going to protect all," he offered.
The Fairfax County Police Department's recruitment efforts have generated one of the largest training classes in years, he said, with 57 candidates in the police academy currently. Training new police officers can take almost a year. "We are focused on quality because it's a public trust," he said.
They have started the "30 by 30" gender diversity program, with a goal of having women represent 30 percent of the force by 2030. "We should reflect the community we serve," Mitchell maintained.
Reaching Out
Among the department's online and in-person outreach efforts, Mitchell reported that officers can go to local groups and discuss many topics. 
He announced a new effort to send out community alerts. 
"It was good to hear Captain Mitchell emphasize stepping up efforts to reach out to the community to hear from our residents," said Greg Crider who attended. "I'm looking forward to the pilot program he mentioned under which alerts will be sent to Mount Vernon residents about police incidents that are happening. People want to know."
Crider is a member of the Community Advisory Committee which meets on the second Thursday of the month at 7 p.m. at the Mount Vernon Government Center. At the meetings, police officers make a presentation, cover high-visibility issues and answer questions.
Mitchell stressed police officers' desire and duty to respond. "We want you to know that if you call 911, we are coming, even if it's a flat tire or you are rear ended. We are ready. We will come," he assured the group.
More Information
Senior Safety Summit, Sept. 13, 10 a.m. to 1:30 p.m., the Lorton Community Center
Mount Vernon Police District, https://www.fairfaxcounty.gov/police/district/mountvernon 
Crime statistics, https://www.fairfaxcounty.gov/police/chief/crimestatistics 
Community Advisory Committees, https://www.fairfaxcounty.gov/police/getinvolved/communityadvisorycommittee