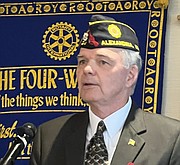 Their mission was noble: to evacuate desperate civilians yearning to escape a brutal regime. The 13 U.S. servicemembers who died from a terrorist bombing in Afghanistan in August two years past will not be the last Americans to make such a sacrifice. It is acknowledged though that these 13 men and women represent the best of a generation. 
There was Navy Corpsman Max Soviak of Berlin Heights, Ohio. His high school football coach described him as fearless. He was 22.
Marine Corps Lance Corporal David Espinosa of Rio Bravo, Texas. His mother said he was a good kid who never got in trouble. He was 20.
Army Staff Sergeant Ryan Knauss of Corryton, Tenn. He was a proud member of the 82nd Airborne. He was 23.
Marine Corps Staff Sergeant Darin Hoover of Salt Lake City, Utah. He was serving his third tour in Afghanistan. He was 31.
Marine Corps Corporal Daegan Page of Omaha, Neb. In his youth, he played hockey and was a dedicated Boys Scout. He was 23.
Marine Corps Sergeant Johanny Rosario Pichardo of Lawrence, Mass. She was a member of the brigade's Female Engagement Team, responsible for screening civilians while respecting cultural sensitivities. She was 25.
Marine Corps Corporal Hunter Lopez of Indio, Calif. He was the son of two Sheriff's Department officers. He was 22.
Marine Corps Corporal Humberto Sanchez of Logansport, Ind.  He was on the homecoming court during his high school senior year. He died at 22.
Marine Corps Lance Corporal Jared Schmitz of St. Charles, Mo.  He liked to play video games, according to his dad. He was 20.
Marine Corps Lance Corporal Kareem Nikoui of Norco, Calif. He served in Junior ROTC before joining the Marines. He was 20.
Marine Corps Lance Corporal Dylan Merola of Cucamonga, Calif. He had been in Afghanistan for just more than a week. He planned to attend college and study engineering. He was 20.
Marine Corps Sergeant Nicole Gee of Sacramento, Calif. Just days before the attack, she posted an Instagram photograph of herself cradling an Afghan baby with the caption reading, "I love my job." She was 23.
Marine Corps Lance Corporal Rylee McCollum of Jackson, Wyo.  He had recently gotten married and his young wife was expecting their first child. He was 20.
These 13 came from every background in American society, yet they shared a common goal: to serve America and make life better for others.
From the American Revolution to the Global War on Terror, more than one million American service members have made the Supreme Sacrifice. They died so that we could continue to cherish the things they loved—God, country, and family.
We are reminded on Memorial Day that brave men and women have always stepped forward to take the oath of allegiance as members of our armed forces, willing to fight and if necessary die for the sake of freedom. 
We must continue to honor the spirit of these heroes. We must share their legacies and tell their stories. The heavy loss felt by Gold Star families is forever.
In the words of President Abraham Lincoln's Gettysburg Address: "It is for us the living, rather, to be dedicated here to the unfinished work which they who fought here have thus far so nobly advanced."
Today, we are the living, and we are dedicated to continuing the work of those who have gone before us. We are dedicated to preserving the memory of our fallen heroes and declare our unending gratitude and support for their families.
God bless America; and God bless the souls of the men and women who made the ultimate sacrifice for our Nation.