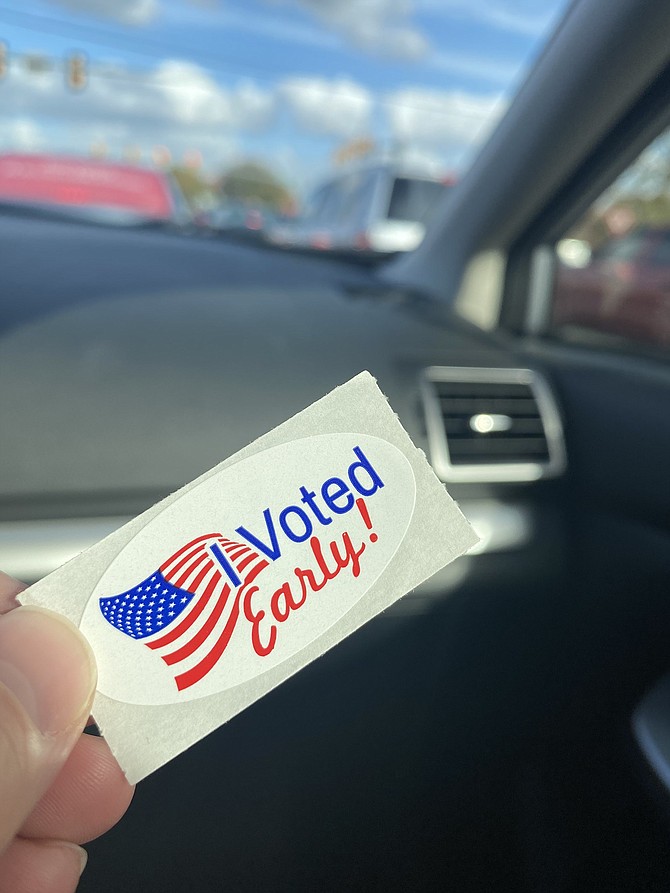 If it feels like campaign season started earlier than usual this year, it has, with early voting for the primary election already in full swing. 
In a primary election, voters will pick their preferred candidate to square off against the other party's candidate in November. All Virginia General Assembly seats, along with other local races, are on the ballot this year.
It is the first time Virginia voters have had the 45-day early voting period before a full legislature election. Voting will continue through June 17 at 5 p.m. for the June 20 primary day.
"That's a big change from the way it used to be in Virginia," said Stephen Farnsworth, political science professor and director of the University of Mary Washington Center for Leadership and Media Studies. "Where most of the votes were cast on election day, that's just no longer the case here." 
Primaries typically have the lowest levels of turnout, he said.
"Most people are looking at planning summer vacations, going to graduations and weddings, rather than showing up to participate in primaries," Farnsworth said.
Virginia voters now have 45 extra days to work voting into their schedule. 
"Virginia has made it a lot easier to participate, you can vote early right now," Farnsworth said.
Another key change this election is the use of the new redistricting map for legislative districts.
"The lines have been drawn in very different ways than they existed before the 2020 Census," Farnsworth said.
New boundaries have brought new candidates to the field, and also pushed incumbents into new territory — with new constituents. Or, pushed established candidates into a district where they face a colleague.
"What this has done is created a lot of opportunity for challengers to be competitive, because even incumbents are going to be looking at an electorate that is different than the old electorate," Farnsworth said.
Some Virginia legislators have announced their retirements rather than choosing to run for reelection in the new districts. 
This will cause a large generational change in 2023, according to Farnsworth. 
"The legislature that takes office next January will be much younger than the current legislature," Farnsworth said. "It will also be a legislature that is less experienced; you'll have many first-time candidates because there are a great deal of open contests this year."
The election outcome will likely impact the rest of Gov. Glenn Youngkin's term. If Republicans keep their House majority and take over the Senate, Youngkin might have a more successful final two years, Farnsworth said.
"That could mean tighter restrictions on abortion, it could mean more tax benefits for businesses," Farnsworth said. "Those two things are probably at the top of the list of how things would change if there were a unified government in Virginia."
Two years ago, the governor's office and the House of Delegates flipped red and wrested away Democratic control of the legislative and executive branches. Since then, many legislative efforts have failed to pass the brick wall of each chamber.
Even if Democrats keep the Senate and win the House majority there will still be some of the gridlock of the past two years, according to Farnsworth. 
Suburban districts will likely influence who gains legislative control, such as Chesterfield, Loudoun and Stafford counties, according to Farnsworth.
Not every district will have a primary election. Some candidates are running uncontested, and some Republicans will hold a convention in certain districts. 
Early voting is done weekdays at the local registrar's office. Starting on June 10, voter registration offices will be open for early voting as well. Law requires early voting on the two Saturdays before the primary election day, and gives localities the option to open on Sundays also.
The deadline to register to vote, or update a registration is May 30. Voters can register after that date, but will be given a provisional ballot. The deadline for a ballot to be mailed to a voter is June 9. 
Anyone may vote in the primary of their choice for their district, regardless of previous party participation. 
A list of Democratic candidates can be found here: https://www.elections.virginia.gov/media/castyourballot/candidatelist/2023-june-primary/Dem-List-of-Candidates.pdf 
A list of Republican candidates can be found here. https://www.elections.virginia.gov/media/castyourballot/candidatelist/2023-june-primary/Rep-List-of-Candidates.pdf
More information on the upcoming election, including voter registration and ballot lookup, can be found on the Virginia Department of Elections website. https://www.elections.virginia.gov/casting-a-ballot/candidate-list/upcoming-elections.html
Capital News Service is a program of Virginia Commonwealth University's Robertson School of Media and Culture. Students in the program provide state government coverage for a variety of media outlets in Virginia.