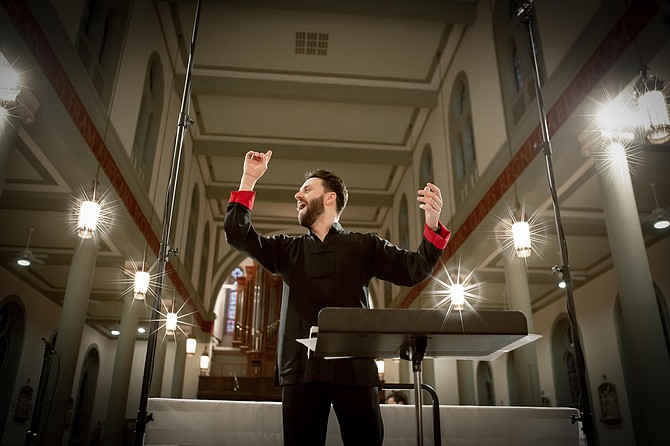 The challenging week is about to begin for the artists in the Vocal Fellows Program: six-hour long rehearsals, networking, feedback, and mentorship from high-level professionals in preparation for three concerts May 19-21. 
The four Vocal Fellows for 2023 started working with their mentors in January on how to prepare for these concerts. They received their music over a month ago so they could begin to familiarize themselves with the selections. Matthew Robertson, Artistic Director of The Thirteen which is sponsoring the Vocal Fellows program says, "We are busy, busy, busy."
The Vocal Fellows Program was begun in 2019 by The Thirteen. Robertson said this year there were around 15 applications. "It was a competitive year. There are a relatively small number in this field. And he says "There were a number of talented applicants we weren't able to choose."
The Vocal Fellows Program offers fellowships to "early career singers from diverse racial, ethnic, cultural or other demographic groups that are underrepresented among professional singers of vocal ensemble and oratorio music." Robertson says, "We wanted to help our field better look like the people we hope to reach." He explains, "This issue of equity and access isn't apparent especially in oratorio and classical ensembles. This is an existential issue for performing arts."
Robertson says, "From our perspective we go in to share knowledge. The Vocal Fellows are working with a set of musicians at the highest level of their field." But the advantages of participation in this program extend well beyond the performance experience. He explains the fellows make valuable professional contacts. 
"Last year's fellows told us how important this program is and how much they felt appreciated and valued. They admitted there is a problem." Robertson explains this referral-based economy is difficult.
The Vocal Fellows will perform with The Thirteen in concerts featuring Frank Martin's Mass for Double Choir and works by Nathaniel Dett, Amy Beach, Maurice Ravel and more. Robertson says, "It is a pretty sophisticated program." The Flowering of Days performances will take place on Friday, May 19 at Episcopal High School Chapel in Alexandria; Saturday, May 20 at St. Paul's Church K Street in D.C. and Sunday, May 21 at Bradley Hills Church in Bethesda. 
This year's Vocal Fellows:
* John Solomon Collins—bass-baritone
* Sea Han—soprano
* Jared Marshall—countertenor
* David Morales—tenor
Sea Han says, "I would like to learn tools to maintain a sustainable but fulfilling collaborative music career. I would also like meeting new, cool people — as this group seems to have a surplus of."
John Solomon Collins says, "I have the platform to show that diversity within classical music performance should be embraced and respected more. Through this program, I can show children who look like me that we can be part of this industry as well, and that we can do anything we put our minds to."
Robertson has long focused on performing music by underrepresented, women and people of color.
The Thirteen is in its 11th season. It was originally envisioned by Robertson as a group with 12 singers and a conductor. But he says since then ambition has outstripped the name, and now they perform with 8-50 as required by the specific music. Robertson's creative programming has been recognized by a number of critics, and his performances are part of concert series and college programs throughout the United States.
Robertson concludes, "This program is near and dear to my heart. Hopefully we can play a role in their early careers as we make sumptuous beautiful music." 
Vocal Fellows
The Flowering of Days performances: 
* Friday, May 19 at Episcopal High School Chapel in Alexandria; 
* Saturday, May 20 at St. Paul's Church K Street in D.C. and 
* Sunday, May 21 at Bradley Hills Church in Bethesda.