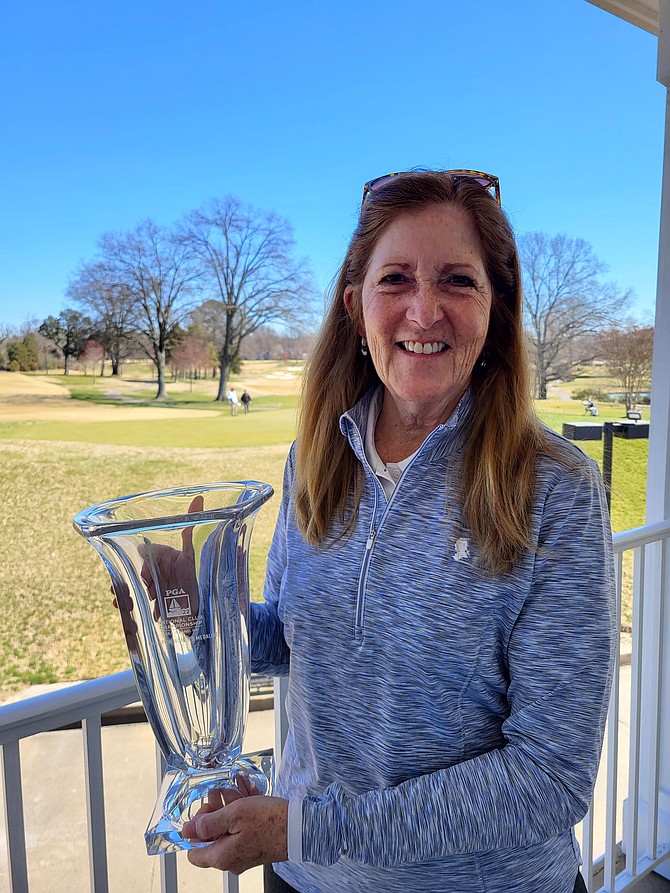 As one of the top-notch golfers at Mount Vernon Country Club, Joan Gardner has done a lot of things in and outside of golf that she can be proud of. In February, she sunk a long putt at the PGA of America for club champions tournament in South Carolina to win in her age group. Off the course she's a retired lawyer that's used golf as a forum to get things done for others.
This includes her work with youngsters at First Tee of Greater Washington DC and a scholarship program with the Virginia State Golf Association. Golfing is not all about teeing it up and driving it down the fairway.
At First Tee she specialized in "teaching golf and … teach life's lessons," she said. When playing golf with a business associate, "you get to know them on a different level," she added.
At the tournament in South Carolina, it was three days of golfing at a few different courses with golfers from all over the country including three women from Alaska. Walking around all day leads to a social exchange that is very different from the office atmosphere. "It is a wonderful walk in the park," she called it.
Gardner grew up in Oklahoma and both of her parents golfed, so they got her involved and her interest grew from there. She got her law degree and had a career as a lawyer in the healthcare industry, but golfing always always came in handy in her professional life. From there, she excelled at the country club, traveled around the world, met all kinds of people, and even got four holes-in-one. "I feel lucky my parents got me into it,"
Through her golfing tenure, she's been to Australia, New Zealand, Tasmania, England and Palm Springs to play golf. Next August, she's planning to going to Northern Ireland with a group to play the "links," style courses they have in Europe that are laid out differently than the courses in this country. The holes go back and forth, instead of around a plot of land. In Ireland, "the obstacles are wind and bunkers, a different style of golf," she said.
At the PGA tournament in Georgia last month, she golfed along with the Super Senior club champion Linda DiVall who ended up landing in eighth place, and Maxine Bland who is a pro at Westfields Golf Course in western Fairfax County. Gardner's long putt put her in the winner's circle though. "I ended up winning by one," she said.
She keeps her trophy in the clubhouse at Mount Vernon, a country club that's been part of the community since its construction back in 1961. There is a chronological map with pictures in the clubhouse, which includes a shot of Sam Snead, a PGA professional who played on opening day in 1961.