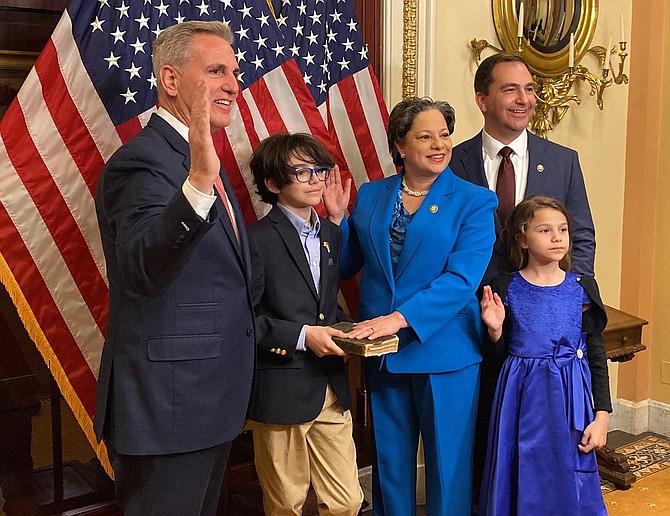 March is Women's History Month, and this March we can celebrate the many women who contributed to our past history and who are contributing to our history as recently as last week. On March 7 Congresswoman Jennifer McClellan was sworn in as a member of the 118th Congress becoming the first Black woman to serve in Virginia's Congressional delegation. She succeeds the late Congressman Don McEachin who passed away recently from complications of cancer.
For Congresswoman Jennifer McClellan to be making history is no surprise to anyone who knows her. If I had my way she would be the current governor of Virginia for I had supported her in the Democratic primary to be the party's candidate for governor. It remains possible that she will in the future be the first Black woman governor of the Commonwealth for which she has the abilities.
When I was chairman of the Democratic Party of Virginia, the late Governor of Virginia Gerald L. Baliles told me about a young associate in the law firm for which he was working after leaving the governorship and for whom he had the highest recommendation for political office and service. She was Jennifer McClellan who had only recently earned her law degree from the University of Virginia and who was already demonstrating her keen knowledge as a native Virginian and her political acumen. He could not have been more accurate in his assessment of her.
It was less than ten years later that now Congresswoman McClellan ran successfully in the Richmond area to become a member of the Virginia House of Delegates in 2016 where she served until 2017 when she became a member of the Virginia Senate where she served until her recent election to Congress. In both the Virginia House and Senate she stood out for successfully sponsoring the most difficult and important legislation.
In its most recent edition, Black Virginia News reported on her first speech to the U.S. House. She talked about being the "daughter and granddaughter of men who paid poll taxes and the great-granddaughter of a man who took a literacy test and had to find three white men to vouch for him to be able to vote." She went on to say, "I stand on the shoulders of my parents, grandparents, and great-grandparents, recognizing that in a lot of ways I am fighting the same fights they did. And I stand here to ensure that my children and yours do not have to fight those same fights." I remember her making the same kind of speech in the Virginia Capitol where her work was responsible for so much positive change. 
Congresswoman McClellan will serve on the House Armed Services and Science, Space, and Technology Committees and no doubt will continue to make history.