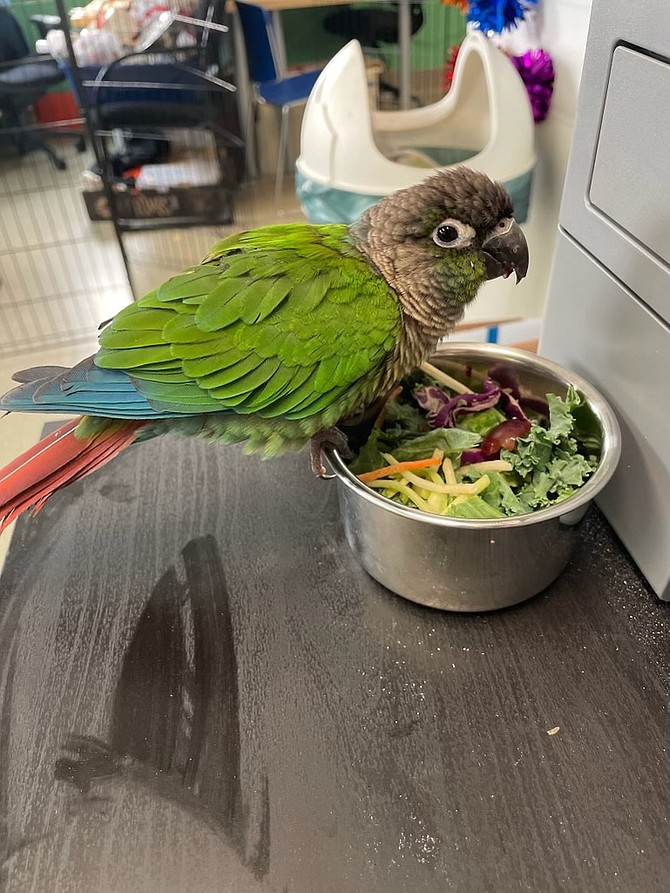 Use 2223 and one or more of the others as you like
Arl-Klaus-2223.jpg
Photo contributed
Klaus, the green-cheeked conure, with Kat Potts and Robert Mas.
Arl-Klaus-2341.jpg
Klaus, a green-cheeked conure, was missing for 49 days and found 57 miles from home.
Arl-Klaus-2529.jpg
Klaus, a green-cheeked conure
Arl-Klaus-8916.jpg
Klaus, a green-cheeked conure
Klaus Comes Home
Where was this green-cheeked conure for 49 days while it was making its way 57 miles to the AWLA in Arlington?
<1b>By Ashley Simpson
<2b>Arlington Connection
About four years ago, Overlea, Maryland couple Kat Potts and Robert Mas walked into a local pet store to casually mingle with the birds for sale. The intention was not to commit to a new pet – only to explore. While Potts had always wanted a bird, Mas wasn't so sure.
Less than an hour later, they walked out with Klaus – a six-month-old green-cheeked conure (or parakeet).
"Once we went and saw Klaus, I was hooked," Mas said. "I have zero friends with birds, so it was all very new to me. But, I loved it from the beginning because it's a lot of personality in a small body [less than a pound, to be exact]. Conures are really emotional and have their own personalities. Klaus is really smart – like a three-year-old. He can talk a little bit and understands commands. He knows some tricks, too."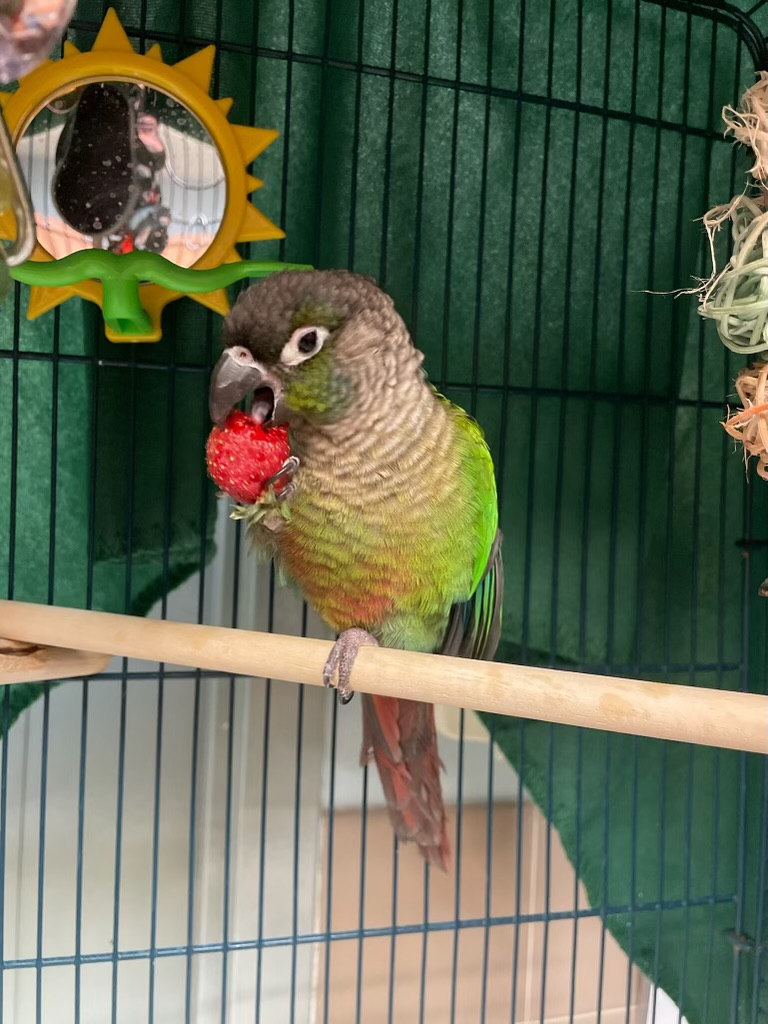 Mas and Potts have enjoyed Klaus so much over the last few years that they have since added three more birds to their flock – two other green-cheeked conures and a cockatiel.
"We love them all, and they are all very bonded to us," Mas said. "Still, Klaus is our friendliest one. He wants to be friends with everyone."
Mas and Potts have not clipped any of their birds' wings, which means that there are no limits to how far they can fly. And up until recently, this never posed any problems. If the birds were ever out of their cages, Mas and Potts always made sure the doors and windows were closed. Also, all of their birds – including the spunky Klaus – have had a tendency to stay close to their humans.
However, on April 23, amid some simple miscommunication between Mas and Potts, Klaus took advantage of a small window of opportunity and flew into the great outdoors (no pun intended).
"I was doing some yard work outside and Kat had let Klaus out of his cage," Mas recounted. "She had her headphones on so couldn't hear when I opened the door. I saw Klaus flying toward me and assumed he would stop there, but the wind carried him out and he flew up into a tree. He took off. It was the first time he had ever escaped."
Klaus flew so far up that tree that Mas's 30-foot extension ladder was of no use. Mas and Potts could see and hear Klaus for hours, but they couldn't access him in any way.
"I didn't know what to do," Mas said. "He was at least fifty feet up in the tree, so we couldn't get to him. We were so worried about other birds attacking him."
After conducting a lot of frantic online research, Mas and Potts learned that the best thing to do once the sun set would be to leave him in the tree and then try to lure him back when the sun came up again.
"Panic is the word," Potts said. "It was very difficult. Everything we read said that instinct would keep him in the tree overnight. It was so hard because all I wanted to do was fly up there. But, we stopped trying to call for him once the sun set. Then, after that first night, we went out in the morning and didn't see or hear him. We even ended up getting binoculars – but, nothing."
The two did everything to find him that day, and in the following days and weeks. 
"We had neighbors let us in their backyard," Potts said. "Everyone was keeping an eye out. We would take turns sitting on the back deck where we kept his cage while the other one would take loops around the neighborhood. Those first two weeks, we were really out and about, putting up posters. We got to know all our neighbors. We were constantly listening for a bird that didn't sound like it was native to Maryland. We got a couple leads from people who thought they had heard them, but we never got to him in time if he really had been in those places."
They also leveraged every corner of the Internet – scouring every relevant site and posting to different social media pages. They even posted about Klaus on a site they discovered called 911parrotalert.com, a domain designed to "reunite lost parrots and birds with their families."
Around six weeks after Klaus flew out of his home, on June 7, Mas was browsing the Internet on his cell phone – doing his nightly check of all the online platforms where information about Klaus just might appear.
"It was nuts," Mas said. "It was around 11 at night, and by this point we had posted about Klaus on every single lost animals-related Facebook group in the area. We saw a post from the Arlington Welfare League of Arlington (AWLA) that was posted to the 911 Parrot Alert site that featured a picture of what looked like Klaus. I turned to Kat and said, 'is this Klaus?'"
The AWLA was 57 miles away from their Maryland home, so it would have been a significant distance for Klaus to cover.
Still, as Potts took in the photo, zooming in on the image to clearly see the bird's markings and other features, her stomach flipped and her heart fluttered. The bird in the photo looked just like Klaus.
Mas immediately sent a message to the AWLA and, the very next day, two were en route to Arlington to see the bird they confirmed to be Klaus.
"When I walked into the room where he was staying, I could immediately tell it was Klaus, and he was so happy to see me," Potts said. "When birds are happy, they puff up their feathers, and he puffed his up right away. I walked up and put my hand into the cage and he stepped right onto my fingers. He seemed both happy and angry, like he was thinking, 'what took you so long?'"
If only Klaus could have known what the previous 49 days had been like for his relentless, eternally hopeful owners.
"We are so happy to have him back," Potts said. "I am still in a little shock, but the house finally feels complete again. The other birds were so excited to have him back, too – they definitely recognized him."
Also, if only Mas and Potts could know the ins and outs of Klaus's 49-day, 57-mile journey.
"He's back to being his normal needy, social self, but he does a really funny dance now that he must have learned along the way," Mas said. "He also has a larger vocal range now, often sounding like he's mimicking sounds from wild animals. He also makes a sound that sounds like a security alarm that's running out of battery."
Mas added that he wished Klaus had been carrying a go pro with him so they could have gotten a glimpse into his travels.
It is not lost on Mas and Potts how lucky they all are that Klaus survived.
"This time of year was a big factor in getting him back alive," Mas said. "He technically flew through two cities [Baltimore and Washington D.C.], so he probably had a taste of some junk food – french fries and who knows what else. He had to be pretty quick and resourceful, though, because within a few days, birds of his size run the risk of their organs shutting down if they don't get food and water."
Reuniting lost birds and owners at the AWLA
There are a lot of ways Klaus's story could have gone, and Mas and Potts are grateful that the AWLA was part of it.
"My heart was so full that, when we walked into the room where he was staying at the AWLA, he was hanging out with people and everyone seemed to love him," Potts said. "He was clearly in great hands and we were so glad they recognized that he was clearly a loved, well-taken-care-of bird and were so committed to finding his owners."
Klaus made his way to the AWLA by way of a Good Samaritan – an Arlington resident whose shoulder Klaus landed on 43 days into his adventure.
"Apparently the person tried to swat Klaus away and then realized he wasn't a wild bird," Potts said.
Thankfully, she added, Klaus stuck around long enough for that Arlington resident to apprehend him securely and bring him into AWLA offices.
Chelsea Jones, Senior Communications Specialist for the AWLA, said birds often come to the AWLA under similar circumstances.
"We get quite a few stray parakeets every year," Jones said. "A good number of our birds are strays. I think that's because people don't clip their wings and then they leave a window open, a door ajar – like the situation we saw with Klaus. It is not uncommon for people to call us and say, 'I found this parakeet or parrot.' Parrots and parakeets are domesticated, but they are not a naturally trusting species of animals. So then our officers will go out and get them safely with a net or other equipment."
Jones said that as common as it is for the AWLA to take in domestic birds – with parakeets, cockatiels, conures, finches, pigeons, and quaker parrots being the most common – the circumstances surrounding Klaus's intake and family reunion were definitely more on the extraordinary side. 
"With Klaus covering 57 miles, this was the largest distance reunification of pet and owner that we have seen," Jones said, noting that this statistic does not reflect situations where dogs and cats have been transported at some point in a vehicle.
Also, Klaus himself is not your ordinary bird.
"He came in and was surprisingly social and pretty trusting of people," Jones said. "He was certainly feisty – but very social."
While reuniting any kind of pet with its family is a worthy story to tell, lost birds are not the subject of these stories as often as their furry, four-legged counterparts are.
"It's not super common to unite birds and families," Jones said. "We would not have united [Mas and Potts] with Klaus without the help of the community. People were sharing the post a lot. It really shows you the power of community and how beneficial social media can be. It wouldn't have crossed our minds that Klaus's owners lived all the way in the Baltimore area."
Back in their Maryland home, Mas and Potts aren't taking any chances. Klaus was one lucky bird, and even though he might have enjoyed his adventure, it won't be happening again – not for him or for any of his feathered siblings. 
"We are already working more with Klaus on his recall," Mas said. "We are also in the process of establishing a household alerting system to ensure that no one ever opens a door to outside when any of the birds are out of their cages."
They are also happy to report that Klaus's vet has given him a clean bill of health – despite how many close calls or junk food he may have had during his travels. 
To learn more about pet birds, visit www.awla.org.