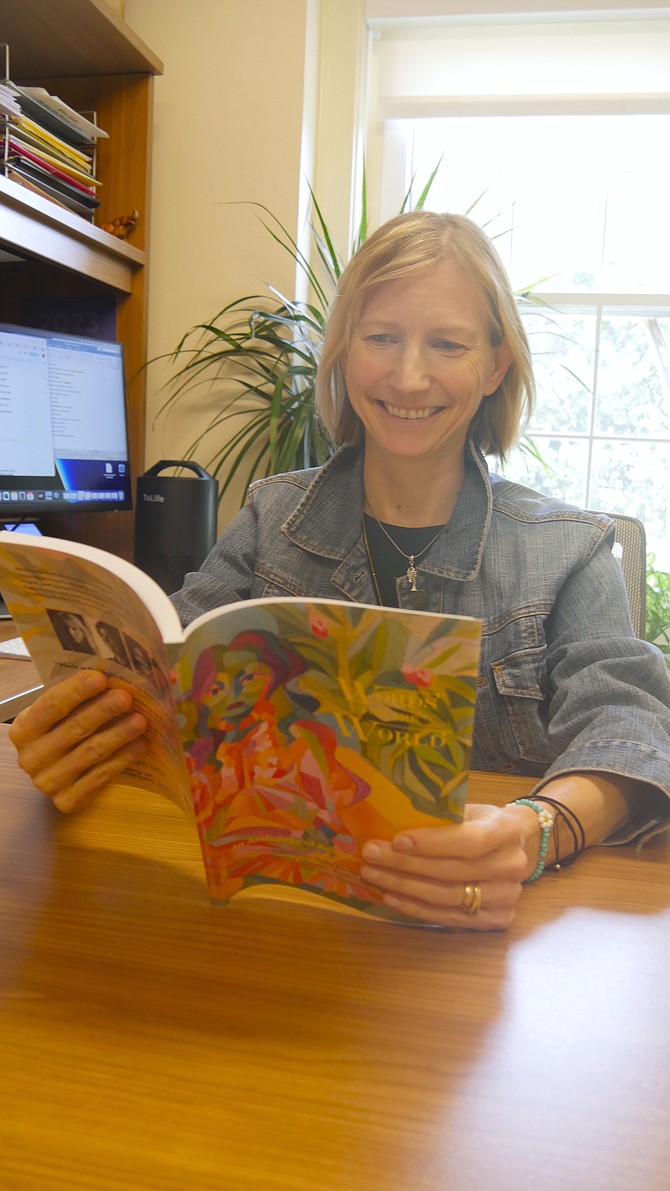 Holly Karapetkova, poet laureate of Arlington, received a $50,000 Academy of American Poets Laureate Fellowship in 2022. This, along with a partnership with local arts organization Day Eight, led to the compilation of an anthology of Arlington youth poetry. She had started imaging how to empower the voices of young people during the pandemic but without substantial resources couldn't imagine how to make the anthology happen. 
It might be through images of "feathers striped and torn," "a spider suspended," "marbles of my mind" or "rust on the green bird feeder" but Karapetkova says, "a lot of the work is about family, one of the biggest issues, and identity — figuring out who you are and about romance for sure, one of the most popular topics. And a lot of it is about resilience," Karapetkova says.
"Words for the World, an Anthology of Arlington Young Poets," includes the work of 38 poets from Wakefield, Yorktown, Washington-Liberty and H-B Woodlawn highschools. 
Zach Powers, artistic director at the Writer's Center says, "Don't let the word youth in the subtitle fool you. These poems are moving and striking and most of all, wise. These writers are poets, plain and simple. No adjective needed. Prepare to be wowed."
Karapetkova says poetry gives the youth an outlet. "Although they may not be a star athlete or a straight A student, publication of their poetry gives them a way to be recognized."
The inspiration for this anthology grew out of the pandemic. Karapetkova explained in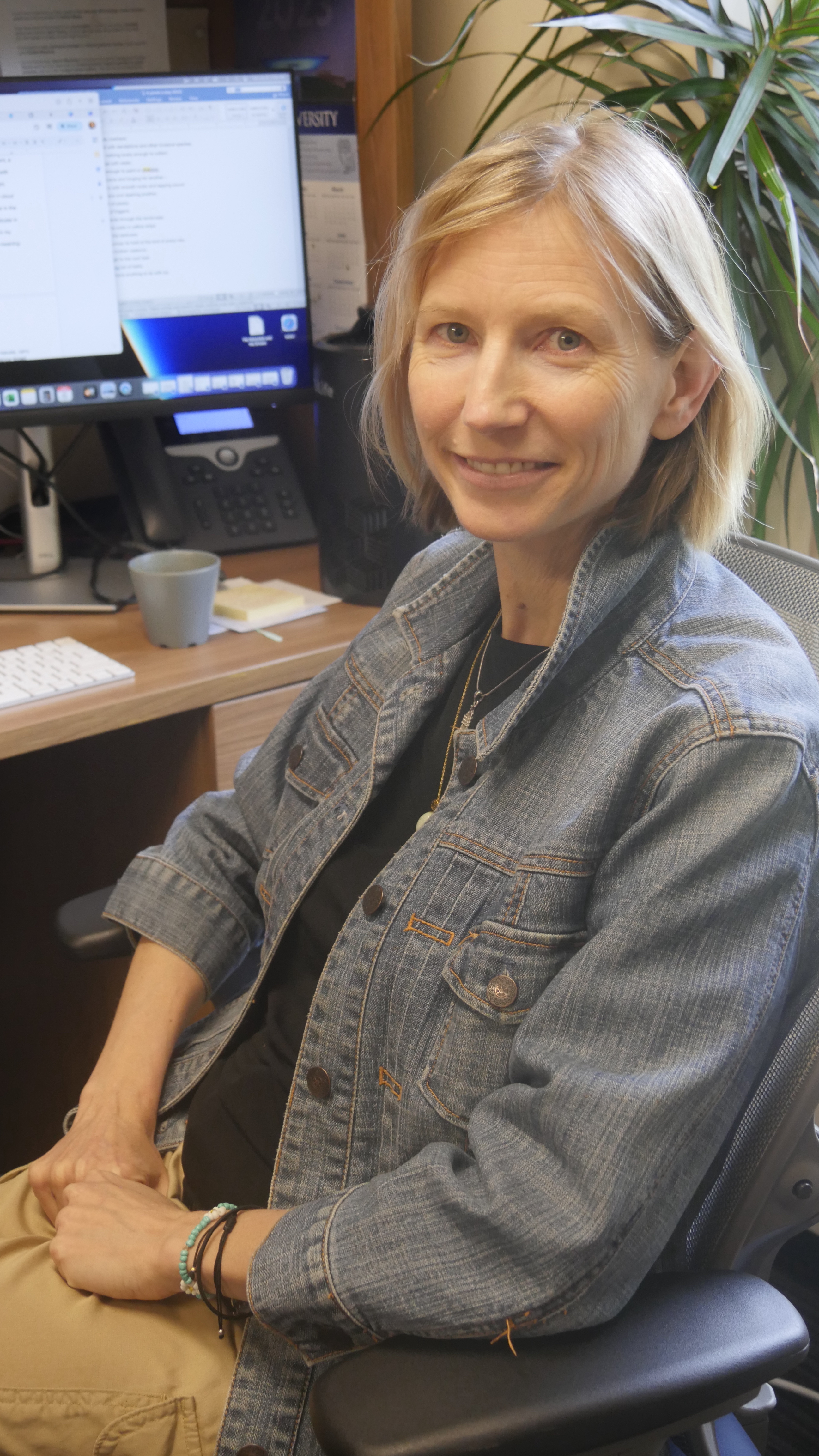 the introduction, "I watched the pandemic wreck havoc on our community, especially our young people. I began to imagine ways poetry might serve this vulnerable part of our population."
Karapetkova worked with Amasa Maleski, Arlington's inaugural Youth Poet Laureate in 2021; Kashvi Ramani, Arlington Youth Laureate in 2022; and Liam Mason, Arlington Youth Poetry Ambassador in 2021; in reaching out to other poets for inclusion in the publication and in editing the anthology. "Our goal in selecting work for the analogy was to represent as much diversity as possible in terms of subject matter and style. It is multilingual, multicultural, and multiracial."
Sean Kalchbrenner, one of the poets included in the anthology, is working with Karapetkova as his mentor on his Senior Experience. He says, "Holly is awesome. She doesn't prescribe a solution. She begins up a discussion and it opens up what I find. That process is organic."
Kalchbrenner writes mainly short stories but includes his poem "Silk Paracosms" in the anthology. 
"Our webs a madness
Theirs a home."
He explains, "Our web is a psychological feeder similar to the way everything connects but we have little control. But the spider has control." 
"We will never spin webs such as that. 
There is no order to our weaving."
Amasa Maleski, graduating from Washington-Liberty High School and already recognized with a number of awards, says they started brainstorming with Holly Karapetkova in 2020 about what to do to bring poetry to young people in Arlington. "It was a strange time coming out of the pandemic."
They say poetry is a release. "Concrete images are important. It helps me to regulate my thoughts. To put it on paper makes it more powerful." They continue they were writing daily in 8th grade where their teacher had the students write every day about something that had occurred during the day. "I wrote a lot of those in verse. Thinking about the whole day focused me to zoom in on the extraordinary or eccentric."
They say that Karapetkova's approach is very helpful. "She is an influential mentor, searching for a poem's intent and honoring it."
"Landscape," included in the anthology, begins with a morning prayer. 
"God
why is this body not yet a mountain?
Shouldn't it always have been?"
They say the mountain represents the ideal body, the unattainable image. Also the speaker's only self image, opposite the ideal.
Karapetkova says she probably started writing poetry herself in middle school. She thinks of herself as a person "who wrote to process, to diagnose unresolved anxiety. Back then there wasn't much help. It is difficult to transition to adulthood, especially in our culture where our children are sheltered and protected to a late age and then suddenly we're adults. We have misdirected our young people to the external. They don't have a sense of purpose."
Karapetkova has written two books of award-winning poetry and over 20 books for children but "you have to make a living." Her career is teaching in the Department of Literature and Languages at Marymount University. "Teaching gets me excited." 
She is currently working on a third book of poetry that focuses on race. She grew up in Atlanta attending a school with busing that she explains wasn't particularly well done. But she says she got to spend a lot of time with Black kids in school. 
However, she comments she is having a little difficulty getting interest from a publisher on this book about race. "Generally white poets don't write about race. We are allowed to ignore it and look away."
The poets included in the anthology have held a reading in Arlington and another is scheduled for June 13 at 7 pm at the Central Library. Although the anthology was launched May 24 with a reading by the poets, the official publication date is June 30.