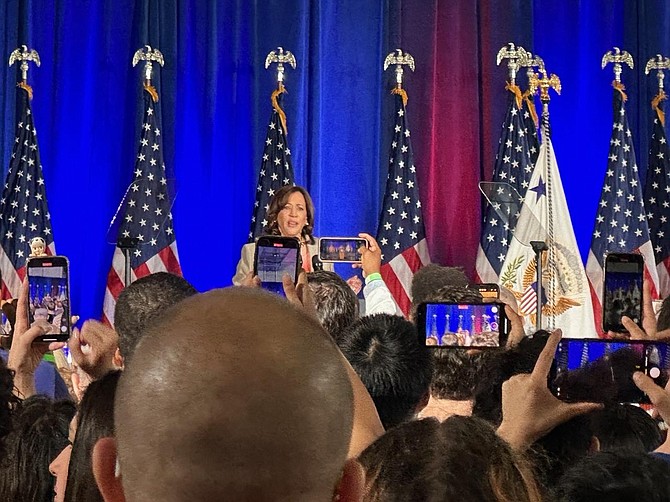 To mark Gun Violence Awareness Day on June 4, Vice President Kamala Harris traveled to Springfield to deliver remarks on the Biden-Harris Administration's commitment to preventing gun violence. The large crowd of local residents that gathered at John R. Lewis High School to hear see and hear Harris speak was enthusiastic in their approval of her message. Harris listed the common sense measures of the administration's approach. She also emphasized the importance of young leaders and youth engagement in continuing to call for strengthened gun violence prevention measures.
Orange was the color of the afternoon as the crowd filled with students, teachers, parents, change advocates such as members of Moms Demand Action and Students Demand Action, and Springfield residents, filled the gym. Entertained by the Lancers band as they awaited the start of the pre-program speakers, the crowd's camaraderie and shared purpose was in evidence, not only in the shared orange clothing, but in interactions, capped off by impromptu bleacher waves. 
Preceding the vice president in speaking were several education leaders, including Erin Headson, a special education teacher at John R. Lewis High School; Dr. Michelle Reid, superintendent of Fairfax County Public Schools; and Secretary Miguel Cardona, of the U.S. Department of Education. Also speaking, Virginia Senate majority leader Sen. Dick Saslaw (D- 35), and Angela Ferrell-Zabala, executive director of Moms Demand Action. Jada Hughes, Lewis graduating senior who introduced the Vice President, received huge cheers. She lamented that gun violence "is still a conversation," adding that students are concerned about gun violence when they should be concerned about homework and tests. "We must regain a sense of safety in our schools," Hughes said.
Vice President Harris said it is right of every person in a civilized society to "know they can shop in a grocery store, walk down the street, or even sit in a classroom, and know that they will be safe from fear and from violence. And so that is why we are all here today: to mark Gun Violence Awareness Day and to address the moment that we are in.
"The number one cause of death for the children of America is gun violence," Harris said. In this very moment in our country, one in five Americans has lost a family member to gun violence. In 153 days of this year, there have been more than 260 mass shootings. And because of everyday gun violence in communities across our nation, every single day, on average, 120 Americans are killed with guns." 
"These are not just statistics or another headline," she said. Citing tragedies in Virginia, "it is a six-year-old boy who has access to a gun, and shoots and wounds his teacher just a few months ago in Newport News. It is the three student athletes who were shot and killed at UVA last fall. It is the 32 students and faculty who lost their lives at Virginia Tech." 
Despite the tragedies, Harris argued that there are solutions in common sense reforms. She outlined reasonable measures of legislative action saying "it is a false choice to suggest that we have to choose between either supporting the Second Amendment or passing reasonable gun safety laws. We can do both." Among reasonable approaches she listed: checking if someone has been found by a court to be a danger to themselves or others before they can buy a gun. "Common sense would suggest background checks and red-flag laws might avoid that danger." She called it common sense to believe, "teachers should focus on teaching - and children on learning," rather than have teachers carry firearms and appear in the front of a classroom armed. 
Harris spoke of the damage to the human body caused by "weapons of war," designed to kill a lot of people quickly, which she witnessed as a District Attorney. Such weapons have "no place on the streets of a civil society and that it's time to renew the assault weapons ban," she said.
Praising voters who elected legislators sympathetic to gun safety reform and the advocacy of voters and those too young to vote, Harris lauded last year's bipartisan legislation as "the first significant piece of federal gun safety legislation in 30 years." 
The Bipartisan Safer Communities Act (P.L. 117-159) enacted June 25, 2022, requires young people ages 18 to 21 to undergo enhanced background checks; narrows the "boyfriend loophole" to keep guns out of the hands of convicted dating partners; funds crisis interventions, including extreme risk protection order (red flag) laws; makes significant investments to address the mental health crisis in America, including in schools; clarifies who needs to register as a federally licensed gun dealer and run background checks before selling a weapon; and makes gun trafficking and straw purchases distinct federal crimes. The law includes $2.35 billion for behavioral and mental health service programs at the local level, including $750 million to fund implementation of red flag laws.
Harris called on young leaders to take up the issue, calling students' attention to the work of leaders like John Lewis, for whom the Springfield high school was named. She recalled that Lewis was just 23 years old when he spoke during the March on Washington. Harris spoke of the Parkland students who inspired a national movement, and Maxwell Frost, 15 years old when he became involved with the movement and now the first Gen Z member of the U.S. Congress. Finally, she mentioned the two expelled members of the Tennessee Three who are both in their twenties. Addressing young leaders, she said, "We hear you. We support you. And we need you."