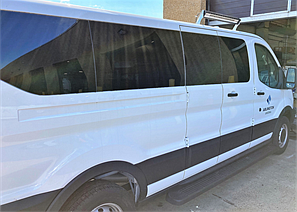 The Mobile Outreach Support Team (MOST) is the latest addition to Arlington County's expanding network of care for people experiencing mental health and substance use issues.
The Mobile Outreach Support Team program is coordinated by the Department of Human Services in partnership with the Arlington County Police Department, Arlington County Fire Department, and the Emergency Communications Center, which operates the County's 9-1-1 call center.
MOST launches July 31, 2023, and will operate Monday through Friday, between 1 p.m. and 9 p.m.
The goals of MOST include increasing access to mental health and substance use treatment and decreasing the role of non-clinical first responders in addressing mental health needs. The program also aims to provide alternatives to incarceration for those engaged in "nuisance crimes/behaviors," and decrease emergency department and psychiatric hospital admissions.
"MOST is an important expansion of our efforts to ensure that people in crisis can get the right help when and where they need it," said DHS Director Anita Friedman. "MOST team members are specialists who will be out in the community. That includes responding to 9-1-1 calls that have a behavioral health need, conducting outreach to people who are homeless, and working closely with our partners in Police and Fire to support them in the field when needed."
About MOST
The National Guidelines for Crisis Care from the Substance Abuse and Mental Health Services Administration (SAMHSA) emphasize the importance of offering mobile, community-based intervention to individuals in need wherever they are, including at home, work, or anywhere else in the community where the person is experiencing a crisis.
The MOST team – which includes a licensed behavioral health clinician, a certified peer recovery specialist, and an outreach worker – will provide a range of essential functions that include: Triage and screening, including explicit screening for suicidality; assessment; de-escalation/resolution; peer support; coordination with medical and behavioral health services; crisis planning and follow-up
Arlington's MOST will also be able to distribute harm reduction tools such as Narcan and fentanyl test strips, connect people who are homeless to shelters and other services, and transport people from the scene to providers where they can receive assistance.
Mobile Unit
The MOST has a specially equipped van (a County fleet vehicle modified using federal grant funds) to provide services in the community. The van is connected to the County's computer-aided dispatch system and an on-board computer allows MOST clinicians to use DHS's electronic health record system. The vehicle includes supplies for harm reduction, non-perishable food, water, a defibrillator, clothing and hygiene items.