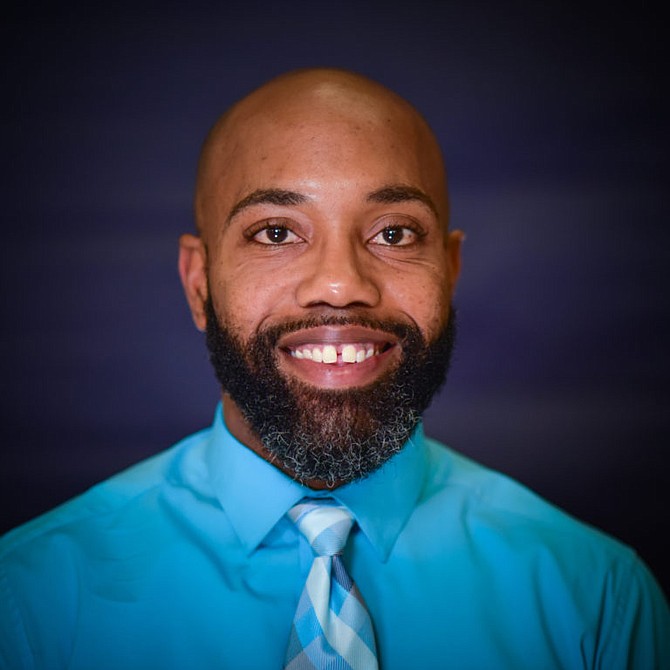 Alexander Duncan III has formally taken the reins as Executive Principal of Alexandria City High School effective July 1. The former campus administrator of the Minnie Howard campus since 2021, Duncan was one of two finalists for the position to replace Peter Balas, who left ACHS to lead Wakefield High School in Arlington.
"Over the past 20 years, I have worked as a teacher and administrator and have made student advocacy a pinnacle of my career's work," Duncan said in a statement. "As a proud Titan, with over 10 years' experience working with ACHS, I have witnessed, first hand, our school's passion for learning and commitment to students. And I continue to remain optimistic about our future, as well as about the success of our students, community and staff."
Duncan is a graduate of ACHS, then called T.C. Williams High School. He first joined ACPS as an English teacher in 2007. He has a bachelor's in English from Johnson C. Smith University and a Master of Science in educational leadership from Trinity College.
"I am so thankful to have the opportunity to expand on all I have learned and experienced to our awesome Alexandria City High School community," Duncan said. "Over the next few weeks, the administrative team will be hard at work planning for the upcoming school year. We are both reflecting and developing action steps so we may effectively serve our ACHS community this August and into the school year."
Duncan also announced that Christopher Speich, who has been the campus administrator of the King Street campus "has elected not to return to ACHS," but will instead serve as the assistant principal at Douglas MacArthur Elementary School.
In another shifting of roles, Tiffany Barner now joins the leadership team of ACHS as assistant principal.
 "Tiffany has been a member of the ACHS school community since 2018. We look forward to Tiffany bringing her strengths of building school culture and climate and instructional leadership to our team," said Duncan.
ACHS has 4,173 students spread across two campuses. It is the second-largest high school in Virginia.
"I would also like to give a shout-out to Mr. Peter Balas for the wonderful work he's done leading our high school through our historical expansion," Duncan said. "He is truly a shining star and I count it an honor to call him a colleague and friend."
"I am so thankful to have the opportunity to expand on all I have learned and experienced to our awesome Alexandria City High School community."
— ACHS executive principal Alexander Duncan III