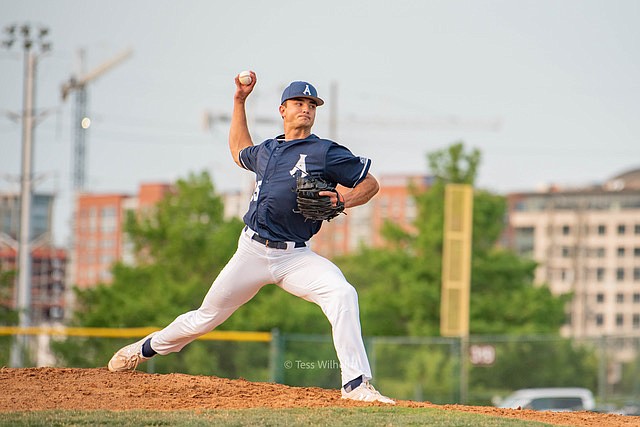 With less than one week left to go before postseason play, the Alexandria Aces have showcased nothing short of dominance within the Cal Ripken Collegiate Summer Baseball League (CRCSBL). As the defending champions from 2022, the Aces, led by fourth-year head coach Chris Berset, have shown no misstep down the stretch of the regular season. With a franchise record 28 regular season wins through 32 games, the Aces have clinched the number one seed in the Cal Ripken League playoffs with three games still left to play in the regular season as of July 19. With the number one seed secured, the Aces will receive a bye to the League Semifinal Series, where they will play the lowest seed remaining in a best-of-three series with two out of three games played at their home Frank Mann Field. If they advance, the Aces will also receive a two-game out of three home field advantage in the League Championship Series.
"We're hitting it really well, and [our] pitchers have been doing a pretty solid job," Aces' standout Cory Taylor, a rising senior from Eastern Michigan University, said in reference to the team's performance. "We just gotta keep rolling and do what we do." Taylor's five home runs on the season are tied for the second-highest total in the league.
The Aces feature talent from across the country, a fun mix that features promising young prospects representing college baseball powerhouses like Vanderbilt and Auburn, as well as underrated JUCO players using summer ball as an opportunity to improve themselves and find their standing against top competition. Aces' catcher Ty Mancha, a rising sophomore from Mississippi Gulf Coast Junior College, made the decision to join Alexandria's summer ball club alongside his college teammate, pitcher Cade Mattison.
"The Cal Ripken [League]'s got a lot of D1 guys, a lot of guys that have already been in the NCAA system," Mancha said. "It's really cool how they compete, [to] see [what] they do on and off the field, and then either build my game from it or take stuff away and use it for later."
Aces' Matt Ossenfort, a rising freshman committed to Vanderbilt University out of Sioux Falls, South Dakota, made the trip to the DMV this summer with both development and championships in mind. With the number one seed locked up, the Aces are a step closer to keeping the trophy in Alexandria for another year.
"It's huge (getting the number one seed). We get to play in front of our home crowd now. … We're going to keep playing hard and keep playing good baseball, as we have all year long." Ossenfort leads the league in home runs with a season total of eight; he's also second in batting average with a mark of .387.
Playoff ball for the Aces is set to begin July 23 at 6:30 p.m. with the League Semifinal Series. As of now, home playoff dates allotted to the Aces are Sunday, July 23, Tuesday, July 25, Wednesday, July 26, and Friday, July 28. Dates can change depending on playoff results and inclement weather. For up-to-date playoff schedule information, follow the Alexandria Aces on Twitter at @Alexandria_Aces or visit the Aces' website online at www.alexandriaaces.org.
"It's good (securing the number one seed); you get yourself some home field, but we have our next goal in mind," Berset said. "We've put ourselves in a good position."