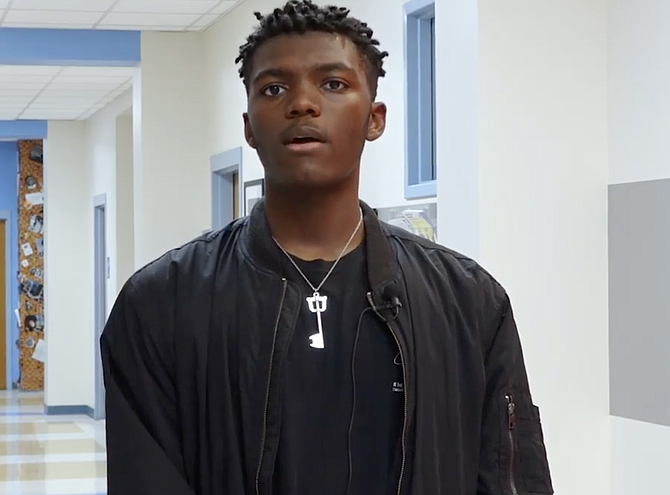 The 
Substance Abuse Prevention Coalition of Alexandria (SAPCA)
 launched a 
prevention campaign
 featuring a series of short videos created by Alexandria City High School students that encourage youth to be marijuana free. 
SAPCA is an alliance of parents, youth, schools, city health and recreation agencies, media, nonprofits, businesses, policymakers and law enforcement.
The videos show Alexandria youth sharing why they do not use marijuana. One video discusses sports. "I play sports most of my time and marijuana would keep me from giving my all on or off the field. It slows your coordination and reaction time. I want to be in good shape so I can play my best."
Another emphasizes the impact on health. "Staying healthy is a big part of me. Marijuana would make it hard for me to solve problems like the next test I have. It can also be mixed with fentanyl when sold on the street which mixed in a small amount can cause an opioid overdose."
Allen Lomax, chairman of the Substance Abuse Coalition of Alexandria says the students wrote the videos themselves. "We gave them broad parameters and they produced them. The students who work on these are extremely professional and good to work with." 
Teen marijuana use in the city decreased 33% between 2016 and 2022. According to the 2022 Developmental Assets Profile, 3% of 8th graders, 7% of 10th graders and 17% of 12th graders reported using marijuana in the past 30 days. Additionally, 7% of 8th graders, 12% of 10th graders and 19% of 12th graders reported vaping tobacco, nicotine or marijuana in the past 30 days. 

SAPCA's prevention campaign invites social media users of all ages to share the videos, along with the reasons they themselves do not use marijuana. The videos will also be shared on SAPCA's Facebook https://www.facebook.com/SAPCAlexandria and Twitter  https://twitter.com/SAPCA_AlexVA platforms. The videos are also being distributed to organizations who work with youth with a request to share them. Lomax says they are hoping parents will sit down with their kids and discuss the impact of marijuana.

The campaign, created through marijuana education and prevention funding from the Virginia Department of Behavioral Health and Developmental Services, is the third video series launched by SAPCA. Previous youth-created series feature reasons they do not use alcohol https://www.alexandriava.gov/substance-abuse-prevention/alcohol and reasons they do not vape https://www.alexandriava.gov/substance-abuse-prevention/e-cigarettes.
On July 1, 2021, non-medical marijuana use, with certain conditions, was legalized in Virginia for adults 21 years or older. In response to this legislation, SAPCA created a list of the Top 10 Things youth and adults should know about this law. First on the list is it is illegal for anyone under the age of 21 to use, purchase or possess any amount of marijuana. It is also illegal to ship, transport, import or bring marijuana or marijuana product into Virginia and unsafe to drive under the influence of marijuana. 
The coalition also reminds residents that adult marijuana use influences youth behaviors, and encourages residents to model healthy coping to prevent youth substance use. Healthy coping can be as simple as exercising, video chatting with friends and family, or spending a few minutes using a meditation app. Access a wide range of resources for coping with stress, including easy-to-share handouts with tips for coping with fear and stress. https://www.alexandriava.gov/dchs/wellness-resource-guide
This effort carries out one of the goals to prevent risk taking behavior outlined in the City's Children and Youth Community Plan endorsed in April 2021. The Children and Youth Community Plan is a roadmap for how the community will work together to create the conditions for all young people to thrive in Alexandria. 
SAPCA also provides tools and resources to engage youth around the consequences of substance use, encourage healthy decision making, avoid risky behaviors, respond to peer pressure and more. 
Visit 
alexandriava.gov/SAPCA
 to learn about the coalition, access resources and explore volunteer opportunities to promote positive youth development. For more, see
 alexandriava.gov/go/4209