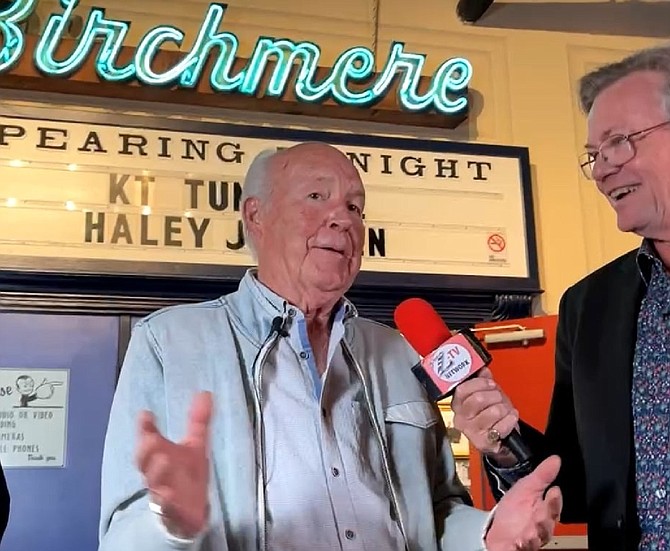 Gary Oelze, who helped transform the Birchmere Music Hall from an off-beat folk and bluegrass honky-tonk into a world-renowned performance venue, died Jan. 23 at his home in Alexandria. He was 80.
Oelze, who suffered two strokes in the last year, died of congestive heart failure.
Gary Hagan Oelze was born in Owensboro, Ky., on Aug. 24, 1942. He took up guitar in his teens and performed with local musicians at square dances. He relocated to the DC area in 1963 following his discharge from the U.S. Air Force.
While working at a People's Drug Store, Oelze was offered a job that included stock in a restaurant in Shirlington. Now located in the Arlandria area of Alexandria, the Birchmere first opened in 1966. It moved to Alexandria in 1981 and by 1982 was dubbed "the area's premier bluegrass club" by the New York Times.
Acts such as Jerry Jeff Walker, John Hiatt, Roseanne Cash, Emmylou Harris, Keiko Matsui, Maysa Leak and saxophonist Euge Groove performed regularly. Ray Charles gave his last performance at the Birchmere while Johnny Cash performed one of his only known club shows there.
Oelze also brought to the stage the bluegrass group The Seldom Scene, who played every Thursday night for 20 years drawing people from all over the country to Alexandria.
"The Birchmere is bigger than just me. It is a home for many. It has to keep going."
— Birchmere owner Gary Oelze
The Birchmere became a place for up-and-comers like Mary Chapin Carpenter and Grammy Award-winner Vince Gill, who got his start at the Birchmere, performing there when he was just 17. Regular returning celebrity entertainers include Ricky Skaggs, Country Gentlemen, and Charles Esten.
In November 2021, Oelze and music writer Stephen Moore released their book, "All Roads Lead to The Birchmere," which shares the history of the popular venue. In March of 2022, the Virginia State Senate recognized Oelze with a proclamation commending The Birchmere for its contributions to cultural life in Northern Virginia.
Despite live entertainment venues being one of the hardest hit industries during the pandemic, Oelze continued paying all of his employees despite the economic challenges.
"I was lucky to know Gary," said Mary Wadland, publisher of The Zebra Press. "I talked to him during the pandemic and asked how he was doing. He never laid off anyone he said, and he was having to sell off personal assets to keep afloat, but he told me 'The Birchmere is bigger than just me. It's about the employees – we are a family – and the fans – and the artists themselves. Birchmere is a home for many. It has to keep going.'"
Survivors included his wife of 10 years, the former Susan Pilchard; three children from his first marriage, Carrie Oelze of Boca Raton, Fla., Cheryl Oelze of Centreville, Va., and Vick Oelze of Sanford, N.C.; a stepdaughter, Kelly Pilchard of New York City; three brothers; four grandchildren; and six great-grandchildren.
A funeral service will be held Feb. 6 at 11 a.m. at Christ Church, 118 N. Washington St. A Celebration of Life will be held that evening, Feb. 6, from 5-8 p.m. at the Birchmere, 3701 Mount Vernon Ave.