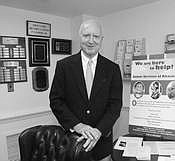 George Pera had a calling. Raised by a Presbyterian father and Roman Catholic mother, Pera grew up believing that religion meant service, something he dedicated his life to as he traveled the world before settling in Alexandria as senior pastor of Westminster Presbyterian Church.
"The God I worship calls people to make human life more human in whatever profession one chooses," said Pera when he was selected as a Living Legend of Alexandria in 2008. "I believe the church is in the world to serve the world. That sense was what propelled me into becoming as involved as I have been."
Pera, who was named Pastor-Emeritus following his retirement at Westminster Presbyterian in 1995, died Jan. 17 at his home at Goodwin House Alexandria. He was 93.
"Dad always had this huge interest in everything," said Pera's daughter Tracey. "He had a sharp mind and especially enjoyed being a father and grandfather in his retirement."
George Andrew Pera was born Dec. 16, 1929, in Pittsburgh to A. George Pera and Mary Ely Pera. He graduated from Peabody High School and the University of Pittsburgh before continuing his studies at Princeton Theological Seminary where he was named the first ever Teaching Fellow while still a degree candidate.
Pera trained in clinical pastoral counseling at Bellevue Hospital in New York City and with famed Swiss physician and psychiatrist Dr. Paul Tournier in Geneva.
He served as chaplain at Ohio State University and New York University and as associate pastor at Central Presbyterian Church on Park Avenue.
It was during his time in New York City that he met his future bride, Nancy Umholtz, on a blind date. They wed in Manhattan on New Year's Eve in 1959 and were married for 58 years until Nancy's death on Jan. 20, 2017.
"Mom and Dad didn't have much of a reception after their wedding ceremony," said Tracey Pera. "It was basically milk and cookies so after that mom made up for it and always celebrated big."
In 1964, Pera moved to Greenwich, Conn., where he served as Senior Pastor and Head of Staff of First Presbyterian Church until 1977.
From 1977 to 1980 he was the senior pastor of the The American Church in London. He preached the first American Thanksgiving Day services ever held in Westminster Abbey, St. Paul's Cathedral and Westminster Cathedral.
Pera studied at Cambridge University and in London was a student of Dame Cicely Saunders, the founder of the world-wide hospice movement. He holds three honorary degrees: Doctor of Divinity, and Doctor of Humane Letters and Doctor of Literature.
Pera relocated to Alexandria in 1980, where for 15 years he was senior pastor of Westminster Presbyterian Church.
"Ahead of the trend, George Pera had the foresight to create a staff position to advocate for and assist senior adults," said Sandy Calhoun, who at the time was Westminster's Director of Seniors' Ministries. "George Pera inspired his congregation to worship, to care, to be informed, and to embrace life. His unique blend of faith, erudition, humor, enthusiasm and compassion benefited not only the members of Westminster but also the greater Alexandria community."
Pera went on to serve as guest preacher at the American Church in Paris and as interim pastor at a Calvary Presbyterian of Alexandria.
Pera is a past-president of Senior Services of Alexandria, a co-founder and past chair of Agenda: Alexandria, and served on Alexandria's 250th Anniversary Committee. He was board president of Elder Crafters of Alexandria and chair of the Inova Alexandria Hospital Pastoral Care Fund.
Pera was a board member of the Inova Alexandria Hospital Foundation and served on the development committee of A.L.I.V.E!
In 2003, Pera was the recipient of The Alexandria Commission on Aging's Annie B. Rose Lifetime Achievement Award. In 2010 he received the Julia Johns Award of Distinction by the Inova Alexandria Hospital Foundation. He will be honored posthumously at the Senior Services of Alexandria 55th Anniversary Gala on March 25.
Pera is survived by his daughter Tracey (Pete) Sanders of Memphis, Tenn.; son, David Pera of Falls Church, and granddaughter Hope Sanders of Washington, DC. He is also survived by his sister, Mary Goodwin and nephew David (Pam) Goodwin, of Pittsburgh, and their daughters Rachel and Kate. 
A memorial service will be held Feb. 15 at 2 p.m. at Westminster Presbyterian Church, 2701 Cameron Mills Road. The service may be viewed online at http://bit.ly/3kKi0Sc. A private interment at First Presbyterian Church of Greenwich will take place at a later date. 
In lieu of flowers, donations may be made to Senior Services of Alexandria or Pastoral Care Services at Inova Alexandria Hospital.
"As you write about George, you have to include Nancy," said Pera's son-in-law Pete Sanders. "They were both wonderful people in my life. George especially was a great source of advice for me. He believed in the common good, the civic good, and got behind a lot of good causes. That is what made him so important for the communities he served."