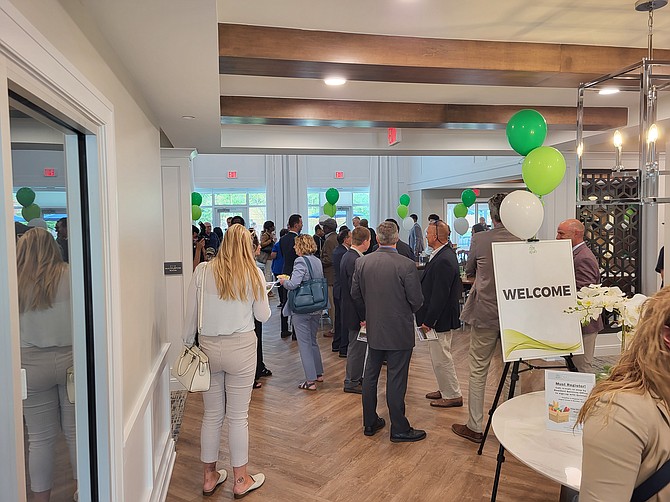 As officials recently cut the ribbon at the Oakwood Meadow Senior Residences in Fairfax County Alexandria, it was another step to providing homes to lower income seniors in high-priced Fairfax County.
"Everybody deserves to have a place to call home," said Matt Birenbaum, Arlington Partnership for Affordable Housing's board chair, addressing a roomful of advocates and officials that were behind the creation of Oakwood Meadow. "We're rising to meet the demand for affordable housing," Birenbaum added.
Oakwood Meadow is a complex of 150 apartments for seniors 62 and older. It is centrally located between Kingstowne and the Van Dorn Metro station, and contains 6,000 square feet of amenity space, including game room, garden room, library, business center, dedicated resident services space, laundry room, and a landscaped courtyard with walking paths. The building will be 100% Universal Design to enable residents to age in place, the Oakwood Meadows information stated. The complex is right off busy Van Dorn Street, close to I-495, the Van Dorn Metro Station, Kingstowne and Franconia Road. They have a shuttle to the Metro station too.
The first residents moved in earlier this summer and currently there are 40 apartments occupied. Residents must be 62 years old and there is an application process. Residents must fall within a certain income level to qualify. Of the 150 apartments, 107 are one-bedroom models and 43 are two-bedroom for seniors with incomes ranging between 30-60 percent of area median income, the project details stated.
The contractor behind Oakwood Meadows is Davis Construction, headquartered in Rockville, Md. Phase I is fully complete, and Phase II will include a grill area and additional flower beds.
These senior residences were made possible with a land contribution and a $5.25 million investment in local Housing Blueprint funding, In 2018, Fairfax County Redevelopment and Housing Authority awarded Arlington Partnership for Affordable Housing the rights to redevelop an underutilized stormwater retention area owned by the County into affordable apartments for independent seniors. In addition to the contribution of public land, Fairfax County and the FCRHA also invested nearly $12.6 million in revenue bond financing, and awarded eight project-based vouchers for the project. The effort is part of Fairfax County's commitment to build 10,000 affordable residences throughout the county.
Additional financing for the project includes both four and nine percent Low-Income Housing Tax Credits awarded by Virginia Housing, funding through the Virginia Housing Trust Fund administered by the Virginia Department of Housing and Community Development, and nearly $30 million in equity investments from Bank of America, county information said.