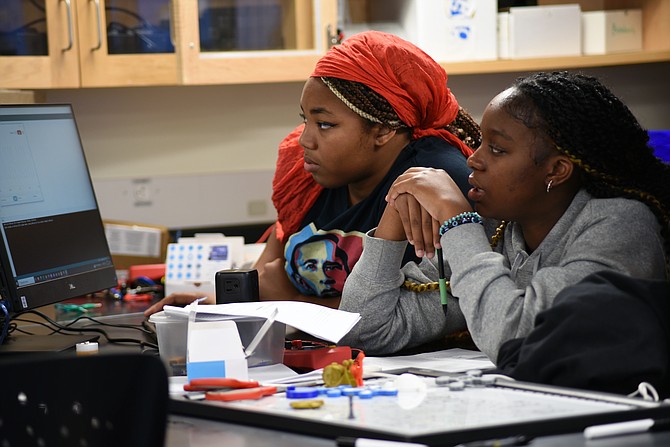 A few high school juniors and seniors had the chance to experience life as engineering students on a college campus this summer. The opportunity was part of the Engineering Summer Institute, a new two-week program developed by professors at Marymount University for students from communities that are typically excluded or underrepresented in engineering fields. 
"Many students said it was their first time thinking about engineering, and wanted to experience the field of study," said Louis Frisenda, Ed.D., program creator and Assistant Vice President of Enrollment Initiatives at Marymount University. "Other students had an interest in mechanical engineering, and that drove their desire to attend."
The Engineering Summer Institute was made possible by a $25,000 scholarship gift from Booz Allen Hamilton and a $200,000 grant from the National Science Foundation (NSF) to enhance undergraduate science, technology, engineering, and mathematics (STEM) education. This grant included Project DREAM (Diversity Recruited into Engineering through Advanced Making), which aims to improve diversity in engineering fields.
During the immersive two-week program, students designed and printed their own 3D models, worked with electronics and circuitry, and learned about robotics and programming. The focus was on creating virtual reality experiences, using cutting-edge technologies that are currently shaping the engineering industry.
"I think one of the most significant results was for students to realize the potential to apply the engineering design process to a wide variety of fields," said Eric Bubar Ph.D., engineering professor. "A lot of the students came in with a negative experience with computer coding and really changed their minds when they were able to assemble a robot dog and write code to allow it to do backflips within a single day of the course. It was also extremely rewarding to [watch]."
That change in perspective was due in part to the hands-on, project-based nature of the course. "They got to keep physical prototypes that they created over the course of the program," said Bubar. "They were also very excited when they found out that the Dean of the College was so impressed with their work that she purchased each of them a quite advanced miniature robotic dog of their own to assemble and program."
During the two week session, the students had an opportunity to explore careers in engineering and dispel stereotypes about the profession.
"I think that students learned how versatile engineering design thinking is, even if they don't eventually pursue engineering," he said. "The critical thinking and application of science and math into designing practical solutions to problems is at the heart of engineering and can be applied to any field. Two of our most excited and engaged students are hoping to study fashion and nursing as their future careers and I hope they apply their skills in 3D design, robotics and virtual reality design into those fields."
The program was open to local high schools whose administrators believed their students would be interested in engineering, but who may not have had the opportunity to explore it.
In addition to engineering, next summer's institute is expected to include communication, criminal justice, biology, and psychology. 
Information on next year's program can be found here: https://www.marymountlearnwithpurpose.com or here: www.marymount.edu