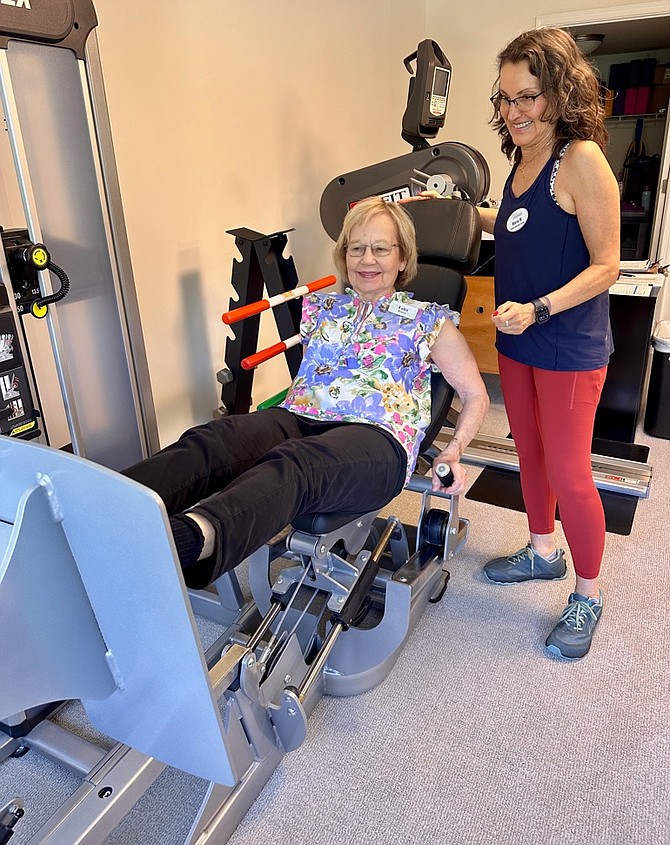 On most days you are likely to find Earl and Leila Brown lifting weights, doing chest presses or using multifunction strength machines. What makes the feat remarkable is the Earl is 95 and Leila is 91.
Married for 70 years, the Browns credit engaging in a regular exercise regimen to maintain their physical wellbeing with their longevity.
Fitness plays a vital role in maintaining physical and mental health, especially for the elderly population. Many seniors struggle with health issues and reduced mobility due to age-related factors.
Earl and Leila Brown work out six days a week, with three of those days spent training with Maria Leonor Malca, the fitness director at The Virginian, the independent living facility where they reside. 
"Working with Maria over the last few years has been extremely helpful with regards to keeping us strong and in balance which helps us with our daily activities," said Earl.
A lifelong commitment to staying fit has also played a role in the current state of health.
"I have been exercising doing calisthenics since I was in my 20s and continue to do so every day," says Leila. "We do our own exercises, but we go together."
Earl attributes his current health to a lifetime of physical activity. "I played sports all my life. Even through my 70s, I played volleyball."
A commitment to exercise and a healthy diet are foundational to maintaining fitness in older adults, said Malca. Her work with seniors at The Virginian includes focuse on improving balance, providing guidance on proper footwear, and encouraging her clients to consume lean protein with vegetables while practicing portion control.
Malca, who believes that 20 minutes of exercise a day is important, concentrates on four key components of longevity in her fitness programs: dynamic movement, breathing for wellness, pelvic training, and increasing muscle mass. The elements are tailored to meet the specific needs and capabilities of each person.
When a person is injured, a consistent exercise program is vital to their recovery process, stated Malca. "People who exercise regularly can recover from an injury much faster than someone who is a couch potato," she said.
The Browns say that their careers and continued engagement in the community also contribute to their overall wellbeing.
Earl, a Rear Admiral in the US Navy, served as a physician and psychiatrist. His Navy service included organizing and participating in sports activities, fostering a passion for physical fitness. After retiring from the Navy, he worked in private industry, focusing on health policy research.
A former medical technologist, Leila paused her career to raise their children before pursuing modeling at the age of 50. She worked for John Robert Powers Modeling School and participated in fashion shows in New York.
Passionate about art, Earl began taking oil painting lessons. His apartment showcases two of his paintings, while others were given to the couple's children and grandchildren.
Leila immersed herself in the National Society of the Daughters of the American Revolution (NSDAR), conducting tours of historic period rooms and playing an active role in the organization. She joined the Capital Speakers Club of Washington D.C., teaching public speaking to women visiting the capital.
"I've been active always and that has helped with my longevity," said Leila. "A lot has to do with my genes, diet and exercise and willingness to participate in life – I want to live a life that's fulfilling."