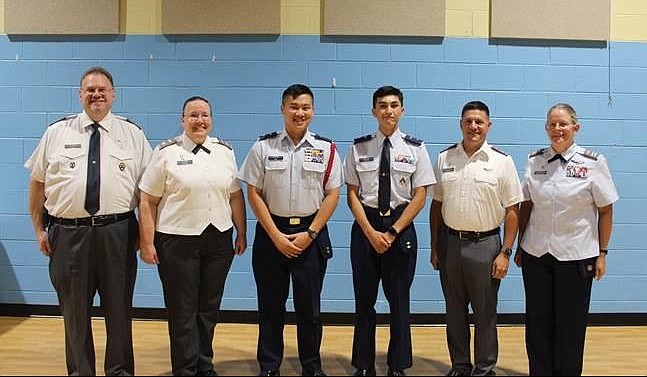 BurBurke Composite Squadron, Civil Air Patrol, US Air Force Auxiliary, awarded two cadets the prestigious General Ira C. Eaker Award. The awards were presented by the Mid-Atlantic Region Commander, Colonel Eugene Egry Aug. 10 at the Fairfax Salvation Army.
The General Ira C. Eaker Award is the second most prestigious award in the Civil Air Patrol Cadet Programs. The award is named after a military aviator and a significant figure in the history of the United States Air Force. The Eaker Award is typically earned by Cadets who have shown outstanding work in all four of Civil Air Patrol's Core Areas: Leadership, Aerospace, Fitness, and Character. Earning the Eaker Award is in recognition of a Cadet's hard work and accomplishments throughout their journey in Civil Air Patrol. A cadet is promoted to the grade of cadet Lieutenant Colonel once they earn the Eaker Award and can lead junior ranking cadets in their wing. 
The Eaker Awards were presented by the Mid-Atlantic Region Commander, Colonel Eugene Egry, a former Civil Air Patrol Cadet. Following the awards, Egry talked about the importance of being a leader and having responsibilities that could affect those around them. Throughout the meeting, he shared his own experiences in Civil Air Patrol and mentioned several honorable leaders and mentors he had met through the years who helped him in his journey in Civil Air Patrol. 
Cadet Lieutenant Colonel Samuel Ten was presented the Eaker Award for his exceptional skills in leadership and excellence in all aspects of the cadet core values. He has displayed admirable determination and commitment to Civil Air Patrol and has spent countless hours serving his squadron and community as a whole. He served as the 2023 Virginia Wing Encampment Cadet Commandant, responsible for supervising and mentoring 67 cadet staff and over 250 cadet students. Cadet Ten will attend Purdue University as a freshman this fall.
Similarly, Cadet Lieutenant Colonel Austin Martin has fulfilled all of the leadership expectations and has earned his Eaker Award as well. The award he has earned represents his several achievements in his Civil Air Patrol career such as his noteworthy contributions in aerospace education and his unwavering dedication and constant help in the squadron. Cadet Martin received the Mid-Atlantic Region Aerospace Education Cadet of the Year in 2021 and is a sophomore at Georgia Institute of Technology. Both C/LtCol Martin and C/LtCol Ten undoubtedly inspired others in the squadron. 
In addition to the Awards presentation, Cadet Chief Master Sergeant Kyle Morrison assumed the position of Cadet Commander for the squadron. In this role, he leads the 80 cadets in the squadron. The past two summers, Cadet Morrison participated in the National Blue Beret supporting the Experimental Aircraft Association AirVenture in Osh Kosh, Wis. Cadet Morrison joined Civil Air Patrol in October 2021.
The Virginia Wing of the Civil Air Patrol, with 22 squadrons spread throughout the Commonwealth has approximately 1,800 members, 12 light aircraft, and 29 multi-purpose vehicles. These assets are available to federal, state and local governments, emergency responders and law enforcement agencies to perform search and rescue, homeland security, disaster relief, humanitarian assistance and counter-drug missions. For more information on the Virginia Wing, visit https://vawg.cap.gov or www.facebook.com/vawgcap