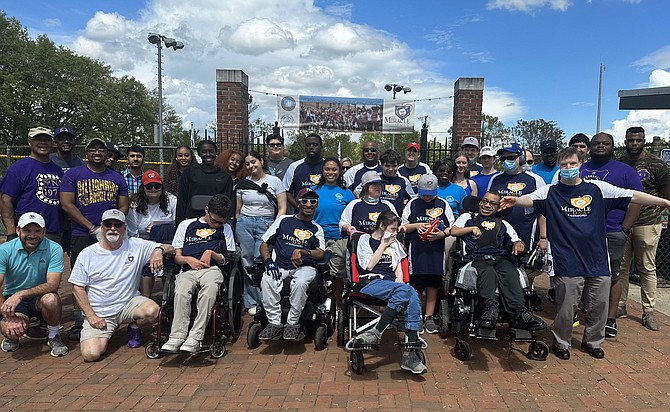 The Miracle League of Alexandria held its season opener April 15 at the Kelley Cares Miracle Field with participants, family and friends celebrating the 12th year of the baseball program for special needs children and adults.
"The Miracle League of Alexandria started in the spring of 2011," said Mac Slover, chair of the Miracle League of Alexandria board. "We're celebrating our 12th year and are very excited about being able to continue to offer this program to the Alexandria community."
The Miracle League provides opportunities for children and adults who suffer from any physical or cognitive disabilities that cause them to be excluded from conventional baseball leagues. The league uses a volunteer buddy system called Angels in the Outfield that pairs each player with an able-bodied peer to help the athletes.
Slover, who retired from the Department of Parks and Recreation in 2018, was a driving force behind establishing the Miracle League of Alexandria. Along with Bill Rivers, the two helped raise awareness and funds to build the rubberized field that allows those with special needs to safely play baseball.
"Right now we have 45 people – both youth and adults – signed up for this season," Slover said. "In this league the men will hit baseballs and the women will hit softballs."
Slover helped establish a Miracle League in Prince William County and is also working on a partnership with Alexandria City Public Schools.
"Mac has coordinated to bring our students from the middle school and the high school over for day games in which the students have an opportunity to play on an accessible field," said Allison MacMahon, a Miracle League board member and instructional specialist with ACPS. "Teachers and central office staff members will be able to support those students as they play baseball in an accessible way."
The Miracle League is a national program founded in 2000 in Atlanta and has grown to over 300 teams from the United States, Canada and Puerto Rico.
"This is a great opportunity for players, volunteers and staff members to come together and everyone have a good time," said Rivers, a past president of the Miracle League of Alexandria. "Our goal is for players to have fun, staff members to have fun, volunteers to have fun, and of course for Mac and I to have fun."
For more information or the 2023 season schedule, visit www.miracleleagueofalexandria.com