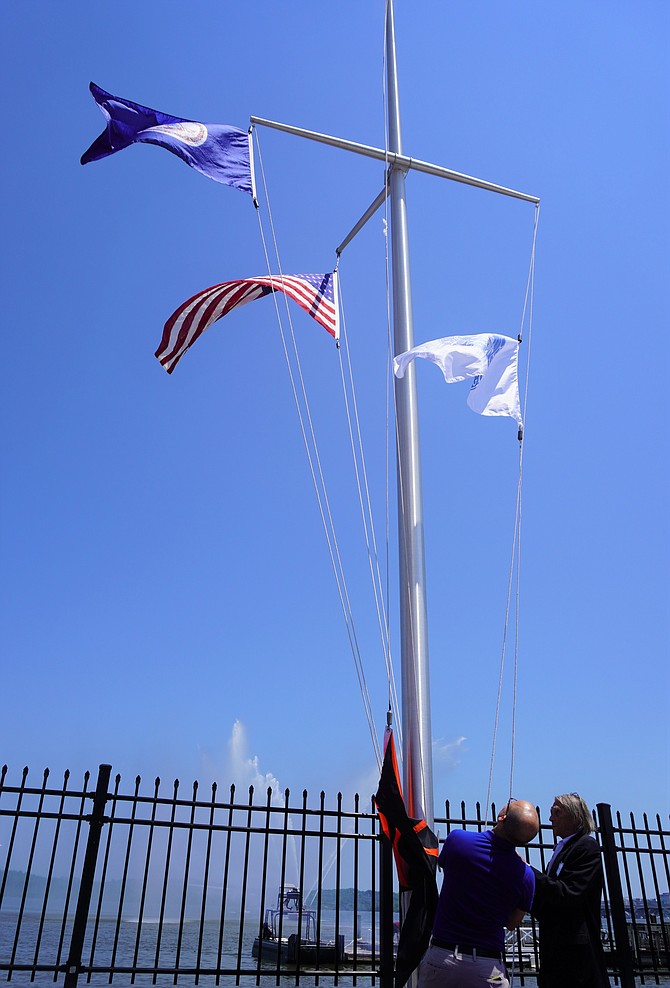 The Old Dominion Boat Club, a waterfront institution in Alexandria since 1880, celebrated the start of the boating season with its annual flag raising ceremony May 22 along the Potomac River. 
ODBC Commodore Chris Marino presided over the celebration at the foot of the club's mast, where the U.S., Virginia, and City of Alexandria flags were hoisted along with the organization's signature burgee.
The U.S. Coast Guard's Ceremonial Honor Guard opened the ceremony followed by the singing of the National Anthem by Keith Harmon. "Fair Winds and Following Seas" was the nautical blessing for safety during the boating season.
Dignitaries in attendance included Steven Shipley, Commodore of the Potomac River Yacht Club Association, Vice Mayor Amy Jackson, Councilmember Alyia Gaskins, and Mayor Justin Wilson, who raised the City of Alexandria flag as part of the ceremony.
Now celebrating its 142nd year, the organization was formed with a mission of "the promotion of charitable, community service, athletic, water-related activities and fellowship among its members." With more than 1,000 members, it is the second largest Boat Club in the state of Virginia.
The ODBC Foundation has provided grants to The Alexandria Seaport Foundation, Alexandria Sportsman's Club, Potomac Riverkeeper Network, the Scholarship Fund of Alexandria and the Alexandria Crew Boosters. Its signature Power Boat Poker Run has raised more than $150,000 to support various charities.
Others participating in the ceremony included past Commodore Kim Rogan Weitzel, who raised the U.S. flag, past president and life member Harry Harrington, who raised the Virginia flag, past president Richard Lloyd, who assisted Wilson, and ODBC president Bruce Catts, who raised the ODBC burgee.
As each flag was run up the mast, former commodore Tom Whalen fired the club's signaling cannon. Just offshore, the District of Columbia's fireboat, the John H. Glenn Jr., sent plumes of water skyward in a water demonstration marking the event.