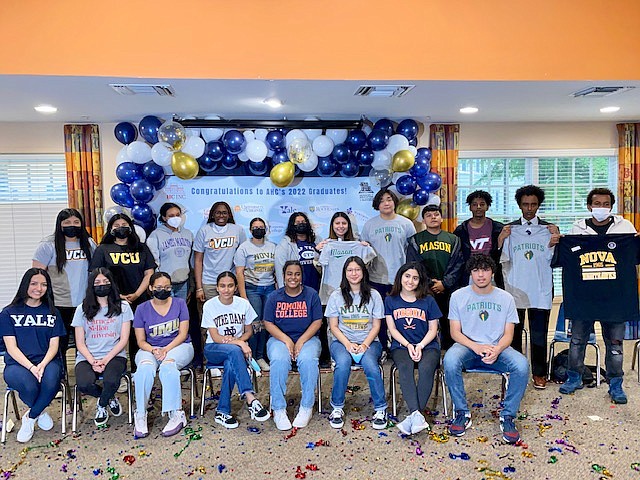 Forty-two low-income high school students celebrated College Signing Day hosted by AHC, Inc. who sponsors the College and Career Readiness Program. These students announced the schools they plan to attend, sporting T-shirts from a number of schools including Pomona, Yale, Carnegie Mellon University, Notre Dame, and the University of Rochester.
The College and Career Readiness Program provides low-income students in the program with the tools and support to successfully graduate from high school and go to college or develop a career path. The extensive program begins in elementary school with after school programs, tutoring and summer camps. High school juniors and seniors receive a mentor to assist with the challenges of identifying scholastic and career options, applying for colleges and financial assistance. 
Many of these students are the children of immigrants and will be the first in their families to attend college. Since the program began in 2016,  the College and Career Readiness Program has provided 170 students with the support to make these important decisions. This year 39 have committed to going to a four-year university or two-year community college, two are taking a gap year and one has committed to join the Marines. They have earned more than $6 million in scholarships and grants this year and most of the students won't pay more than $1,000 per year for their college education.
Sara Berthe Abraha (Washington Liberty High School) was admitted to nine different colleges and chose Pomona for the fall.  She has received $1.3 million in scholarships and gift aid. In addition to her many activities and youth groups, she has been the caregiver to her little brother while her immigrant parents worked to provide for the family. She says, "Support and guidance can be hard to find when you are a first generation student. My mentor has anticipated things and helped me all the way through the process."
Karen Gonzales Cifuentes (Washington Liberty High School) received a full ride to Carnegie Mellon University. She says her hope is to graduate with a bachelor's in information systems and work in the tech field where she hopes to inspire other young Latina women. She says as a first-gen college student she didn't have her parents to rely on so she had to look for outside resources, and  the College and Career Readiness Program made it easy to find what she needed.
Alishaba Hayat (Yorktown High School) will be attending the University of Virginia in the fall to study engineering and go onto the pre-med track. Hayat says she is knocking out her prerequisites so she can be ready for medical school if that's for her. She says she is looking forward to moving away and learning who she is away from her family.
Joel Jonathan Escobar (HB Woodlawn) will attend the University of Rochester as a POSSE Scholar with a full ride totaling $240,000.  His goal is to be a teacher and to apply his expertise to enact change.  He says he makes it his life mission to serve others.
The ceremony was held at Rinker Community Center of Ballston Apartments on Friday, May 6.
AHC is an affordable housing nonprofit with more than 7,800 affordable apartments in Virginia and Maryland. The program has expanded to seven high schools, five of them in Arlington, one in Alexandria and one in Fairfax. 
AHC displays college T-shirts from their student's selection of colleges at their event May 6.