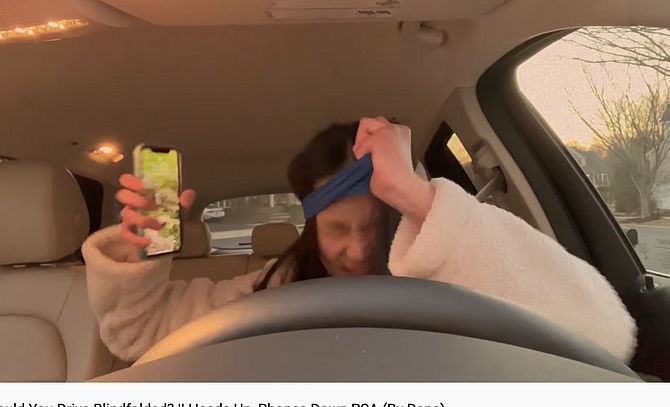 Dena Shao of Wootton High School in Rockville was the grand prize individual winner as the Montgomery County Department of Transportation (MCDOT) announced the winners of its "Heads Up, Phones Down" student video contest. 
The Clarksburg High School team of Aniket Belur, Mohit Belur, Ryan Ngo and Agustin Saldana was the group grand prize winner The contest, which asked students to produce videos encouraging peers to not allow cell phones to distract them while driving and walking, received more than 170 entries.
The contest was open to Montgomery County public and private high school students. Video entries were submitted individually or as a group of up to four in English or Spanish. 
A team from the MCDOT Safe Routes to School office visited the schools of the grand prize winners on Friday, March 11, to surprise the creators of the top entries with prizes, balloons and fanfare.
"These teens have produced some powerful videos that will help us eliminate distracted driving and increase pedestrian safety," said County Executive Marc Elrich. "Often the best messaging is peer-to-peer. These videos will help grow a culture shift of awareness and responsibility." 
A grand prize and first and second runner-up prizes were awarded in the group and individual categories. Winning group submissions split the grand prize with gift cards for each member. Individual submission winners qualified for prizes including a PlayStation Five, an Apple Watch or tripod. 
The contest winners, with links to their winning videos:
Individual Category:
Grand Prize Winner:
Dena Shao, Thomas Wootton High School.
Video Link: bit.ly/3I1xLdk

First Runner Up:
Elias Bernstein, Winston Churchill High School.
Video Link: bit.ly/3pYFT8b

Second Runner Up:
Hailie Clarke, Montgomery County Virtual Academy (Home school: Northwood High School).
Video Link: bit.ly/3MCMM8W
Group Category:
Grand Prize Winners:
Aniket Belur, Mohit Belur, Ryan Ngo, Agustin Saldana, Clarksburg High School.
Video Link: bit.ly/3t1AejO

First Runner Up:
Nicholas Bourg, Julian Ekernas, Alexander Risso. Montgomery Blair High School.
Video Link: bit.ly/3pUv47b

Second Runner Up:
Anvika Deva, Sailaja Kadali, Akshya Mahadevan, Riona Sheikh. Richard Montgomery High School.
Video Link: bit.ly/3wdk5tF
"We know that 
young drivers, ages 15-19, are the age group with the largest proportion of distracted drivers at the time of a fatal crash
," said MCDOT Director Chris Conklin. "Distracted driving and walking are serious issues. These videos will help remind everyone that, while cell phones are an important part of our daily lives, paying attention can be the difference between life and death when you're behind the wheel of a car."