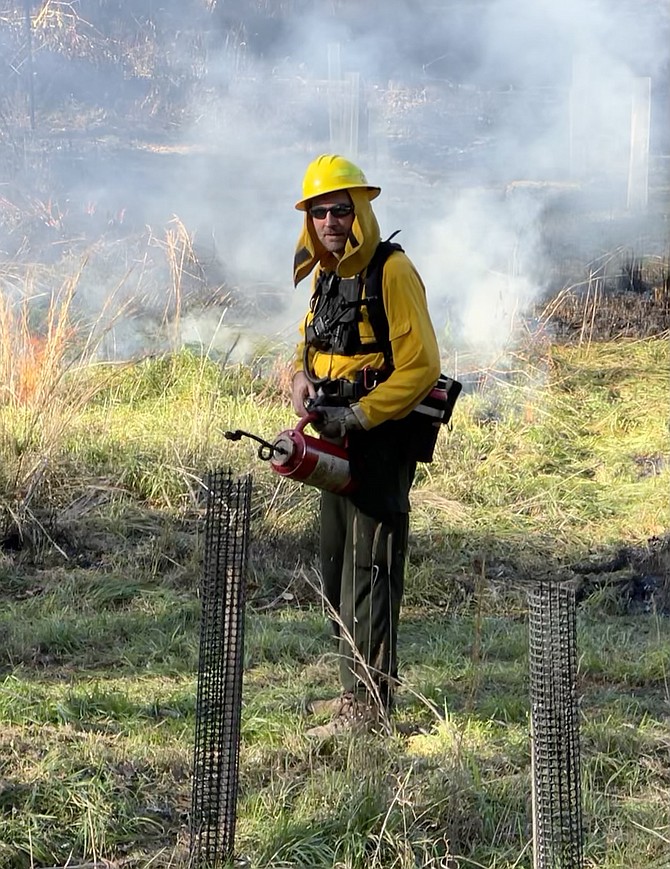 A three year long reforestation project, undertaken by Fairfax County Park Authority's Natural Resources Branch, saw the final tree seedlings planted in the designated area within Laurel Hill Park on Dec. 16.  
Selection of the reforestation area in 2019 began a project to bring under control the runaway growth of non-native invasive Kudzu vines (Pueraria Montana). The Kudzu covered an entire meadow area in the park and was beginning to spread into the tree lines. Labeled by Smithsonian Magazine as "America's most infamous weed" (September 2015), the invasive vine is infamous for its rapid spread and growth, killing plants and trees by blocking their access to sunlight. Dense tree coverage can turn the tables on Kudzu and other invasive plants, blocking them from receiving sun and nutrients.
A controlled burn on Nov. 9 to remove under-brush and further weaken any remaining treated plants followed two seasons of chemical treatment of the Kudzu with a herbicide. Following the burn, the area was prepared for new tree plantings by mowing and installing fencing to prevent the new seedlings from being eaten by White-tailed deer (Odocoileus virginianus) living in the park.
A contractor planted 2,000 seedlings the week of Dec. 6, followed the next week by a second planting of 515 seedlings from local native plant nursery, Earth Sangha, with the help of a couple dozen volunteers. Using more than one source allows the county "to increase plant diversity and enable a gene flow between the stock," explained lead project ecologist, Darko Veljkovic.  Each planted seedling was marked by a pink flag for easier monitoring. Seedlings outside the deer fence area were staked and tubed for deer protection, and fitted with protective netting on the top of the tube to prevent birds from entering and being caught inside.
Multiple species of white and red oaks, and hickories, make up the new forest tree complement. With species growth rates of one to two feet per year, it will be some time until the area has the look of a forest.  Although the species take 10 to 20 years to produce nuts, they will soon provide homes for many insects and other small creatures, as well as later food for deer and small mammals at tree maturity. Living 200 years, they will improve the environment for living things in Laurel Hill Park for a long time to come.