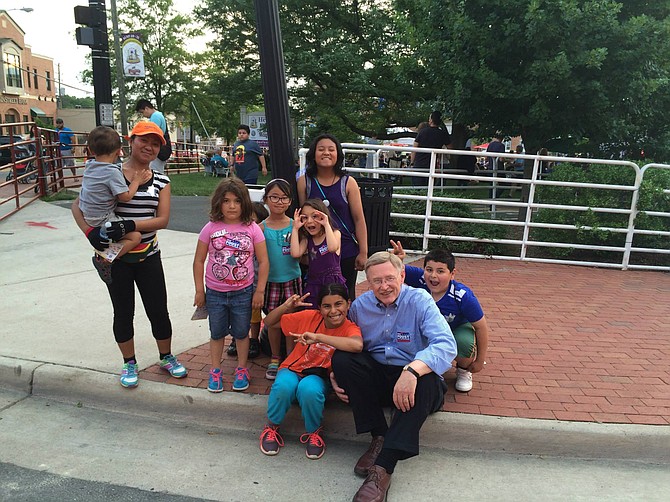 2021, a year of challenges, included some significant accomplishments that will benefit Herndon's residents and businesses, said Dranesville Supervisor John Foust (D). Foust represents the Town of Herndon, parts of Greater Herndon, McLean and Great Falls on the Fairfax County Board of Supervisors.
Foust paid tribute to past and present mayors and town councils for their vision of the sometimes elusive mixed-use downtown redevelopment project, one that will be an economic driver for the town and county. With the assistance of the Board of Supervisors in economic development money, their combined tenacity led to breaking ground for the project, a partnership between the Town of Herndon and Comstock.
"I think the Comstock project is outstanding. I compliment the current and past mayors and councils for sticking with it and thinking big," Foust said. "I was thrilled that the county was able to step up and kind of give it the last shove it needed financially to get it to closing with a grant from our Economic Opportunity Reserve Fund." In December 2021, the Board of Supervisors approved an additional $5 million in economic development money needed to launch the new mixed-use project in downtown Herndon that includes a signature arts center.
Foust chairs the Fairfax County Economic Advisory Commission. The $5 million investment came on top of the $1.2 million that had already been approved in 2018. Economic analysis commissioned by the town projects that the new development will generate up to $800,000 in new property and sales tax revenues for the county each year.
Foust said that he had hoped to be talking about COVID "in the rearview mirror," by 2022, but that was not the case. Foust noted that in Herndon, he and others had to stay focused 2021 on COVID because "initially the numbers were bad." There has been a disproportionate impact of COVID on the Latino community.
"We focused like a laser on trying to help those communities that were most severely impacted. At this point, everybody is doing well with their vaccinations. We've pretty much eliminated the imbalance between various communities in the county," Foust said. Foust estimates that 70 to 80 percent of adults have received at least one vaccination.
The nonprofit communities in Herndon, according to Foust, are "champions" and will require continued support in 2022. Their employees and volunteers are helping with food, utilities, and "dealing with the nasty virus and its impact on businesses and people's lives," among other things. "And that's going to be what we are most concerned about going forward-keeping people healthy, keeping them in their homes, keeping them fed, and hopefully supporting schools so that they can keep them in school," Foust said.
The pandemic has impacted many small businesses in the Herndon area that were vital to the local economy. "They got hit hard," Foust said. "So, we've had several programs put in place to help fund them." 
As chairman of the county's Economic Initiative Committee, Foust had a hand in designing three programs, including the most recent business recovery program instituted by Fairfax County, PIVOT. According to the Jan. 10, 2022 announcement by the Fairfax County Department of Economic Initiatives, more than $16 million in PIVOT grant funds has been awarded to 1,016 Fairfax County businesses adversely affected by the pandemic. Businesses in the most hard-hit sectors of the Fairfax County economy, including hotel, food service, retail and personal services, and arts and culture industries, were targeted and received grants between $1,500 and $207,000.
The Microloan program in April 2020 and the RISE Grant program in June 2020 were two other assistance programs. In total, the three programs distributed more than $70 million to the Fairfax County business community to respond to the economic impacts of the pandemic. 
Fairfax THRIVE, focuses on growth and getting businesses to the next level, according to Foust. He said, "Given that amazing support the board has shown for business, the economic recovery, I'm confident it will be approved, but it has not yet been formally adopted," Foust said.  THRIVE will be presented in the first quarter of 2022.