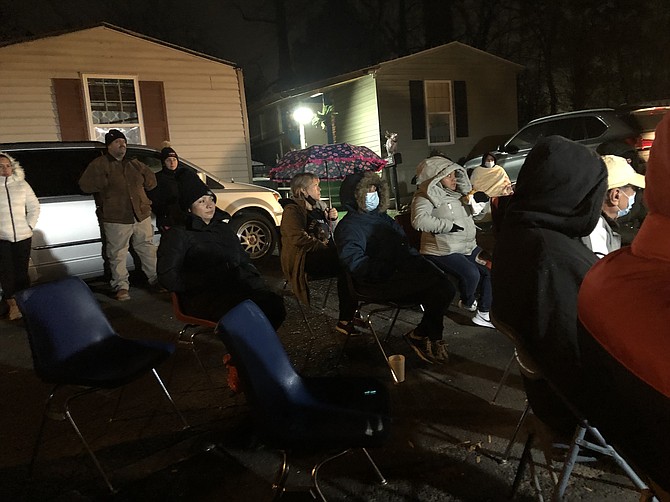 Despite the efforts of Fairfax County and several nonprofits to secure Harmony Place Trailer Park for the residents, it was sold to a private buyer for nearly $8 million last month. A representative of the new owner, Six Rock Properties, said they will improve maintenance conditions at the park and keep rents affordable. It owns a dozen other mobile home parks, mainly in North Carolina.
At an outdoor meeting on the eve of the Dec. 22 closing, Six Rock representative Christopher Ebert told park residents that he would not sell the park to a developer, that he would fix the drainage plumbing, repave the roads by spring, and would not raise rents in the first year and then only roughly commensurate with the cost of living. 
At that 11th hour meeting called by Tenants and Workers United, tenants told Ebert that they were disappointed that they would not have the opportunity to work with nonprofits to shape their community. One said, "Why don't you go buy a different mobile home park. There is still time."
Ebert, tall and soft spoken, said several times, "Our interests are aligned. We know we can operate mobile home parks in a way that provides affordable housing as well as turns a profit." However, he insisted that tenants must pay their pad rents and keep their homes up to code.
Tenants had organized with TWU to work with two nonprofits, CFH, which runs a mobile home park in Manassas, and Habitat for Humanity, to make an offer financed by the county to purchase the park and run it for the benefit of residents under a model that has grown in popularity as a form of affordable housing. It would have been the first such arrangement in Fairfax County. 
Presented with offers from Six Rock and CFH/Habitat, the park owner chose the Six Rock offer, which had been made in August. State law allows for a counter offer by an entity backed by 25 percent of the residents but does not require that a matching offer receive right of first refusal.
Lee Supervisor Rodney Lusk, who had persuaded the county to back the sale to nonprofits, said, "While I am disappointed that their offer was not accepted, I am confident that we have laid the groundwork for mobile home communities in the county, including Harmony Place, to be able to advocate for ownership in the future." 
Lusk said he and his staff were deeply engaged in supporting the efforts of the Harmony Place community and would "support Six Rock in improving the quality of life for residents and maintaining stability and certainty about their future."     
Tenants and Workers United Director Evelin Urrutia said, "We will continue to organize and make sure the new owner does what he has promised to do. We work for the tenants—they set the goals and we will try to hold the owner and the county accountable for meeting these goals."
CFH executive Director George Davies said he was disappointed his bid was not accepted, but he was not surprised since the owner had signed a contract with Six Rock that included a penalty for breaking it. He said the 60-day time period provided in the law for tenants to organize and produce an offer is not enough time. (In this case, more time was granted because the owners did not provide tenants with timely notice). Davies said he hoped the Virginia Department of Housing could set up a program to provide quick, even temporary loans, to nonprofits to purchase parks, as Fairfax County did.
Lusk articulated a vision for mobile home parks as affordable housing, "Mobile homes are a uniquely vulnerable type of housing stock. Personally, I feel that many of the challenges facing mobile home communities can be addressed by moving away from established models where tenants rent land to place a depreciating asset, and towards a model where residents are true property owners."
A county task force on mobile home parks is meeting through September to advise on new policies for the upkeep and preservation of mobile home communities as affordable housing. On Monday, Ebert, as the new owner of Harmony Place, joined the group which includes mobile home owners and residents plus other community members, and is co-chaired by Eric Maribojoc of George Mason University and Solidad Portilla, who works in the real estate industry and was a member of the county's Affordable Housing Preservation Task Force in 2020-21.