Plans for the Old Lee Highway Multimodal Improvements Project are moving forward, now that Fairfax City Council has approved its major design features. The City has already agreed to keep the existing travel and turn lanes, but will add several new elements, including bicycle and pedestrian infrastructure.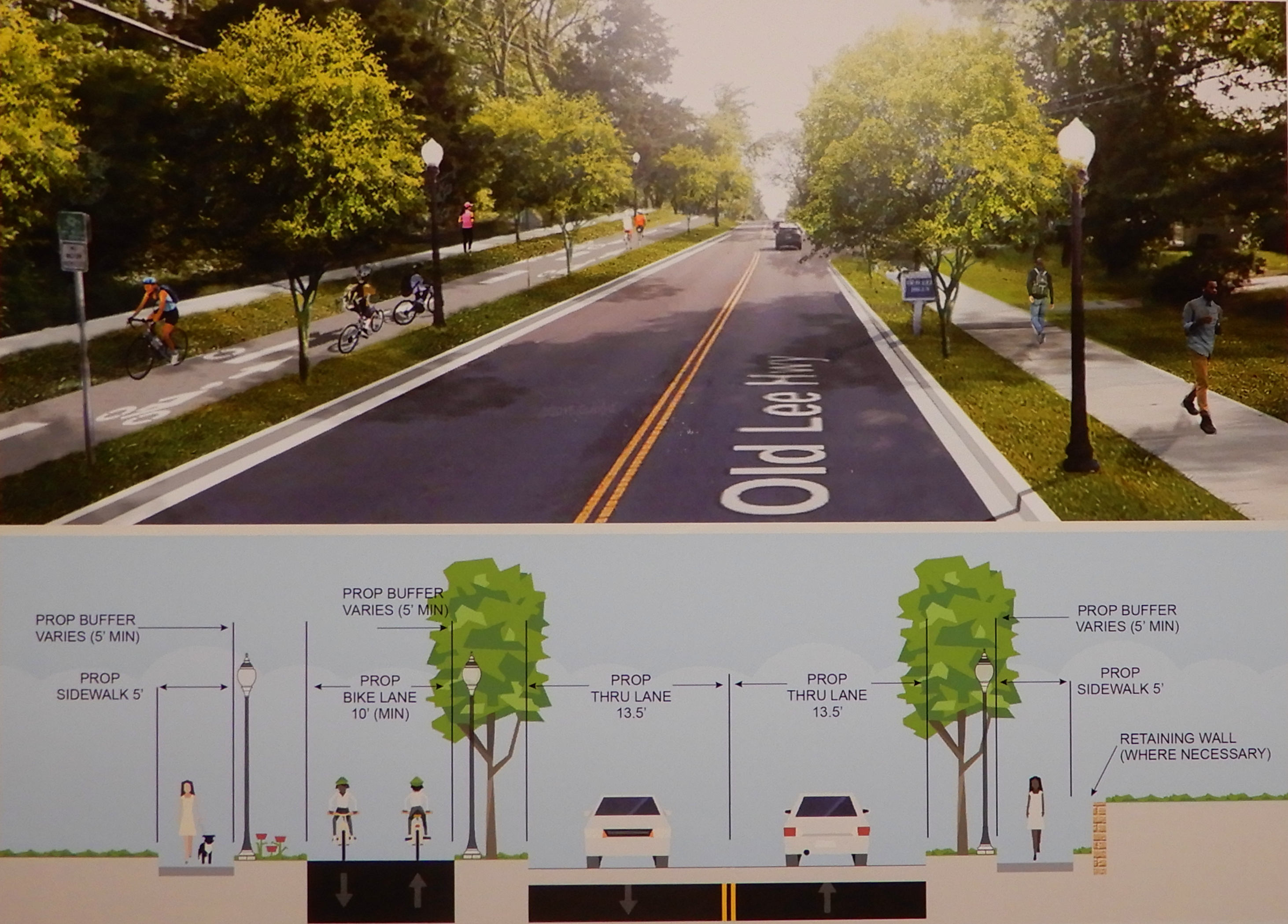 The project area runs between Layton Hall Drive and Ridge Avenue, with commercial activity centers at each end. The intention is to provide continuous and consistent, multimodal connections along Old Lee Highway from Old Town to Fairfax Circle. 
It'll give people a variety of ways to reach Van Dyck Park, Sherwood Center, three schools, places of worship, the library, police department, Historic Blenheim and residential neighborhoods along that corridor. And it'll make Old Lee Highway safer for all users.
The plan's major design features are as follows:
• A typical section consisting of a sidewalk and two-way, separated, bike lanes on the west side of the road; a sidewalk along the east side; and one vehicle travel lane in each direction. 
• The existing right and left turn lanes remaining, except at Great Oaks Drive. 
• Four new left turns:
*From southbound Old Lee into Daniels Run Elementary;
*From northbound Old Lee to Old Post Road;
*From northbound Old Lee to Great Oaks Drive; and
*From northbound Old Lee to the Sherwood Center/Police Station/Van Dyck Park.
• A roundabout at Ridge Avenue to improve neighborhood ingress/egress. It would also allow vehicles coming from Fairfax Shopping Center to make U-turns and would reduce vehicle speeds and provide a gateway to Old Lee.
Total, estimated, project cost is $25.2 million. Funding includes $13 million from the Northern Virginia Transportation Authority (NVTA), $10 million in VDOT revenue sharing money, and $2 million from the City's commercial and industrial tax – dedicated to increasing transportation capacity.
At a recent Council meeting, Mark Gunn, engineering director with Rinker Design Associates (RDA), answered some questions residents had posed during an earlier community open house at the Sherwood Center. A resident wanted an additional southbound, left-turn lane into Old Lee Hills – for example, at Embassy Lane or Parklane Road. 
"Widening of the roadway to provide a left-turn lane onto Parklane would require an additional 2,000 square feet of encroachment onto the Blenheim property, near the historic gravesite area," explained Gunn. "And in the vicinity of Embassy Lane, provision of a left-turn lane would require removal of six additional trees and utility relocations."
Another person wanted to know if it was possible to have separate bike lanes from one end of the project area to the other. Doing so, said Gunn, would require "removing 10 more trees, relocating three additional utility poles and increasing the length of the retaining wall – and would cost some $200,000 more."
Fairfax Transportation Director Wendy Sanford said the City is ready to advance this project through final engineering and will continue evaluating other issues brought to light via public comments, such as private-entrance connections, landscaping and bus stops. 
She said the next steps are working with property owners directly impacted by the project, holding a public hearing at the 60-percent design stage, right-of-way acquisition, utility relocation and City Council awarding the construction contract. "We've worked on this with RDA since 2016," said Sanford. "There are a lot of choices, and we've had a lot of public and Council engagement."
Saying he strongly supports this project, Councilmember Tom Ross asked about the timeline for the 60-percent design phase, and Gunn said it should be sometime in May. 
"Wendy Sanford, [Public Works Director] David Summers and [City] staff have done a fantastic job, and I appreciate all their hard work," said Councilmember Joe Harmon. "Since this is a resolution to move forward, what happens to the funding if we didn't?"
"We have deadlines with VDOT and have made commitments to them and to the NVTA to move this project along," replied Sanford. "And it's important that, when we have funding, we spend it." Summers added that every delay makes this project's cost higher.
Councilwoman Janice Miller asked why the Great Oaks and Old Post left-turn lanes were added, and Sanford said it was because both streets had "high numbers of left turns. Originally, the project didn't include any additional left-turn lanes, but the public requested them."
Mayor David Meyer also noted that because of this project, "We're doing something about the traffic, plus improving the dangerous intersection at Ridge Avenue." Councilmember Jon Stehle then made a motion to approve the resolution, and Miller seconded it.
Ross said he wanted a separated, dedicated bike path from Great Oaks to Ridge, and Miller agreed. But Harmon wanted further discussion before moving ahead, at all. And Councilmember So Lim said, "I want to make sure this is the best design, so we don't have to spend more money on construction later on."
But Gunn said they believe this really is the best design. "We've got hundreds of years of engineering experience [among everyone working on the project], plus all the consultants' time and expertise," he explained. "We also have six years of time working on this." And Summer stressed that it doesn't include all the time staff members spent on it.
Said Sanford: "We feel that this plan reflects the data we have, and community input, and will stand the test of time."
Councilmember Sang Yi said Old Lee is one of the City's major roads, so public input should be maximized. However, said Ross, "We have an opportunity to move forward on this project and preserve this scenic byway for the future. I'm prepared to vote in support of it."
Council then voted to approve the resolution, 4-2, with Harmon and Yi voting no.