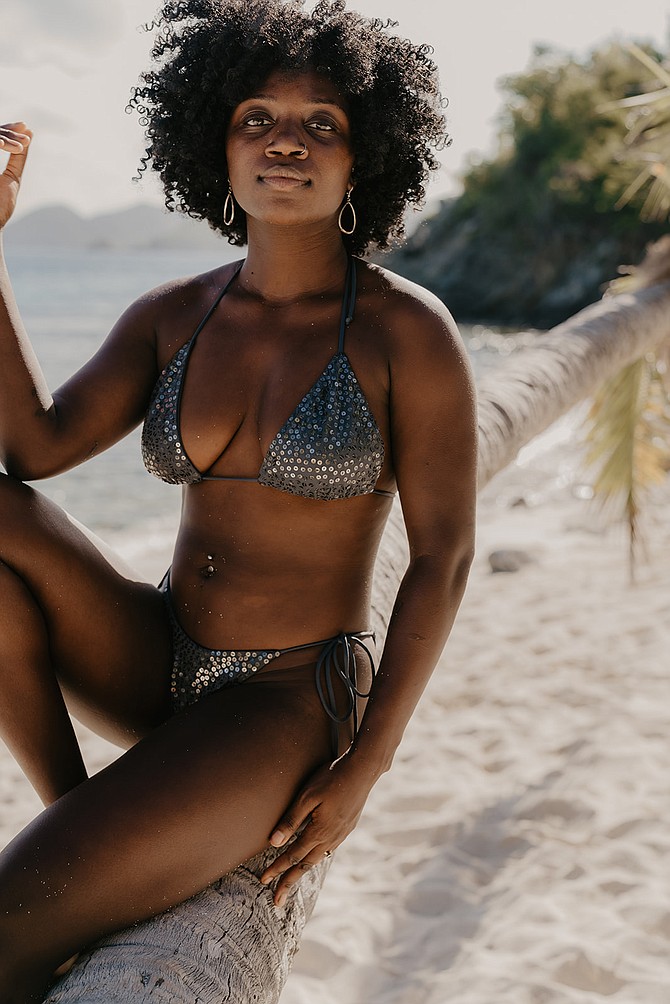 Pursuing a career in fashion was always a goal of Kendall Barry, so she signed up for the Fairfax Academy while attending high school in Fairfax County. She studied the fashion industry at the Academy, and now she's the owner of her own luxury swimwear business called ISAMEL, which has been on the premier beaches around the world.
The suits are made of material from recycled fishing nets, embellished with sequins of the same, and are available for women of all sizes. "Women with real bodies," she said, not unrealistic expectations that may be on the runway. "Things are changing a lot for the positive," she said.
These attitudes are something she stands behind since she launched the company in June 2020, during the early pandemic. With all the quarantine time back then, she had time to hash out the basics for her company and it's taken off.
She does remember the early inspirations she got while attending classes at Annandale High School and the Fairfax Academy at West Potomac High School. Friends at Annandale joined her in the program.
"We were actually passionate about studying something," Barry said. "In the middle of the day I'd go to West Potomac and then back to Annandale."
Landing a Job in Fashion
During her time taking classes at the academy, she got a part-time job at The Full Cup, lingerie store in Old Town Alexandria, her first professional opportunity. "I got to style the window exhibits and dress the mannequins," she said.
In the Fairfax Academy program, the county offers classes in the fashion industry; other academy programs include dance, game design, languages, theater, photography and more. Under the fashion umbrella, students are introduced to the field of fashion design, fabric technology and apparel-production techniques as well as skills in art, communication, mathematics, science and technology.
Tom Barry, Kendall's father, was happy to see this offered by the county, even though she had to travel to another school for this specialized curriculum. "Her professor at West Potomac recognized she was special and requested Kendall do some work for her outside of the school program," he said.
After graduating, she went on to Marymount University in Arlington, but their fashion program was not quite what she was looking for, so it was on to Savannah College in Georgia where she got a degree in fashion. Before long, she was working with J Crew, Avida Embroidery and Michael Kors Luxury, where she worked for six years. 
Michael Kors was "a great experience where I met a lot of celebrities," she said. Then it was onto the runways of New York City's modeling world, and now she's at home in Philadelphia with her fiancée who works in tech sales.
Barry's design work has been featured in numerous magazines and on celebrities attending VIP red carpet events such as the Met Gala, the Emmys, the Tony's, and the Oscars. Her family was happy with this career choice. "Upon entering the fashion industry she seemed to quickly become a driven and valued corporate player," her father noticed.
ISAMEL
The name ISAMEL is a sideways spelling of Melissa, Barry's friend from college. Melissa died in a plane crash in Kenya. Melissa was an inspiration for Barry. "I knew I wanted to have some sort of nod or tribute to her," she said.
Barry isn't just kicking back though. She manages ISAMEL and is always looking for new trends in the swimsuit world. She freelances in design with Anthropologie, another fashion company. 
For ISAMEL, she has her eye on new colors for suits, and is thinking about towels, jewelry and fragrances to go with it. But, "I need to take it slow," she said.
See 
https://shopisamel.com/
 On Instagram, @shopisamel