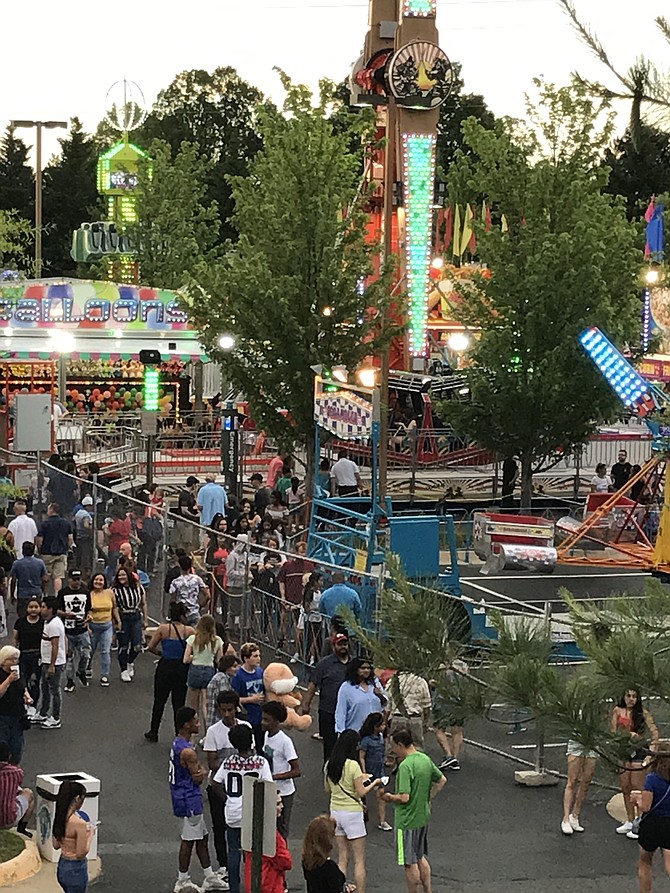 Following staff reports on proposed resolutions at its Feb. 1 work session, the Herndon Town Council votes on their fate during a public hearing on Feb. 8, at the Connection's presstime. 
One of the proposed resolutions turns the carnival lights back on in the town. A second lays the framework for the town's move into the next century, with a multi-modal transportation system along the Silver Line. 
A third resolution had its roots in the previous century when the town's Black and white high school students struggled to receive an education during the Great Depression. It ultimately led to slightly over $100,000 being held by the last surviving Town of Herndon School Board member and it signed over to the town after she died at age 93. The town faced the  question of what and how best to deal with the money as no "town" school board exists anymore.
Carnival is scheduled from June 2–5, 2022. "We are going to move forward with an event that weekend, which will not be called the Herndon Festival," said Cindy S. Roeder, director of the town's Parks and Recreation. "It's going to be significantly modified from what we typically do," she continued. https://www.herndonfestival.net/
The Herndon Festival, which drew a  reported 80,000 people over all four days pre-COVID and was held downtown, used to include a carnival, extensive food, craft, and business booths, and live music on three stages. It was a fundraiser for the municipality that helped cover the operating costs of the town's Department of Parks and Recreation. According to Roeder, Frank Joseph and Sons, Inc., doing business as Jolly Shows and Herndon Festival's carnival provider for over two decades, submitted the only bid. 
John Irish, deputy director of Public Works, presented the second resolution, which addressed Award Contract #B-22-07, Van Buren Street Multi-Modal Improvements Phase I and II. A & M Concrete Corporation was considered responsive and responsible. Staff suggested adding an $800,000 contingency to the contract.
Phases I and II will be constructed concurrently. Phase I is 0.25 miles long from Herndon Parkway to Alabama Drive, while Phase II is 0.32 miles east from Alabama Drive to Spring Street. The downtown area, trails, and the future Herndon Silver Line Metrorail Station will all be better connected due to the improvements. Crosswalks and curbs that comply with ADA standards, traffic signalization on Alabama Drive, street lighting, a closed drainage system and stormwater management facilities, and water utility relocation are all included.
"[The building timeline] will run approximately a year, give or take," said Town Manager William "Bill" Ashton. "We're seeing some supply chain issues."
Resolution 22-G-15 is another item on the agenda. It allows the town to move $101,761.37 from the Darrell Trust Fund, first set up in 1935 when the town had its own education system because it didn't fall under the Fairfax County Public Schools division.
According to Robert Tang, the town's director of finance, the town's school board administered the funds set up by a private person in the Town of Herndon to help the town's children with educational assistance.
During a council discussion, Ashton emphasized that when the final person in charge of the Darrell Trust Fund died, long-time town resident Elma Mankin (1924–2018), the trust was signed over to the town. 
"The one program that Elma established was really informal. People were on their honor to pay (it) back," Ashton said. According to Tang, the trust gave out low-interest loans to students.
Ashton said that after Mankin died, he obtained all of the program's records and audited them. He went on to say that because the monies were in a joint town account, they were held "until we found a way to live up to what the trust was attempting to do, which is [serve] Herndon-based children in higher education. Ashton said, "We were able to discover this company ready to stand up and do this for us," Ashton added.
Educate Fairfax is a 501(c)(3) charity that takes monetary donations from the community on behalf of the Fairfax County Public School System. Educate Fairfax has pledged to use this money for educational support and to benefit children residing in the Town of Herndon and enrolled in Fairfax County Public Schools in the town, according to Tang.
Tang said that the next step is for the municipality to draft a memorandum of agreement with Educate Fairfax outlining how the money would be distributed. The second step, according to Ashton, is to collaborate with the high school principal "so she knows this is out there for her students as well."
A final resolution addresses a memorandum of understanding between the town and the Fairfax County Board of Supervisors, under which citizens would get a single bill for their real estate taxes. It would allow the county's Department of Taxation Administration to collect and deliver better customer service. According to Tang, the MOU would allow the County of Fairfax "to bill and collect for current and delinquent real estate property taxes owing to the municipality." Tang stated that if the proposal is accepted, "it will begin on June 1 this year, and citizens will begin getting their consolidated bill." Any money collected but not invoiced for the town would be kept by the county at a rate of 0.25 percent. The fee would be less than the town's current billing and collection costs, and it would save staff time.
A meeting of the Herndon Town Council will be held on Tuesday evening, Feb. 8, with staff proposing that all resolutions be approved by the council. A public hearing is set for that evening, during which individuals can submit feedback before the vote.
The print version of Connection Newspapers will have already gone to press on Tuesday afternoon.