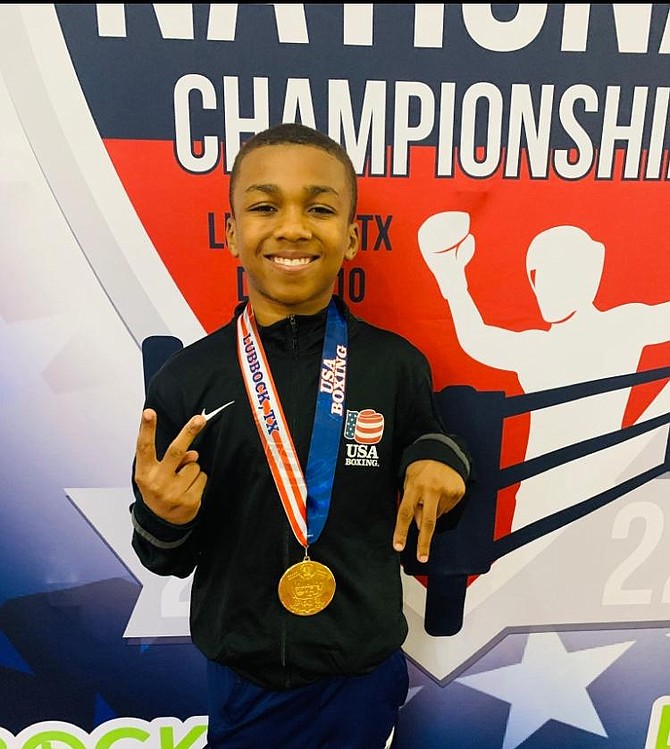 "The team worked very hard to win the Nationals."
— ALX Boxing executive director Alice Williams
Terriel Cooke Jr., an 11-year-old at Francis C. Hammond Middle School, brought home the gold as ALX Boxing returned as national champions from the 2022 USA Boxing National Championships in Lubbock, Texas.
"The team worked very hard to win the Nationals," said Alexandria Boxing Club executive director Alice Williams. "This is a big deal for the team and the City of Alexandria."
Held Dec. 3-10 at the Lubbock Memorial Civic Center, the competition featured more than 1,000 boxers aged 9 to 39.
"This was a week-long, grueling competition," Williams said. "But the team did not disappoint with boxers returning ranked on the national level and our own National Champion." 
Cooke took home the gold for the third year in a row at the national boxing championships. The two-sport athlete is also a multiple youth Virginia wrestling state champion and Triple Crown winner.
As a boxer, Cooke is following in the footsteps of ALX Boxing's most recent past National Champions, Omar Mahmoud and Olympian Troy Isley. He is trained by head coach Jeffrey "Steady" Johnson, Eric Zimmerman and Chad Zaamana. ALX Boxing club trains out of Charles Houston Recreation Center. 
This year's championships served as the first qualifier for the 2024 U.S. Olympic Team Trials for Boxing, which is scheduled to take place in December 2023, for boxers competing in the elite Olympic weight classes. The championships brought boxers in the youth and elite divisions one step closer to becoming part of USA Boxing's high-performance teams, which provides the opportunity to potentially represent Team USA on the international stage. 
For information on how to support or train at ALX Boxing Club, visit www.ALXboxingclub.org.