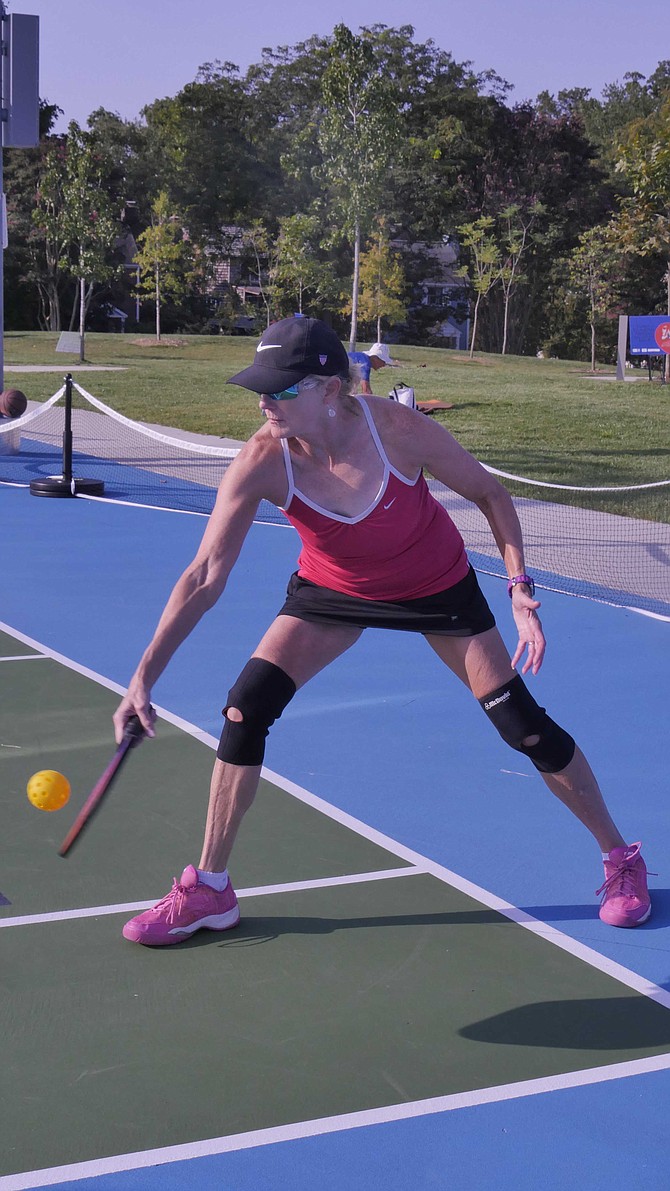 It's 9 o'clock sharp and the NVSO pickleball 60+ women's doubles are in full swing at
 Lubber Run Community Center in Arlington. Mary Beth Wilson and Peggy Tugwell (Tug) are playing Milly Stanges and Beth Baker in court A in the first round of the tournament on Tuesday, Sept. 28.  
Contestants play the best two out of three games for the gold. First game goes to Wilson and Tugwell 11-3. 
Men's doubles are set to follow at 9:30 am. 
One contestant arrives with a hearty greeting. He hasn't seen his pickleball friends since the last NVSO but it seems like yesterday.  
"You're late." 
"Just a minute; my game starts at 9:30." 
"What size T-shirt ?"
"Large. No, extra large. Don't want to crimp my biceps." 
Herb Levitan, long-time competitor and event director of several of the games, is on the sidelines holding a pickleball in each hand. The pickleballs appear identical at first glance. But one of them is for indoor pickleball with different size holes, and the games have been moved to outdoor courts. Who knew?
Northern Virginia Senior Olympics competitions began Sept. 18 with the opening ceremony at Thomas Jefferson Community Center followed by track events in the afternoon.  Diving followed the next day with more than 50 events on the following days held at venues all over the northern Virginia area. From orienteering at McLaren Sargent Shelter at Lake Accotink Park, to Wii bowling at Greenspring Retirement Community to 8-ball pool at Lincolnia Senior Center, the variety was on display.
A few events were rained out and rescheduled, a few such as croquet were moved, and a few weren't held this year due to COVID restrictions.
NVSO finished its 39th year on Thursday, Sept. 30 with bocce and horseshoes at Fairfax City Senior Center, Green Acres.