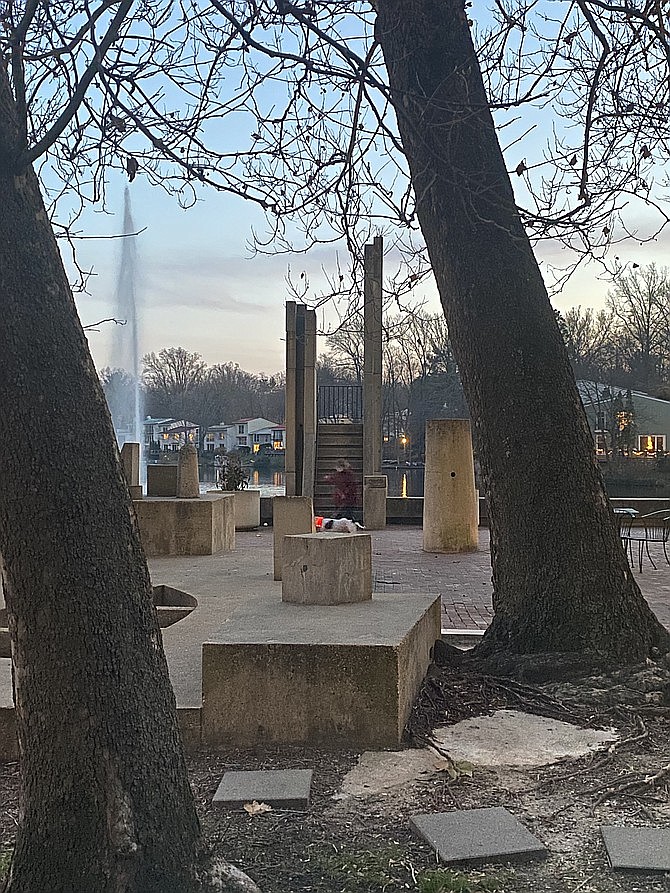 The newly seated five-member board of the Lake Anne of Reston Condominium Association (LARCA), headed by George Hadjikyriakou, the appointed president, could not meet the initial Dec. 1 funding confirmation deadline for their share of the proposed "Lake Anne Rising-Phase 1" project. Total community funding is $250,000. 
The project is a planned beautification of the Lake Anne Plaza by three sponsoring organizations: Gupta Family Foundation [GFF], housed in Herndon, with a pledged $25,000 seed grant; Reston Museum; and Public Art Reston. They announced the plan on November 18, 2021. According to Margaret Gupta, president of Gupta Family Foundation, during an interview on Dec. 2, they advanced the deadline for LARCA to Dec. 6 after the initial deadline of Dec. 1. But LARCA must be part of the project, or it is dead, according to Gupta.
As for the proposed project itself, Gupta said that at Pyramid Park on Lake Anne Plaza, where famed Uruguayan artist Gonzalo Fonseca's site-specific sculptural collection of molded concrete elements is located directly in front of Lake Anne's trademark fountain, the large sycamore trees would be retained. But to mitigate future trunk expansion and the trees' ever-expanding roots pushing up against the brick plaza, the trees' roots will be professionally trimmed, and a softscape installed there. The sculpture, Fountain, is to be restored.
Project 2 adds native plants to 15 LARCA planters, the east retaining wall, and the grooves in the west slanting wall. Project 3 is plaza cleaning every two years and projects 4, 5, and 6 are entrance signage, Fonesca monolith restoration, and planter maintenance every year.
Hadjikyriakou said in an email late in the afternoon of the Dec. 1 deadline, "The board is in agreement that this proposed project is a good thing, but we also agree that there are issues we need to discuss and come to an agreement on with the Guptas before we can move forward."
Hadjikyriakou added, "I am dealing with a lot of issues right now." At the time of the correspondence, some units in the Chimney House condo lacked heat; LARCA was waiting on a new boiler, and flooding had occurred in some units.
The $37 million in infrastructure repairs needed across LARCA properties loomed, cited in the "Draft Report, Cursory Condition Assessment" prepared for Fairfax County Department of Public Works and Environmental Services 2021 and presented to the public on Sept. 13, 2021. 
Lacking reserve funds and the 131 members of the LARCA HOA unable to raise such funds, the repairs remained unaddressed.
On Dec. 2, Margaret Gupta said that, while initially, LARCA was to contribute $45,000 to the Lake Anne Rising-Phase 1 project, Eve Thompson, former Reston Association At-Large director and former president of the Lake Anne Merchants Association, had raised $33,000 in the last few days from LARCA owners that was not going through the LARCA budget to put toward the HOA's share.
Gupta said, "So, LARCA really only needs to commit to providing $12,000 in their 2022 budget." In the interview, Margaret Gupta's husband, Dr. Shashikant "Shashi" Gupta, said that Hadjikyriakou kept talking about how the LARCA board had not finalized its 2022 budget.
"The thing is, we're not asking them to finalize the budget. All we're saying is, make a commitment that you will add or include $12,000 for this project in your 2022 budget," said Shashi Gupta. "They can just have a quick vote of the board members... Say that we will try our best to put in $12,000 for this project," he said.
Margaret Gupta added that LARCA needed to make a good-faith commitment that they will maintain the plan "at a tune of $20,000 a year and in future years so that this investment continues to thrive. "Otherwise, this investment won't make much sense. Again, this is a good-faith effort, "she said. The plan is to have everything completed by the time the Reston Farmers Market 2022 starts.
The slide presentation on Nov. 18 detailed that Reston Museum would be a fiscal agent or contracting entity with project funds channeled through them and a fundraising webpage established. Public Art Reston would act as the expert in oversight of art restoration, with the Gupta Family Foundation as project catalyst and sponsor.
There would be opportunities for five sponsorship levels, from $50,000 to less than $1,000. As for proposed funding for the program, there are five funding sources: Gupta Family Foundation, $25,000 confirmed; LARCA, $45,000 subject to 2022 Budget, of which all but $12,000 has been raised by Eve Thompson, former LARCA board member; Reston Community Association, $25,000, subject to 2022 Budget; and community fundraising of $105,000, tax-deductible since Reston Historic Trust is a 501 (c) (3) nonprofit organization.
It is noted that all dollar amounts are "aspirational," except for the $25,000 grant from the Gupta Foundation. 
Mike Leone, public information officer at Reston Association, said, "There really isn't much more I can say at this time because no proposal has been presented to the RA Board of Directors and RA has no commitment to this project at this time."
"People in Reston are so excited about this project," said Margaret Gupta. "But LARCA has to be part of this project because it is their property."