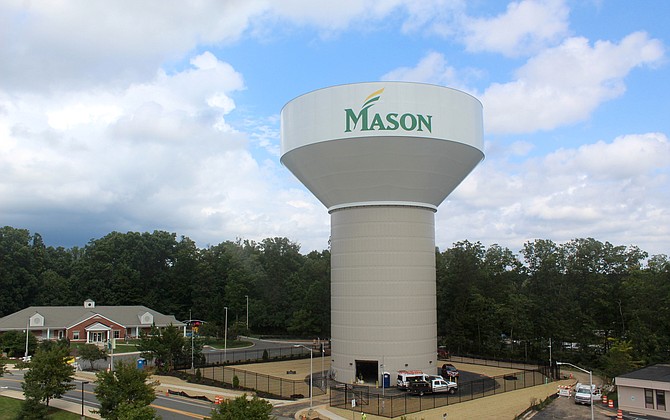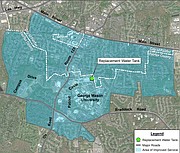 The campus of George Mason University and the housing surrounding that area welcomed 2021 with increased water pressure, courtesy of a new 2.5 million-gallon water tower on the GMU grounds. The new tank is 156 feet tall, and this assists in the increased water pressure by relying on gravity pull to propel the water to some extent.
The old water tank was smaller and not as tall, and officials began demolition of this tank in January 2019. The new water tower began supplying homes and businesses in the area in October 2020.
It is a Fairfax Water facility, and they were in charge of the demolition and construction, which will be paid for "via water rates, fees, and charges," said Fairfax Water spokesperson Susan Miller.
According to Miller, the new tank was built on the same site as the previous tank, which was built by the City of Fairfax in 1978. The demolition of the previous tank was completed in January 2019, and the tank's concrete pedestal was completed 11 months later.
Between January 2019 and October 2020, the school and the nearby residents relied on water from a different part of the distribution system, Miller said. The tank supplies water to some residents in the City of Fairfax, GMU, and some residents in Fairfax County as well. On the north end of the water tank area is marked by Main Street, and to the south, the service boundary is Braddock Road, University Mall and a few residential streets in that area.
Other Fairfax Water projects going on in the area include a pumping station near Chain Bridge Road and a river crossing at I-95 and the Occoquan River. At the river, Fairfax Water is working with Prince William County Service Authority, and Virginia American Water to increase drinking water transmission capacity and enhance system reliability for existing and future customers in eastern Prince William County, their project information stated. This 16-month project involves dual 42-inch mains inside a 400-foot long tunnel to cross beneath the river near the Town of Occoquan. The construction work will occur on Fairfax Water property and within existing Fairfax Water easements and will be completed in spring 2023, Fairfax Water said.
Another project is with the pumping station project in McLean and this consists of piping modifications to improve pressure zones and water transmission capacity within the service area via the Washington Aqueduct water source, Fairfax Water said. Modifications include construction of approximately 800 feet of 30-inch and 42-inch diameter water main, installation of new water flow meters, and interior pump station improvements. Construction limits are within Dolley Madison Boulevard and the driveway of Fairfax Water's Chain Bridge Pump Station, near the intersection of Kirby Road, Fairfax Water said.