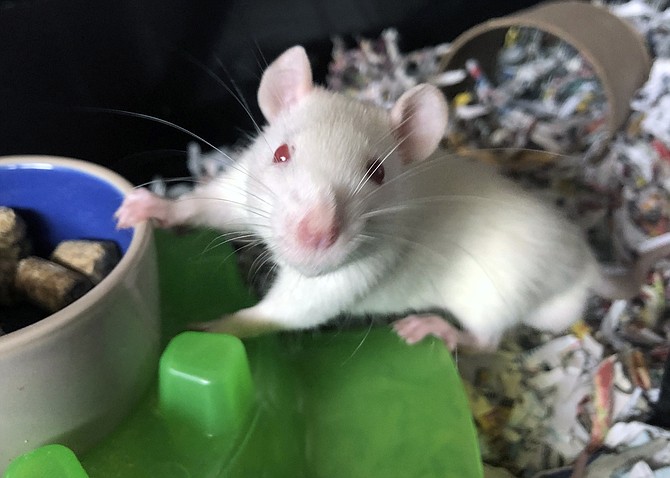 Joan is an award-winning Connection Newspapers columnist and local photographer specializing in pets, children and families and contemporary business portraits.
Rats apparently make great pets. Truly. This isn't just another crazy 2020 thing. Or actually, maybe it is.
It turns out rats are not the icky, dirty little creatures I always thought they were. Now the truth is, the rats I'm talking about are the domesticated – or fancy – rat variety, not the big honkers seen scurrying around the streets at night.
Wild rats have a different lifestyle which doesn't necessarily allow for good grooming and close, warm relationships. But looking back, it was still probably very hurtful to the little guy I saw on the street last week, when the sight of his whiskers popping out from under a bush startled me into a small scream.
Like cats, pet rats are constantly grooming themselves to be sure to stay looking sharp. They are also very smart and can be taught all kinds of tricks. And they are loyal as, well, dogs. I know, I know. I was incredulous too. But I googled around and it's all true.
Little Jackfruit, the hero of this week's column, was surrendered to a shelter along with his two sibs when it became clear that his owner had too many rats to take care of safely. Rats actually have empathy, so young Jackfruit likely understood how hard things were for his previous owner. But his behavior would suggest that he prefers the quiet, uncluttered environment of his foster home. His empathy, by the way, is not limited to his previous owner. Consistent with the breed, he apparently recognizes emotion in his siblings and foster mom and responds accordingly.
Jackfruit got a new name with his new life and he is still learning it. But, I kid you not, once he learns his name, he will totally come when called. In addition, he can be taught all kinds of things, including how to shoot hoops with a rat-sized basketball hoop. Now I'm a dog person through and through, but my beagle, fab as he is, cannot shoot hoops.
While he doesn't know any tricks yet, Jackfruit does enjoy spending time with this foster mom, riding on her shoulder as she moves about her home.
He has been waiting since the beginning of August for his forever home. In his perfect world, he will be adopted with one or both of his brothers into a home where people spend lots of time with him cuddling and playing.
You can check out Jackfruit on the Animal Welfare League of Arlington website (https://www.awla.org/). And you can schedule a virtual date to meet him by emailing: awla.foster.lorena@gmail.com. If Jackfruit and his brothers are not a good fit for your household, please share and help these guys find their forever home.
And if you do choose to adopt Jackfruit and especially if you teach him to shoot baskets, please, please send me pictures.
ArPets is a weekly feature for highlighting the well-loved pets of Arlington as well as animals who are available for adoption. If you or your dog, cat, iguana, bunny, rat or any other pet, has an interesting pet story to tell, email me at joan@joanbradyphotography.com.