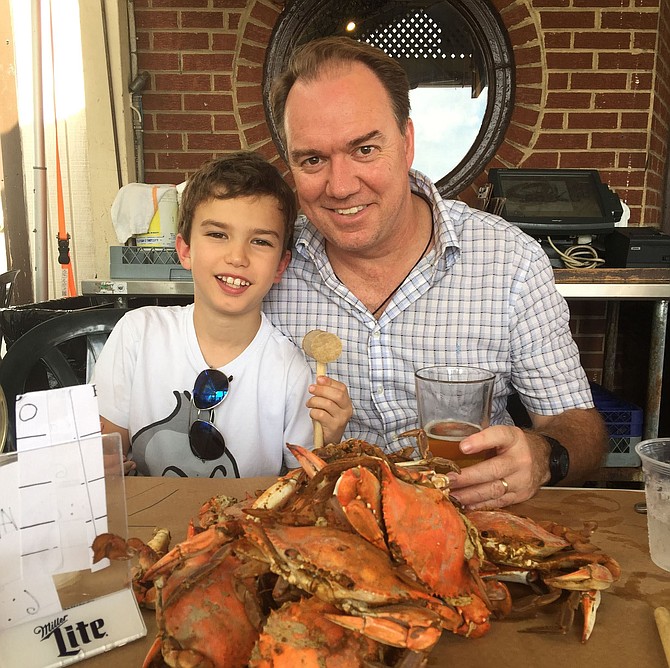 How can 12-year-old Sam Morrison pick his favorite place between Paris, the hinterlands of Thailand or the Sea of Galilee? "That's a tough one. I liked them all the same," Sam says. "But I think about South Africa because the people were so friendly, really nice and there was a lot of wildlife. I love wildlife a lot. We would get up at 5 a.m. to get started when the wildlife wake up and start doing their thing. We would go until noon." He recalls they saw lions and bobcats and lots of elephants. His father also remembers a wildlife refuge that had adopted abused animals such as lions from the circus.
Sam has put his traveling adventures in "Backpacks and Baguettes: Coloring the World through Young Eyes," a new book which he wrote with his dad, Dan (Angus) Morrison. The pages recount his observations from some of the countries he has visited and are full of global graffiti and street art from those countries that you can color in yourself. Sam is himself a hybrid, half American and half British and now living in Alexandria.
Sam says, "My advice to people any age who want to write a book is you have to contribute time to it. You have to work on it every day or it won't get done." Sam says he would sit next to his dad for 20 minutes a day and tell him what to write on the computer. Or his dad adds, they would remember things together.
Sam began writing the book when he was 11 years old and just finished it when he was turning twelve. He based most of his memories of trips beginning when he was 3 years old living in Paris, but recalls that his memories of Mosset and Scarborough began when he was only a year old.
Each chapter had a similar profile with a description of the place, the food and the children. Dan says this organization made the book easier to write than if they had just used stream-of-consciousness. Although Sam is fond of pasta with tomato sauce, Sam picks the food of Norway as the most memorable with "beef and meat and a lot of stuff." He remembers one night they went to a restaurant and two men nearby were eating meat off a sheep's head, including the eyeballs." Sam says, "I loved it. It was very different than Paris or Washington."
Sam says when they lived in Paris they ate a lot of different foods. Dan interjects that they were "market tourists" going to all of their local markets. Grazing was a real pleasure. When they lived in the 16th arrondissement in Paris, Dan remembers a very long beautiful market stretched all the way to the Seine. One of Sam's favorites in Paris was making meatballs with his father, compliments of the heritage of his Sicilian great grandmother, and putting them in the oven the next day.
If you ask Sam about favorite foods, it's not the scorpions on sticks at Thai street markets or the mango in the Mekong Delta, Moroccan couscous or South African biltong. He lists the choice of kids around the world. "I'm a big fan of pasta with tomato sauce."
But he has to break his answer down by starter, main and dessert. "My favorite starter is melon with ham. And the main is steak frites or pasta." And for dessert, he chooses tiramisu, although he can't find any he considers authentic anywhere around here.
Sam thinks kids in Paris are kind of different because they live in a big international city and are exposed to many different cultures. "It's not mainly a French place because people live here from all over the world. It makes the kids more open-minded because they get to try so many new things." At the other end of the spectrum are the kids in S. Africa with a very different lifestyle. "I've lived in a city all my life and a lot of them live in poverty, sadly. But kids get to see a lot more wildlife."
Any day could be a new adventure. "I had a real weird occurrence in Thailand." They were riding in a tuk tuk, and they went past a bank with an open window. "We saw monkeys who snuck in the window and started wrecking the place. Paper was flying everywhere." He says some men with sticks came and chased the monkeys away. "The monkeys weren't trying to rob the bank." Sam speculates, "There are lots of shiny things in a bank." Dan explains the Thai have a holiday every year where they feed the monkeys to show the symbiotic relationship between monkeys and people.
Sam's home base for travels was Paris, where he lived with his parents for 6-1/2 years. He says his book doesn't include all of the countries where he has traveled and he hopes to keep going "although it will be harder now that I've moved to the U.S. because those places are farther away than Paris. "But I've never been to South America; probably that's next."
Dan says "the idea of writing a book just sort of came to us." He explains that on the way to Sam's school, he and Sam shuttled their next door neighbor to Georgetown Hospital for treatments for pancreatic cancer. "It was three generations of men in a car chatting. It occurred to me that if we didn't capture how a 12-year-old interprets the world, it would fly away."
The book is due to be available on Amazon on Oct. 6. You can find Sam on Instagram @samrmorrison.