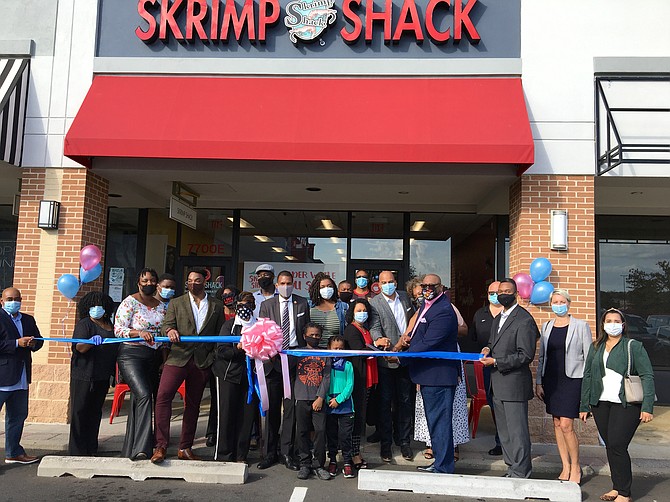 The Skrimp Shack Mount Vernon celebrated its grand opening with a ribbon cutting on Friday, Oct. 23, with Lee District Supervisor Rodney Lusk.
Located at 7700 E Richmond Highway in the Mount Vernon Plaza, this Skrimp Shack franchise is owned by Kenneth McLeon and his wife Brenda. McLeon is a retired Marine and he is proud to serve the Fort Belvoir / Mount Vernon community.
Tuesdays are "Military Appreciation" day when active duty and retired military receive 10 percent off their order as a way to say, "Thank you for your service."
The Skrimp Shack is "home to the fattest fish sandwich." The menu features lunch specials or family combos. Check out the shrimp, different types of fish, and the signature hushpuppies. There are sandwiches, po boys, and fish tacos with sides of fries, fried okra, coleslaw, mac 'n cheese, collard greens, green beans, and sweet potato fries.
You can feed the family with either fish by the pound or shrimp by the count. All entrees come with their homemade sauces. Or add a side of crabmeat to any meal. For dessert you can choose from banana pudding or brownies.
You can order ahead and select the time you will pick up that is most convenient for you. Order on the website at https://theskrimpshack.olo.com/menu/mt-vernon or download the App and order at @skrimpshackordering
Mount Vernon Plaza has a selection of delightful outdoor seating options where you can enjoy a meal from The Skrimp Shack.
Kenneth and Brenda would love to welcome you to their new restaurant where you can enjoy the delicious food and feel like part of their family.
Skrimp Shack is the "Restaurant of the Week" from Mount Vernon Lee Chamber of Commerce. Restaurants are an industry deeply affected by the Covid-19 pandemic. Support local restaurants and help retain the variety of wonderful eateries in our community.