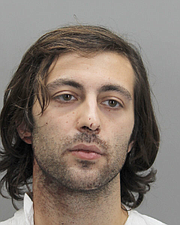 Believing he stabbed his estranged father to death, Fairfax County police have charged Alexander Bellini, 28, of Chantilly, with murder. The victim was Christopher Bellini, 59, of Falls Church.
The tragedy occurred last Thursday, Oct. 22, inside the father's home in the 2300 block of Watters Glen Court. Officers responded there, shortly before 1 a.m., for a report of a domestic dispute.
Upon arrival, they found the victim suffering from stab wounds. Officers rendered aid to him until rescue personnel arrived, but the elder Bellini was pronounced dead at the scene. Police say his son was found inside the home and was taken into custody.
According to detectives from the Major Crimes Bureau, Alexander Bellini had been prohibited from contacting his father due to a recent protective order. Such a document is filed to keep a person safe from someone deemed dangerous to him or her. Furthermore, said police, "A knife believed to have been used by Alexander was recovered from the scene."
The Chantilly man was taken to the Adult Detention Center and charged with second-degree murder and violation of a protective order while armed with a deadly weapon. He is being held without bond. No one else inside the home was harmed. This incident remains an active investigation, and The Office of the Chief Medical Examiner will conduct an autopsy to determine the exact cause and manner of death.