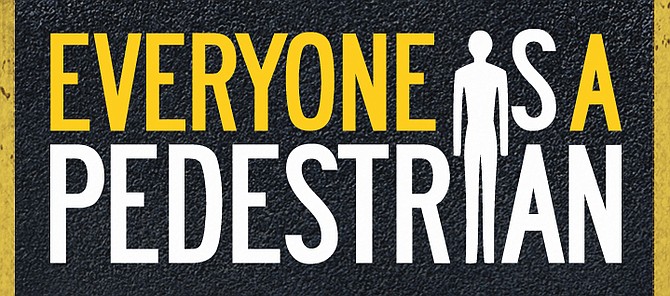 Saving pedestrian lives is each of our responsibility and takes each of our efforts, whether a vehicle driver, passenger or just walking. October has been named National Pedestrian Safety Month to draw attention to the number of highway deaths each year and remind each of us of our crucial role in getting to zero pedestrian deaths.

Most recently, between 2017 and 2018, the number of deaths have increased nationally by 3% to 6,283. Worse still, this is the highest number of pedestrian deaths since 1990.
Sadly, Fairfax County is not immune from pedestrian fatalities. There have been 12 pedestrian fatalities in 2020 thus far; four of those deaths have occurred along the Richmond Highway Corridor just since January. While drivers and walkers need to increase our mindfulness of the other, we are also doing the same for the Richmond Highway Widening and the Richmond Highway Bus Rapid Transit (BRT) improvements slated to begin construction in the next years.
Fairfax County's Pedestrian Program focuses on the three E's – Engineering, Education and Enforcement.

Engineering focuses on funding and construction of new facilities, like the BRT project, that meet Virginia and federal safety standards and guidelines for accessibility. Education refers to ensuring that state laws and safety tips are resident-focused with programs like the StreetSmart or DrivingItHome campaign and the "Yield to Pedestrian" sign program. Enforcement refers to police and their responsibility to enforce pedestrian and traffic laws, as well as educate residents about these laws.
According to the National Highway Traffic Safety Administration (NHTSA), as the seasons change and nights become longer, the risk pedestrians encounter increases significantly. Between September and February, over 30% of pedestrian fatalities occur between 6 – 9 p.m. With the increased risk to pedestrians this time of the year and Daylight Saving time ending this Sunday, Nov. 1, please be extra careful as you walk or drive.
The NHTSA suggested safety tips for pedestrians: Walk on sidewalks when available or face traffic; stay alert and don't be distracted by handheld devices; use well-lit intersections or crosswalks while crossing the road; and be visible by wearing bright clothing during the day and reflective clothing and use of a flashlight at night. Additionally, it's important to make eye contact with drivers as they approach you to make sure you are seen.
Safety tips for drivers include to always watch for pedestrians; slow down when approaching crosswalks; yield to pedestrians; follow the speed limit, especially in neighborhoods and school zones; and be cautious while backing up.
Due to COVID-19, many more of our neighbors are walking and enjoying spending time outside. Let's Look Out for each other,
Slow Down, and
Be Aware of our surroundings while we are driving or walking in our neighborhoods!
Helpful links:
https://www.nhtsa.gov/pedestrian-safety/national-pedestrian-safety-month
https://www.fairfaxcounty.gov/news2/what-we-can-do-to-prevent-pedestrian-crashes-and-fatalities/
https://www.fairfaxcounty.gov/transportation/walk/faq
https://www.fairfaxcounty.gov/police/chief/crimeandsafety/traffic/pedestriansafety
https://www.mwcog.org/transportation/programs/
http://www.virginiadot.org/business/resources/VDOT_PSAP_Report_052118_with_Appendix_A_B_C.pdf