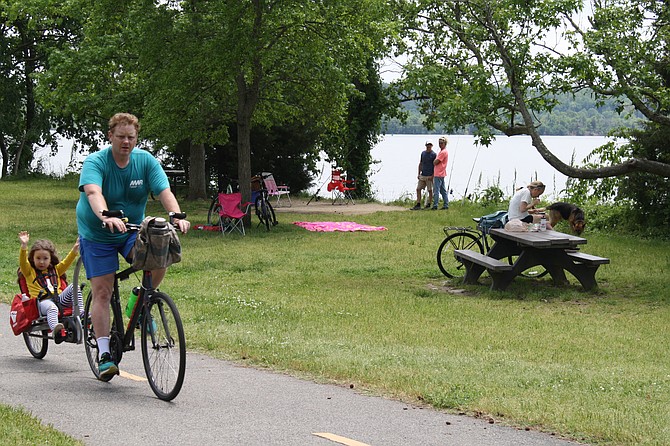 In May 2020, the "Mount Vernon Trail Corridor Study," was completed to identify opportunities to improve the Mount Vernon Trail, looking at safety concerns, users' needs, and resource management considerations.
The National Park Service tasked the U.S. Department of Transportation Volpe National Transportation Systems Center (Volpe Center) to assess the design, condition, usage, and crash history of the Mount Vernon Trail. The analysis is intended to inform park operations and maintenance needs, as well as identify short- and long-term capital projects to improve the visitor experience, the report stated.
The George Washington Memorial Parkway office is a unit of the National Park Service who owns, maintains, and operates the 18-mile Mount Vernon Trail from George Washington's Mount Vernon Estate to Theodore Roosevelt Island, linking Fairfax County and the City of Alexandria, to Arlington County and major Potomac River bridge crossings into the District of Columbia.
Major findings of the study include:
The trail is defined as "crowded," especially at weekday commute periods and weekend recreation periods.

There is a conflict at times between bicycle traffic and pedestrians.

High crash potential entering and exiting the Mount Vernon Trail at the 14th Street Bridge and Four Mile Run trail intersections.

Crashes attributed to narrow trail portions, surface conditions, and at-grade roadway crossings.

Trail is in "fair to good," condition officially, but there are spots targeted for reconstruction in the near future

There are spots where increased maintenance is needed.

Signage and pavement markings need attention in certain areas.
Since the trail was created in the 1960s and 1970s, the development of the trail predates modern multi-use trail design standards, so many of the improvements are designed to bring it up to modern standards.
In conclusion, there are short, mid and long-term improvements that need to be made. Short term includes bridge improvements, signage and coordination with neighboring jurisdictions. Mid term is to refine the scope of improvements, hire a trail manager and institute a maintenance program. Long term improvements include a few spots for rehabilitation in all three zones and eliminating an "S" curve at Daingerfield Road. There were no solid dates for projects to be completed in the study but the dates for long term, for example, were 2024-2030.