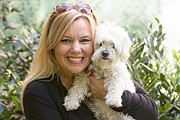 It's hard when you reach that time in your 30s where your friends are starting to settle down. They're making choices that mean no more drinks out after work, no more partying all night, no more last minute travel. You don't get it.
So you ask them to explain it to you. "The first time I saw him, I just couldn't walk away. I just couldn't resist those soulful eyes and … those big floppy ears."
Yes, your friends are becoming dog owners. And you think they are nuts.
The first time you are invited to after-work drinks at their home, you go. But you are annoyed, knowing they won't be serving up your favorite happy hour snacks and drinks. You're convinced that you are witnessing the true end of the best era, for them.
But you find yourself gravitating to the new pup, spending most of the evening cooing and snuggling with that four-legged little fur ball. Going forward, you accept every invitation to come over and hang out. You are certain that not all dogs are this great. No, this one is special. He's the only one. You find yourself developing strategies for a successful pup-heist so that you can have the four-legged bundle of joy to yourself, forever.
Eventually, you accept that if you are to have a dog, it's not going to be theirs.
Ok so that's not really how Corinne Combeau described her experience, rather it's a blend of what I have observed in my friends and myself, along with what I imagined from what she did tell me.
When Combeau was ready, she wanted under fifteen pounds, non-shedding and hypoallergenic, It was a pretty short list of must-haves. But even still, she looked for a while before finding her perfect match.
Combeau, who is French, told me that the first time Bisou looked at her with that signature "French attitude," she knew he was the one. She likes that he is "sassy, confident and funny." He is outgoing with people and other dogs and loves a good party. According to Combeau, they share many personality traits.
After more than eleven years together, the two are very close and Bisou, who travels with Combeau, has had some great adventures. Among his favorite places to play tourist are New York City and Lewes beach in Delaware.
Since the pandemic started, Combeau, who has her own IT staffing company, has been working full-time from home. Having her around more has been great for Bisou who has benefited from the extra attention as well as the increased exercise. Combeau especially appreciated her little companion during lockdown when, being currently single, she would otherwise have been very isolated.
Bisou has been a great pandemic companion in so many ways including demanding that the workday has a hard stop and that playtime is part of their daily playbook.
Bisou's list of favorite Arlington neighborhood haunts are identifiable by the pet friendliness of the staff and the treats they offer. Now that things have opened up again, you can often find him (with Combeau in tow) shopping at Twins ACE Hardware, South Moon Under, Loft and Crate and Barrel, taking classes at Xtend Barre and grabbing a bite at Rhodeside Grill, and TNR Cafe.
ArPets is a weekly feature for highlighting the well-loved pets of Arlington as well as animals who are available for adoption. If you or your dog, cat, iguana, bunny, rat or any other pet, has an interesting pet story to tell, email me at joan@joanbradyphotography.com.
Joan is an award-winning Connection Newspapers columnist and local photographer specializing in pets, children and families and contemporary business portraits.