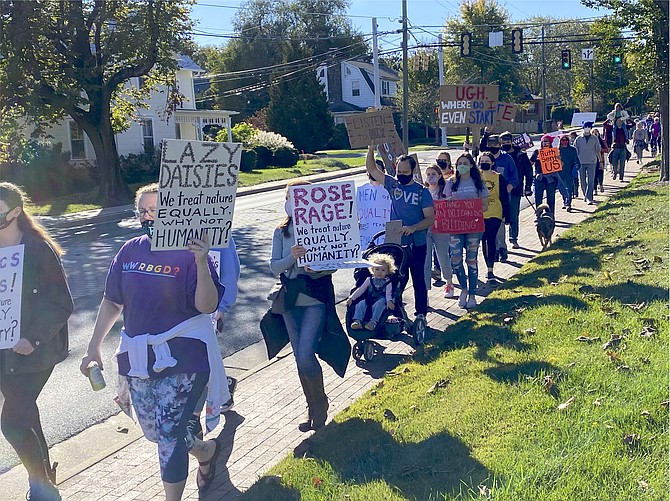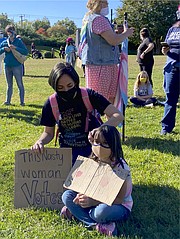 Demonstrators gathered Saturday, Oct, 17, shortly before 3 p.m, for the Women's March on Herndon, a grassroots event held in the community and part of the nationwide, socially distanced marches held in union with the Women's March 2020 in Washington, D.C. This year's D.C. event, like those locally, focused on mobilizing voters and protested Trump and the pending Supreme Court nomination. Herndon organizers Coco Buck, Brenna Danatzko and Athena Waitt wanted to host a community option for citizens to have their voices heard and rise up for their rights. Buck posted on the event website: "We will not allow the current government administration to endanger our lives any longer."
Audrey Largarde, 7, of Herndon and her mother, Becky, sat on the Herndon Town Green's grass waiting for the march to begin. Audrey held tight to her cardboard protest sign. Lettering around the child's crayoned red hearts read: "Women's rights are human rights." Becky Largarde said, "I will do work in racial justice. I have a daughter."
Buck reiterated the Women's March 2020 message and core premise of wanting to build on the fight for justice and equality that Ruth Bader Ginsberg championed. She said, "We encourage people to cast their ballots." According to the Women's March website, the organization needed "a huge and powerful mobilization to help energize the nation and inspire millions to turn out to vote."
Marchers started on the Town Green behind the Herndon Municipal Center, made their way to Elden Street, and ended at the Old Town Hall. There, one of the speakers, Virginia State Senator Jennifer Boysko (D-33) said, "We elected officials work for you and women have shown us that elected official can no longer overlook the needs and concerns women raise. Your voice matters and it's imperative that you stay involved."