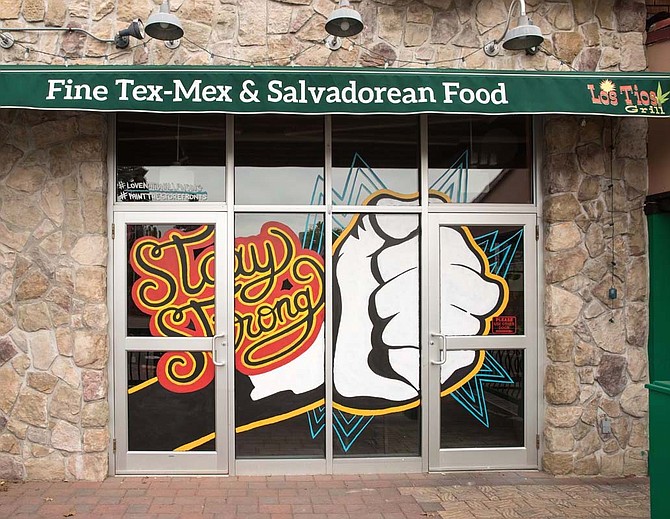 The Crystal City Business Improvement District (BID) has launched #LoveNationalLanding, a new art campaign designed to enliven the local streetscape and unify the community, while also highlighting the work of area businesses and local artists.
The initiative kicked off with the unveiling of an array of vibrant artwork featuring sunbursts, blooming flowers, and oversized hearts emboldened with encouraging messages across several storefronts in National Landing, the district that encompasses Crystal City, Pentagon City and Potomac Yard. Drawing inspiration from Andy Shallal's #PaintTheStorefronts program, and neighborhoods across the country that have utilized art to beautify the public realm during the COVID-19 crisis, the BID worked with curator Tom Pipkin to select a lineup of local artists who were then tasked with creating facade designs that would serve as a source of community-wide inspiration.
The artists are Cris Clapp Logan, known for her watercolor and ink illustrations; Jeff Huntington, aka JAHRU, whose colorful murals can be found across the D.C. area, Chicago and Brooklyn; Patrick Owens, a creator of bright murals, lettering and illustrations; Juan Pineda, a visual artist whose distinct style is characterized as urban contemporary street art; Erik Ricks, a celebrated muralist and sculptor; and Chelsea Ritter-Soronsen, a public artist and community-focused arts organizer. Their uplifting designs are transforming the facades of National Landing restaurants and retailers including: Commonwealth Joe, Enjera, Freddie's Beach Bar, Jaleo, Los Tios, and Vintage Dress Company. Additional storefronts will be identified for participation in the initiative in the coming weeks.
"As this initiative advances over the course of the month, residents, workers and visitors can expect to encounter additional bursts of color and messages of encouragement throughout the National Landing area," said Crystal City BID President and Executive Director Tracy Sayegh Gabriel.
In addition to the storefront beautification project, the BID has enlisted local muralist team Brocoloco to create eye-catching vinyl wraps that will cover two welcome boxes with frontages that span over 20'-by-8'. Brocoloco will also produce 100 sidewalk decals featuring positive and amusing messages that will be scattered throughout the neighborhood. These features, along with a social media component, will roll out over the month of May.