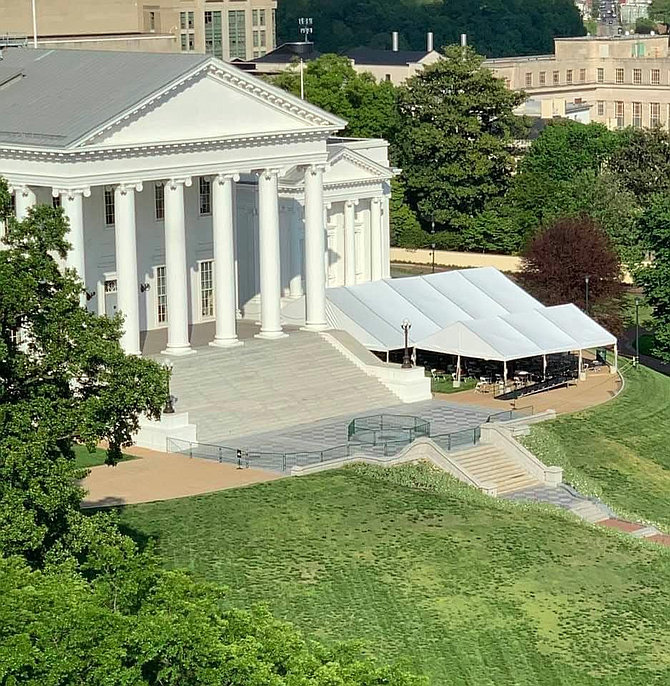 Last Wednesday, April 22nd, I returned to Richmond with my colleagues for the annual Reconvene Session to consider Governor Northam's over 100 amendments to the legislation we passed during session, and 144 amendments to the Commonwealth's budget. It was an unprecedented and historic session unlike any other in our memory, which took place outdoors in a tent in Capitol Square. Social distancing methods were in place, with our assigned desks six feet apart from each other, and with masks and gloves being used to reduce the chances of transmission of the virus. My colleagues in the Senate gathered a few miles away at the Science Museum of Virginia, instead of normally just down the hall. Even during these extraordinary circumstances, the people's business was done.
After the Pledge of Allegiance, our first order of business was to change the House rules to allow future sessions the possibility to be held remotely via electronic voting. To do so we needed a two-thirds majority, but without any support from the minority Republican caucus, this safety initiative failed. Thereafter, we continued our important work well into the evening as the sun set, and finished up around 8:30 p.m.
I want to thank our General Assembly staff who worked very hard to keep us safe and to ensure that we had everything we needed for a successful session. Likewise, this is a difficult time for our community, especially those who have lost loved ones. We are all fearful for the future and for our health, and understandably so. I want you to know that I am here for you and equally worried and concerned, but I truly believe that we will get through this crisis a stronger nation.
Here's a brief look at what the General Assembly agreed to:
We reluctantly adopted the Governor's proposed delay of the minimum wage increase, from $7.25 per hour to $9.50 per hour, to May of next year. This measure gradually increases Virginia's minimum wage to $12 per hour by 2023. Also approved was the delay on the beginning for collective bargaining for public employees.
We supported the proposal to create a new COVID-19 relief fund in the budget from a new tax on electronic skill games or "gray machines." This money will go towards helping small businesses, housing protection, resources for nursing home facilities, and will help pay for state response to COVID-19.
Both chambers agreed to amendments to legislation that legalizes casinos in five Virginia cities. One of these amendments dedicates the state's share of gaming revenues to a fund for school repair, modernization, and construction.
We sustained the Governor's only veto of HB 119, which would have changed the Commonwealth's official definition of milk products.
In order to mitigate the risk of COVID-19 among Virginia's prison inmates and staff, we approved the authorization of the Department of Corrections to release or move to a lower level of supervision inmates who have one year or less left of their sentence if they have demonstrated good behavior and are not a threat to public safety.
We struck down a proposal that would have expanded Governor Northam's authority to make further cuts in state spending without approval by the legislature. The Governor had agreed to withdraw this proposal, but we voted against it just in case.
We approved the addition of an emergency clause (bills go into effect immediately) on HB 1420, which caps interest rates on late rent payments at 10 percent. We also adopted the Governor's amendments to HB 340 to extend the eviction relief to furloughed federal employees to all renters impacted by COVID-19. These amendments prevent any eviction lawsuits from being heard for at least two months after state courts re-open (scheduled for May 17) and halt any foreclosure proceedings for 30 days. This legislation is key to protecting renters during this difficult time and to make sure that people can stay in their homes while social distancing remains incredibly important.
We adopted all of the Governor's amendments to the budget, including freezing or "unallotting" about $3 billion in what was budgeted as new spending across all agencies, as the COVID-19 crisis has sent state revenue to historic lows. I supported the Governor on all of his budget amendments to un-allot new spending as it was prudent and necessary under these dire circumstances. As much as it pained me, it had to be done. As a member of the Appropriations Committee, I had fought hard for the funding of teacher and state employee raises, the First Lady's early childhood education initiatives and its benefits to locally led programs like United Community's Early Learning Center, money for mental health, higher education, programs for those with disabilities, hiring of school counselors, and adult dental benefits. The Governor has plans to call the General Assembly into a special session later this year, probably later in the summer, after the administration creates an updated revenue forecast that incorporates the many negative effects of the COVID-19 pandemic. Hopefully, we can unfreeze some of this spending when we have a clearer understanding of all the economic ramifications of this crisis.